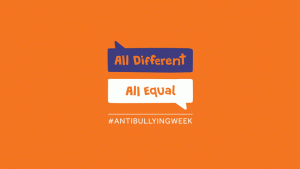 Anti-bullying week takes place from the 13th November to 17th November - the theme this year is 'All Different, All Equal' with the aims to:
empower children and young people to celebrate what makes them, and others, unique
help children and young people understand how important it is that every child feels valued and included in school, able to be themselves, without fear of bullying
encourage parents and carers to work with their school and talk to their children about bullying, difference and equality
enable teachers and other children's workforce professionals to celebrate what makes us 'all different, all equal' and celebrate difference and equality.
Encouraging them to take individual and collective action to prevent bullying, creating safe environments where children can be themselves.
On Monday 13th November, the Anti-Bullying alliance is encouraging schools to have an odd socks day, an opportunity for children to express themselves and appreciate individuality. They are also running a competition for schools, you can find out more here
In July 2017, the Department of Education updated their guidance on preventing and tackling bullying this advice can be found here.
Burger King recently launched the video below with an anti-bullying message that would be good to show in class and lead a discussion:
There are lots of resources to support this week within schools, we have selected a few below:
Anti-Bullying alliance has packs for both primary and secondary schools, these include lesson plans, assemblies and ideas for cross-curricular teaching.
Bullying UK has a range of resources, which include downloadable posters, flash cards, debate activity, comic strips and problem pages to use in the classroom. They also have presentations, interactive anti-bullying videos, posters and more.
Everyone Matters from LGfL has been produced to raise awareness of the problems of homophobic bullying in schools. Developed in partnership with the Metropolitan Police and Wandsworth and Waltham Forest local authorities, these resources feature role play scenarios to challenge both students and teachers to reflect on their own attitudes to this form of bullying.
Into film have a range of lessons plans and films that can be used in the classroom to discuss the theme of Bullying for both primary and secondary schools.
Unique Voice have lesson plans for KS1 and KS2 as well as draft policies for schools to use to adapt.
bullying.lgfl.net. is a collation on LGfL of a range of resources to support schools including online bullying.
Please let us know what you are doing for the week, you can share via our Twitter and Facebook pages, using the hashtags #AntiBullyingWeek #AllDifferentAllEqual.