Children's Grief Awareness Week UK runs from 16th - 22nd November 2017 starting with Children's Grief Awareness Day on the 16th November, a global day designed to help us all become more aware of the needs of grieving children — and of the benefits they obtain through the support of others.
1 in 29 school age children in the UK have been bereaved of a parent or a sibling. The week is designed to raise awareness of bereaved children and young people in the UK, and how providing those affected with free, professional support can make the world of difference to their future.
Children's Grief Awareness Week UK 2017 will be an opportunity to acknowledge the painful impact that the death of a loved one has on the life of a child, and an opportunity to make sure these children receive the support they need. The theme for the week is #YoureNotAlone.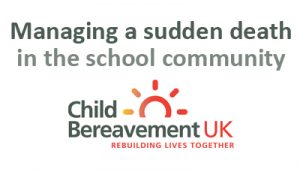 LGfL have partnered with Child Bereavement UK to produce a series of advice videos, guidance and links to support schools in managing a sudden death in the school community, these videos and resources are open access and are available to all schools, they also include sample Bereavement policies for school to use.
There are lots of resources to support schools in dealing with grief within the school community, we have listed them below and we hope that you find some of these helpful in supporting children, parents and staff in the event of a death.
Child Bereavement UK: The death of a pupil, a parent or a member of staff can have a significant impact on the school community. Schools have a unique role in helping grieving children and young people. Child Bereavement UK supports families and educates professionals when a baby or child dies or is dying, or when a child is facing bereavement, and has a wide range of information, resources and training for schools. They have also launched a video campaign #onemoreminute what would you say if you had one more minute:
Children's Grief Awareness Day: Posters and fact sheets, suggestions for bulletin or newsletter announcements, and logos and other graphics are all available.
Childhood Bereavement Network: Has key messages for staff, parents and young people and ideas of how to support within school.
Cruse Bereavement Care: Cruse offers face-to-face, telephone, email and website support including information on: what you can do to help a child or young person who is grieving, how to understand the concept of loss in children and young people of different ages, how to recognise potential complicated grief. They have a Freephone national helpline and local services, and a website (hopeagain.org.uk) specifically for children and young people.
BBC: The BBC have a range of articles and videos that can be used within school, Talking about Bereavement details the work that Children in Need have supported. Talking about death with your little one is an excellent video from Cbeebies that looks at the fact that when someone close to you dies, there will always be some difficult questions asked by your little ones regarding death. The video shoes how one parent has learnt to talk openly about why 'Mummy' died, in a way that makes sense to his two young children.
Winston's Wish: Is the first charity that was set up to support bereaved children, their support for schools is extensive and includes a charter for bereaved children, an information pack and information on helping children create a memory box.
Please let us know what you are doing for the week, you can share via our Twitter and Facebook pages, using the hashtag #You'reNotAlone.