The Cracking Ideas Competition is back and is celebrating the 30th anniversary of Wallace and Gromit! This year they're asking young people to 'Make Life Better' and to 'Get Those Mundane Jobs Done Quicker'!
The competiton is aimed at 4-11 year olds across the UK and the aim is to build on everyday inventions to improve the lives of themselves, friends, family or wider collective groups and this will be the tenth year the competition has run.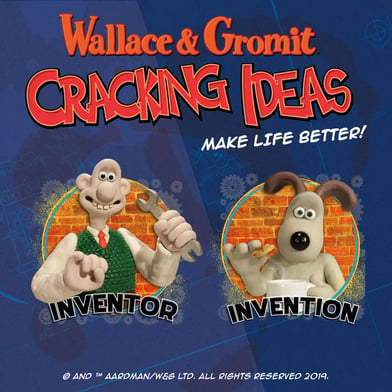 Cracking Ideas was designed with the help of Aardman, whose invention loving duo Wallace & Gromit feature in the learning materials, and aims to provide curriculum-led activities that get children engaged with product design and the importance of protecting intellectual property.
The Intellectual Property Office and Aardman want you to have a look at the world around you. Imagine a cracking idea that can help get mundane jobs done quicker, better and most importantly from the comfort of a warm armchair/school seat!
[embed]https://www.youtube.com/watch?v=aTv3CzbfAS0&feature=youtu.be[/embed]
The resources can be used in the classroom, self-directed or any other learning setting (e.g. after-school club, youth centre or Scout/Brownie groups). They are intended to be used flexibly to adapt to different ages, spaces and interests. Children can learn about research development and product design, explore the core phases of design and technology, to come up with a new invention or rework an existing object. During this process, children will be introduced to Intellectual Property and the importance of sharing ideas.
So what is "Intellectual Property"? According to the World Intellectual Property Organization (WIPO) it refers to creations of the mind, such as inventions; literary and artistic works; designs; and symbols, names and images used in commerce.
IP is protected in law by, for example, patents, copyright and trademarks, which enable people to earn recognition or financial benefit from what they invent or create. By striking the right balance between the interests of innovators and the wider public interest, the IP system aims to foster an environment in which creativity and innovation can flourish.
LGfL can help you further explore the idea of copyright with your pupils and have a range of resources that you can use to ensure that you are compliant with copyright.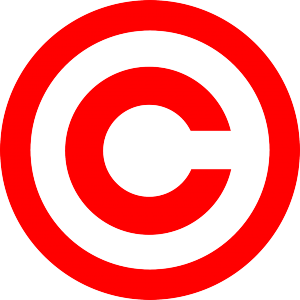 Did you know that the Department for Education (DfE) buys copyright licences for all state-funded primary and secondary schools in England – covering schools for almost all their copyright requirements? Purchasing these licences directly means that DfE can save schools money and the administrative time involved in applying for many different licences. The licences mean you can copy, re-use and share content from a wide range of sources within your school for non-commercial, educational purposes.
Your school leadership (Headteacher and Chair of Governors) needs to make sure that:
all intended activities are covered adequately by the licences
all staff follow the terms and conditions
The copyright licences cover a range of content from printed materials to radio and TV broadcasts, for more information on what content you can use, and how to gain other permissions, see the guidance from the DfE here.
The Coypright Licensing Agency has also produced the short video guide below:
https://www.youtube.com/watch?v=8RKfNQEb4qo
You can also check permissions on the site as well as registering your interest to access the Education Platform which enables you to quickly create, share and store copies from books to support your teaching. Access digital versions of books your school owns, to create and instantly share high quality, copyright-compliant copies and store them for future use. Print copies for colleagues or students, or share straight to a student's device. The platform is a more flexible way to work and is available to licensed schools at no cost. The video below gives an overview of the platform.
Digizen have a great lesson plan and Powerpoint to use in school for teaching about copyright and there is also great guidance from Childnet that includes tips for teachers, jargon busting and what copyright is and why it is important which you could explore as part of the Cracking Ideas Competition.
The Gallery is a growing collection, at present containing over 60,000 image, audio and video resources covering a range of topics relevant to the curriculum. Its purpose is to provide a free repository of high quality materials copyright cleared for use in teaching and learning. All of the resources in the gallery are saved at the highest quality available so they can be used on whiteboards, printed materials, animations and for any other educational application whilst medium resolution versions of every file are also made available for review and preview. The resources are copyright cleared for LGfL schools so they can be downloaded, edited and re-purposed for educational use, both within the classroom and at home.
The gallery is free to browse and explore online, the resources are searchable by topic and searchable by keyword, phase and subject. As the resource is web-based it can be accessed at school and at home by teachers and pupils. Everything placed within the gallery is moderated before being made live by a team of regional moderators and trusted educational professionals.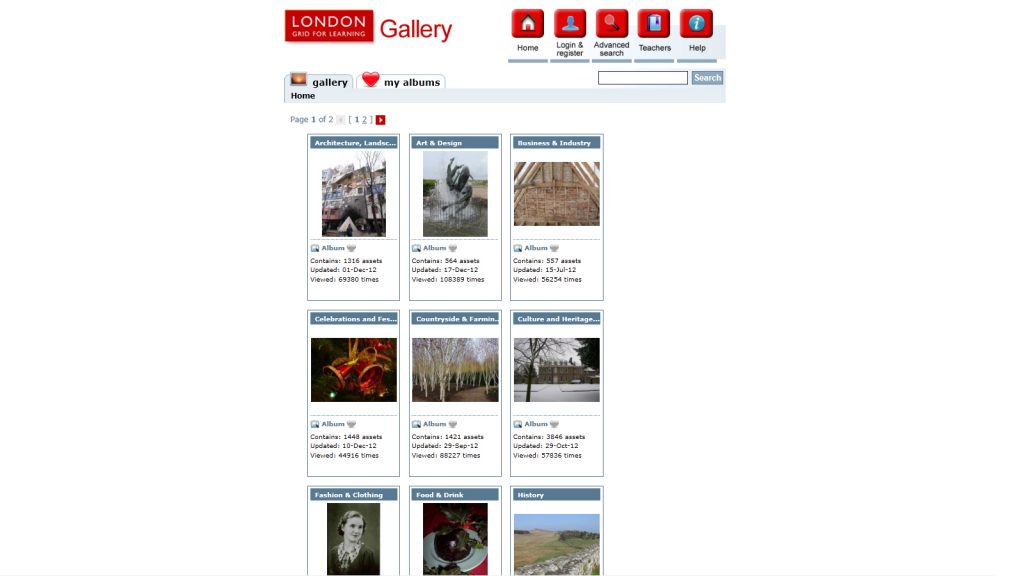 The LGfL ImageBank is an expanding collection of high resolution images from LGfL partners. The image collections have been checked for appropriateness for use in an educational context and where relevant, mapped to the National Curriculum. To access these mapped images, please search for resources by programme of study to see if there are any for your subject and Key Stage.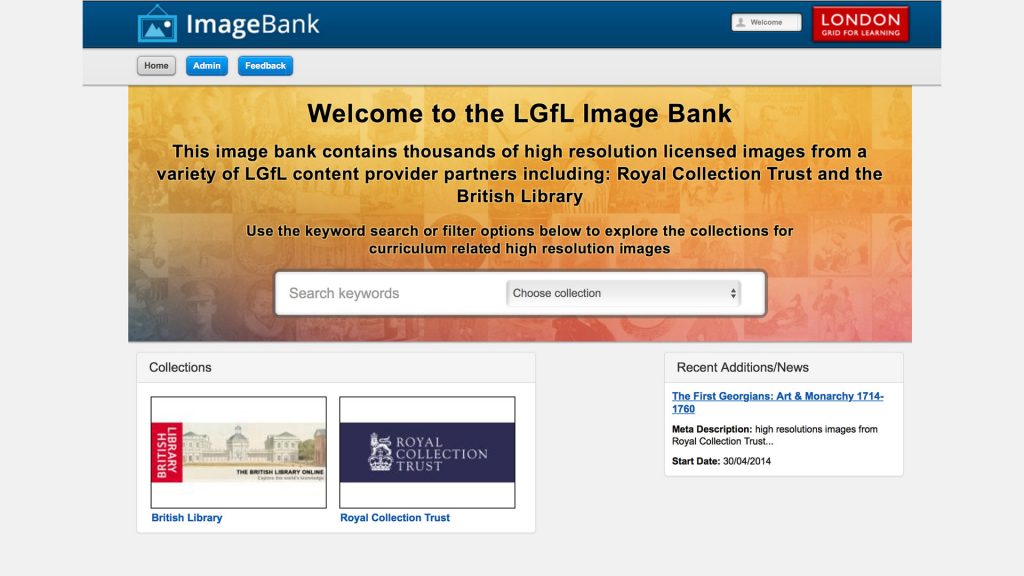 Please note: Adherence to the licensing terms of use by teachers and learners is essential. This will ensure that content providers continue to partner with LGfL and offer unique resources for teachers and learners connected to the NEN.
Audio Network - LGfL's online music database featuring over 60,000 individual audio files. The Audio Network schools' licence is an innovative partnership between industry and education bringing UK schools a vast catalogue of originally composed recorded music for use across the curriculum and for all ages. Audio Network and the Education network (NEN) have worked together since 2003 bringing quality recorded music for digital production and performance in schools throughout the UK, meaning that teachers are able to use the same materials as professional film makers and broadcaster while remaining within copyright law. All the music in this vast catalogue of tracks has been specially composed by Audio Network's partner composers, performed by top musicians and recoded to exacting industry standards for media production. The music catalogue spans music of many different styles, cultures, type and instrumentation - just browsing through is an education in itself!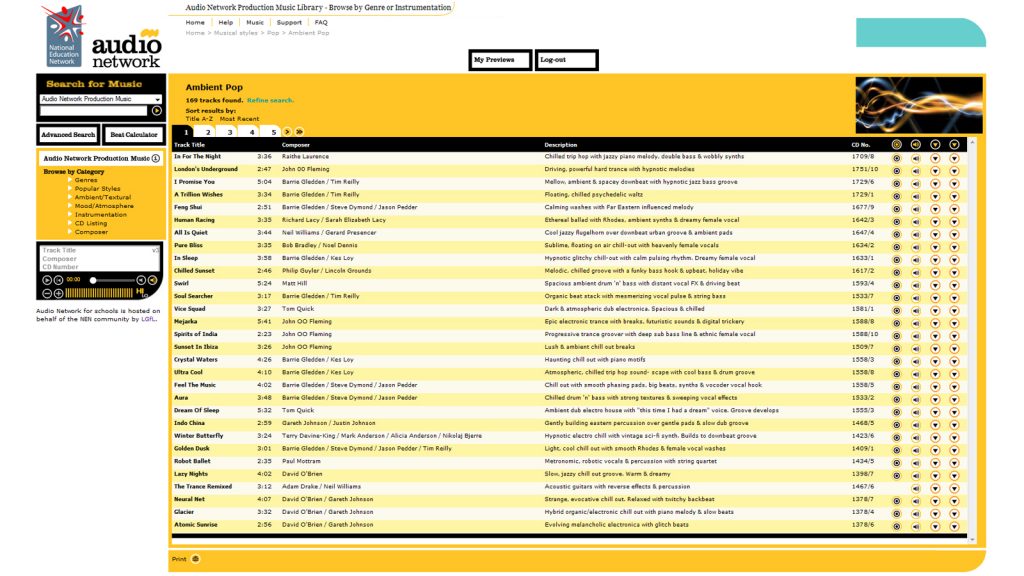 The Audio Network database includes:
The ability

to

access

the

resource

via

the

LGfL

USO

login

when

"off-grid"

(e.g.

from

home

or

another

location)

A

very

wide

selection

of

music

professionally

recorded

music

Improved

interface

and

facilities

(e.g.

folders

to

store

your

selections

-

all

linked

to

your

USO

account

profile)
You have the ability to search the database and individual music tracks can be dowloaded, the LGfL licence allows students and teachers to download any of the music files free of charge with the condition that the downloaded files must not be used for any commercial purposes.
The Creative Commons website is also a great site to use within school to search for images for sounds and images that are copyright free and that can be modified and adapted. They have also released the CC Search, a search engine that indexes over 300 million images from 19 image collections. All of the indexed images are in the public domain and released under Creative Commons licenses--meaning the images are generally free to use in a non-commercial setting. Head here to start searching.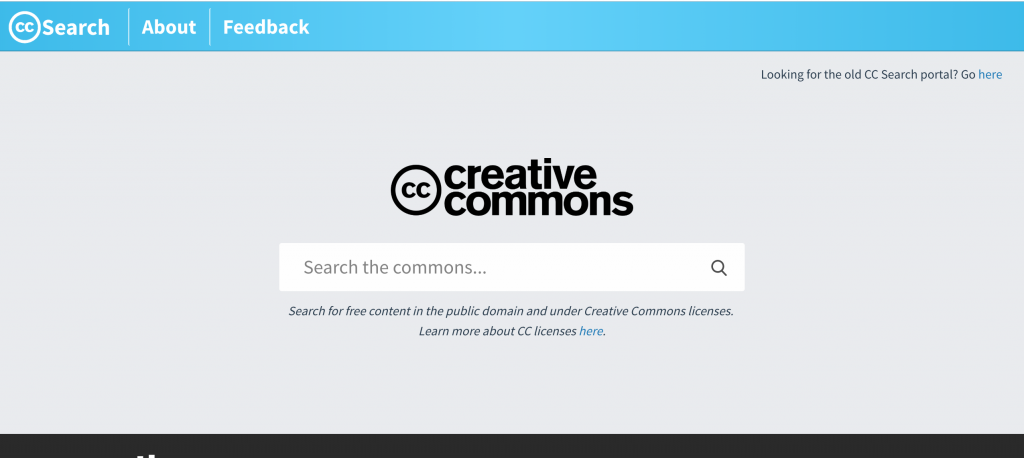 The two blog sites below are also worth a read as they link to other places where you can search for copyright images, videos and sounds.
https://ictevangelist.com/i-got-it-off-google-images/?utm_content=buffercfeb3&utm_medium=social&utm_source=twitter.com&utm_campaign=buffer
https://practicaledtech.com/2018/12/16/a-guide-to-finding-media-for-classroom-projects/
We hope this will provide a good starting point to explore copyright in school and for you to enter the Cracking Ideas Competition. To do this you can register online and upload your entry to the website or send your entries in by post to Cracking Ideas, Freepost CF4185, Newport, NP10 1BF.
Please let us know if you use any of these resources or indeed have suggestions for how LGfL could further support you in school by posting on LGfL's Twitter or Facebook.