Guest blog post written by Tom Bolton (Computing Teacher, Colville Primary School)
Sometimes, we can view the school day as being divided up by the children working during lesson times and playing during break times. But do work and play have to be seen as two discreet and separate activities when we think of them? Games-based learning can certainly be seen to turn this idea on its head.
As the computing teacher at Colville Primary School in West London, I am constantly seeking out new ways of using the power of play to deepen and enhance learning. Play can be defined as "partaking in an enjoyable and/or entertaining activity" and we know children learn best when they are enjoying themselves.
"Stop playing and get on with your work" should in my opinion be reframed to "Start playing and get on with your work."
The way children play has been transformed in this digital age - and it is our responsibility as educators of the next wave of digital citizens to adapt to the times. This is the reason I got excited when I discovered that LGfL was running a Minecraft Champions pilot programme to test the impact of bringing Minecraft Education Edition into the classroom.
Minecraft is one of the highest selling games ever, second only to Tetris, and no doubt you've heard its name spoken in your school classrooms, corridors and playgrounds. Young people are incredibly enthusiastic about it, to say the least; this is why it made complete sense to me to try to harness that enthusiasm and use it to drive and support learning.
Minecraft is many things, but at its most essential it is a 3D virtual environment in which you can collect and craft materials, whilst exploring and building in an infinite, randomly-generated world. Now, who wouldn't want to do that?
As an LGfL school, we signed on to the programme excitedly and began our journey by attending training at the Microsoft Training Centre. Afterwards, I adapted the game for use in my computing lessons; with a strong focus on cross-curricular links and using Minecraft to deepen and enhance learning across different subject areas.
We started by launching a STE(A)M project with our Year 5s to run alongside their geography unit on climate change. As Minecraft had released a coral reef update (and I have friends who have volunteered at Marine Conservation Centres in the Philippines) I decided we could get the students to learn about climate change and the oceans by building and running their own Marine Conservation Centre - in Minecraft!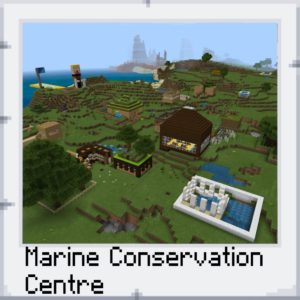 Students built eco houses for the centre's volunteers using sustainable materials. They began the project in the game's "Survival" mode, in which they had to collect and source their own resources from the earth around them, gaining an invaluable experiential underst
anding of the Earth's finite resources i.e. if they wanted wood, they had to cut down a tree.
This generated rich discussions about sustainable processes and the need to make smart decisions in order to protect the environment. Pupils came up with the idea of building a tree farm, so that for every tree they cut down to build the centre, they planted a new sapling. A further idea was to use 'daylight sensors' from the game as solar panels. It was incredible to watch them take charge of their own learning and devise their own solutions to the world's problems.
Students learned about coral bleaching by studying the work of real Marine Conservation Centres. They built coral laboratories in which to grow coral, later transplanting it in the ocean to restore the reefs. The immersive, game-like exploration of the coral reef world (and the "jobs" they had to do whilst roleplaying as the centre's volunteers) really helped to solidify their understanding of these environmental issues.
We monitored and protected endangered turtles in the game, with the students locating nesting beaches and meticulously protecting the eggs with wooden fences and signs. They logged the co-ordinates of these vulnerable species, writing them on the whiteboard at the front of the class. The students finally built Marine Conservation Education Centres to educate the wider community.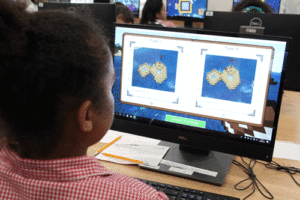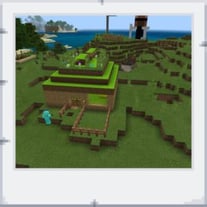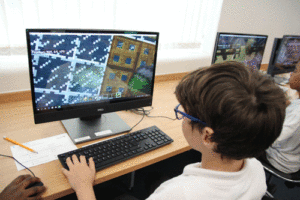 Some of the Year 5 work can be seen in this Adobe Rush presentation I completed with some other educators whilst attending the LGfL and Adobe Creative Jam in February.
Another great benefit of bringing Minecraft into the classroom is that it is inclusive. Everyone can contribute to a project in whatever way they are able to. So much of the game is text-free and supports non-traditional ways of learning. The fact that it is so visual and hands-on helps learners with additional needs to understand ideas and concepts that they would otherwise find difficult to grasp.
Since that first project, Year 3 have explored the Stone Age: from hunting and gathering in the Paleolithic Age to farming crops and domesticating animals in the Neolithic period. Year 4 have studied and built an Ancient Greek Acropolis in support of their history unit; whilst Year 6 constructed an Ancient Mayan City, studying existing ruins from Mexico and Guatemala.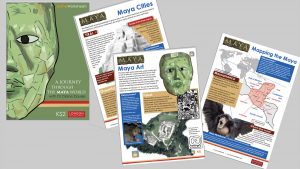 When the students were tasked with building a Mayan city, they were so much more engaged when learning about ruins and temples, as well as other primary and secondary historical sources. The creative goal-oriented approach created such a rich learning environment in which the students were motivated to learn. We have also just introduced LGfL's Maya ActivLens Augmented Reality resource in their history lessons. It is another wonderful tool to enrich the learning. This type of multi-dimensional approach further cements knowledge in the learner's mind.
Watch the trailer below for the LGfL's Maya ActivLens:
We also run two Minecraft clubs - one of which utilises the Code Builder element to the Education Edition of Minecraft. Students use block-based coding to program their "Agent" robot to automate tasks for them, as well using text-based commands to affect and influence the game.
The latest version of Minecraft Education Edition has improved its multiplayer options, so now students can host and join worlds by sharing a simple four-icon join code, with the security of being restricted to only collaborating with friends from school (as the game requires they share the same Office 365 domain email address). But what is great is that students can play across different households. So we are excited about offering our parents the opportunity for their children to play together in a safe virtual world during this time of social distancing.
The impact of the Minecraft Champions programme has been huge. It has deepened learning across subject areas; excited and engaged students; supported inclusivity; improved computing skills and computational thinking; developed soft skills like teamwork, communication, and collaboration; and been a sandbox for learning how to be a good digital citizen.
It has also been really, really fun to play... and what could be wrong with that?
For More Minecraft with LGfL
If Tom has whet your appetite for bringing Minecraft Education Edition into the classroom (or currently for home learning), you can learn more by visiting the Minecraft Channel on LGfL TV. One of the clips gives a brief introduction to Minecraft as shown below:
Remember, if you need any support with our learning content you can contact the Inspire Team by emailing contentsupport@lgfl.net or contact the LGfL Switchboard: 020 82 555 555.
Also, visit coronavirus.lgfl.net which is continually updated with advice and support during the partial school closures.
If you do use any LGfL content in your school to inspire your students do let us know by posting them on LGfL's Twitter page or Facebook page.