At LGfL, we know that teachers in primary schools are always on the hunt for quality texts and extracts from well-known authors to use in Guided Reading Sessions. The redevelopment of the fantastic ReadingZone Live resource will not only host interviews with over 50 authors, but for some of the featured authors there are now extracts from their books with a range of comprehension questions and tasks to complete.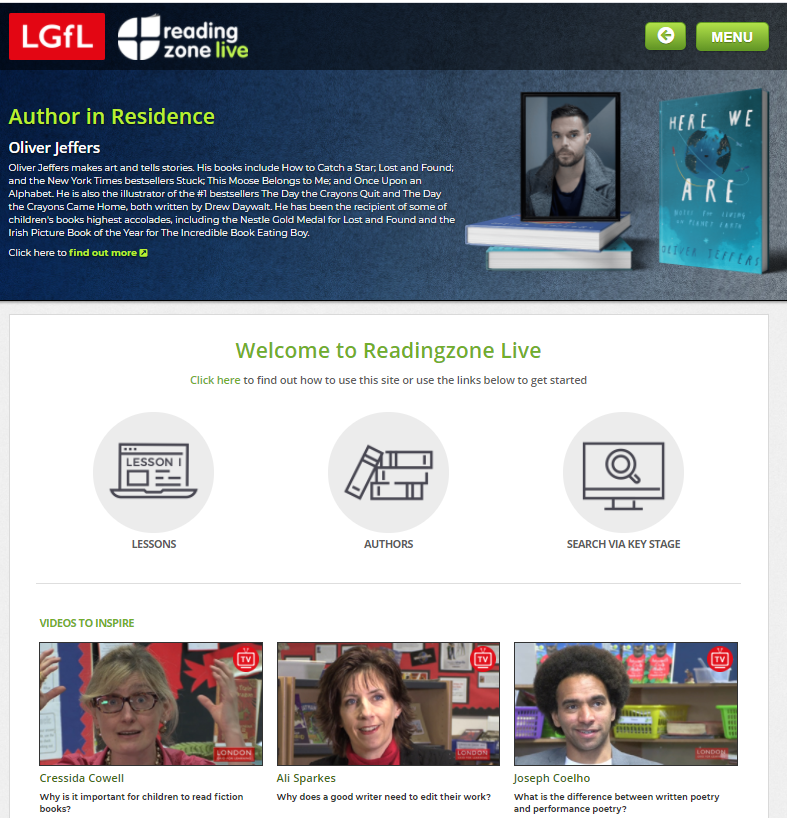 In 2011, LGfL and Reading Zone embarked on a simple vision to capture live author events in schools in HD video for the benefit of the wider LGfL Community to view anytime, anywhere. Fast forward nearly a decade later and 50+ authors have been captured and curated making a unique and insightful archive of the best contemporary children and young adult authors.
Video clip 1 - What are the key improvements in the new version of ReadingZone Live?
Collaboration with LEO Academy
During the COVID lockdown of 2020 the ReadingZone Live website was reorganised; literacy experts from the LEO Academy Trust have led the way on how to maximise the amazing author insights contained in the 1,000 video clips which combined make a unique archive! This collaboration between LGfL and LEO Academy has meant a new portal has been developed with support materials added to make the resources easier to use and secure improved English (reading and writing) outcomes for learners.
Unlike many other comprehension resources available, this resource organises questions by content domains, considering a range of question types such as multiple choice, matching & ordering and long & short answers; mirroring the types of questions found in the Key Stage 1 and Key Stage 2 SATs papers. This provides children with the opportunity to practise, develop and apply the skills needed to answer specific questions, whilst engaging with and enjoying interesting texts from many well-known authors. It also provides teachers with assessment and moderation evidence for each of the domains.
Video clip 3 - How has the collaboration between LGfL and The LEO Academy Trust resulted in a unique outcome for schools?
At the point of relaunch in September 2020, nineteen texts have been carefully selected for use by Key Stage 1 (Years 1&2), Lower Key Stage 2 (Years 3&4) and Upper Key Stage 2 (Years 5&6) including authors such as Michael Morpurgo, Lauren Child and Jaqueline Wilson. Guidance for primary teachers has been designed alongside each of these texts to assist in effectively and accurately teaching each of the content domains for Key Stage 1 and Key Stage 2 Reading. By selecting the Key Stage, text or content domain, teachers can access suggested explanations, steps to success and questions for each of the reading content domains.
Questions have been written in a progressive order to support pupils of differing abilities. Depending on the reading age of pupils, the text can be read by an adult or read independently by a pupil, with questions being answered independently or in discussion with the teacher. The active worksheets have enough flexibility to allow teachers to incorporate different approaches and strategies to accommodate a range of learners. Some question sets have been redeveloped as a quiz on BusyThings so that children may use the resource directly themselves either at home or at school.
Video clip 2 - What are the the positive benefits of teaching with the new ReadingZone Live literacy plans?
LGfL Teaching Material Portal
The resource is further extended to include additional activities that compliment author interviews from ReadingZone Live. These activities and interviews aim to inspire young people to explore new authors and genres and to develop their own creative writing. Contextualised cross curricular opportunities have also been developed to cover elements of, not only English, but also the Science, History, Geography, Art, Music, DT and Computing Curriculum for Primary Schools.
Pupils are encouraged to read widely, to reflect on what they have read, to develop and discuss their viewpoints and may begin to establish a preference for certain texts, authors and genres. This can be achieved through our J2e Book Review, our J2e Author Study and possibly through the set-up of a classroom blog on J2Webby.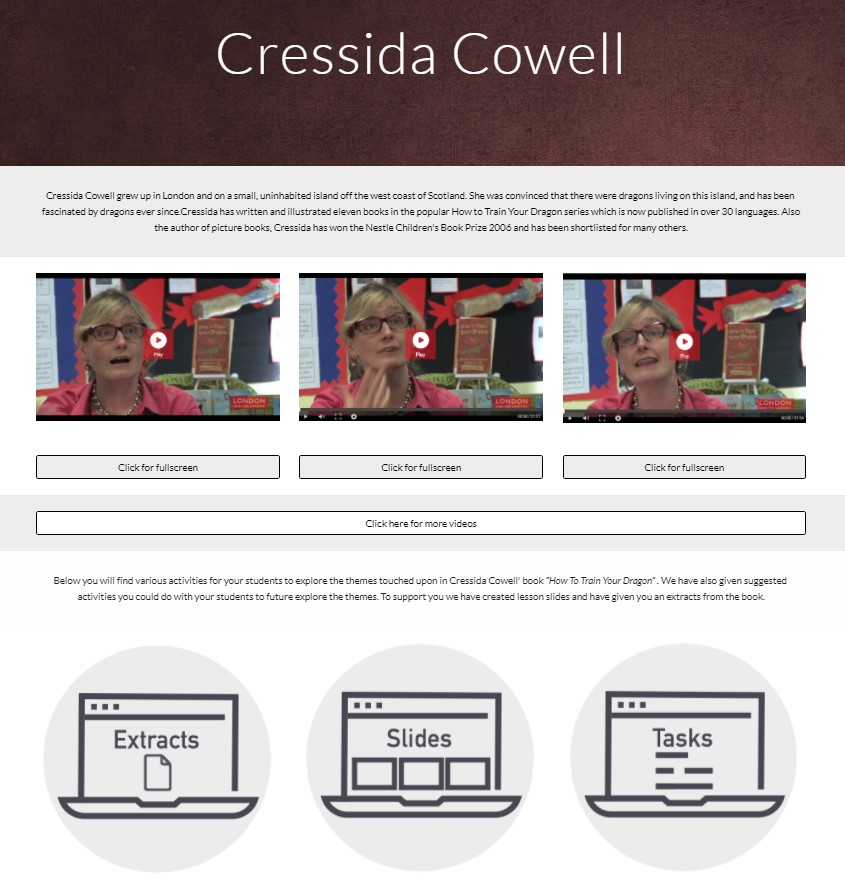 There is also support for the use of other LGfL resources such as Adobe Spark, BusyThings and J2e online creative tools; accessed from within the "Slides" tile for those authors who have a "lesson" tab shown.
ReadingZone Live with BusyThings
BusyThings are developing a comprehensive series of related interactive resources that link in with the teaching material developed by LGfL and the LEO Academy Trust. The full set will be completed by Easter 2021, but some of the new material is already available for the first two of nineteen extracts from authors Cressida Cowell and Michael Morpurgo. There are lots of activities planned that will support each book extract, but for now BusyThings have incuded some discussion points for each extract: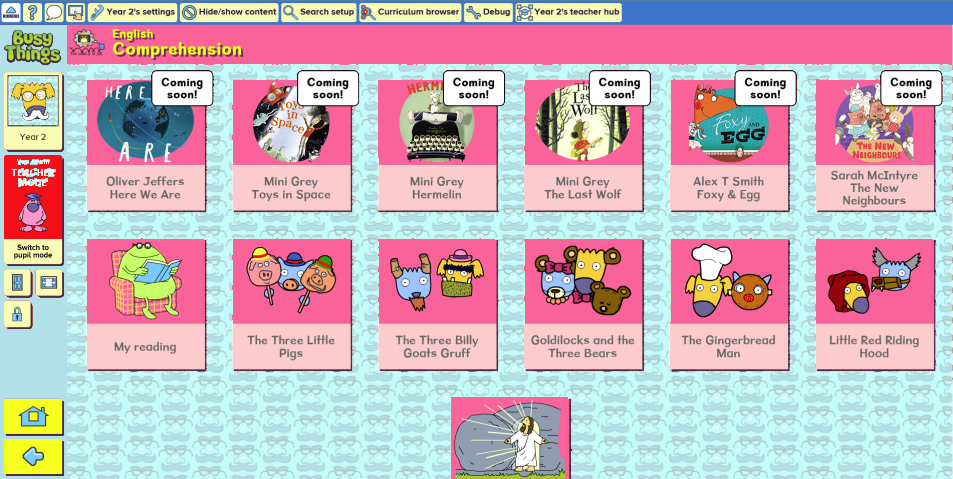 See discussion points shown below for both extracts:

How Can My School Get More Involved With ReadingZone Live?
We are always on the lookout for suitable host schools, so if you would like host a Reading Zone Live author event email content support@lgfl.net.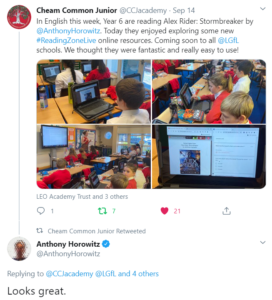 Authors often respond quickly to social media post showing children's work relating to their books. If you copy in the authors using their hashtag your children can make direct contact with the author and sometimes even receive feedback on their work.
To the left is a tweet posted by Cheam Common Junior, one of the LEO Academy Trust school's showing the pupils exploring the new materials and a tweet in response by none other than Anthony Horowitz himself.
We would love to hear your opinions and feedback about the redevelopment and further suggestions. If you complete any of the suggested lessons from the portal please share with us via our Twitter or Facebook pages.