'90% of teachers receive no bereavement training despite one bereaved child in every average class' - new research
A survey commissioned by Child Bereavement UK has revealed that only 10% of teachers have received bereavement training during Initial Teacher Training or subsequent professional development. This is despite 86% of teachers saying they have experienced a death in the school community, and nearly three quarters reporting teaching pupils affected by someone significant.
A parent of children under 18 dies every 22 minutes in the UK; this equates to around 111 children being bereaved of a parent every day. 1 in 29 children aged 5-16 have been bereaved of a parent or sibling, which on average is a child in every class. Schools have an opportunity to support children and young people in their grief, however, many teachers say they lack confidence in how to do this.
In response to the research, Child Bereavement UK has developed a learning resource for schools: Supporting a Bereaved Pupil , in partnership with the London Grid for Learning. This comprehensive, free-to-access resource is aimed at empowering teachers and education professionals to support bereaved pupils and has been developed for staff in schools, to help develop their understanding, skills and confidence to support pupils and their families when they experience a bereavement.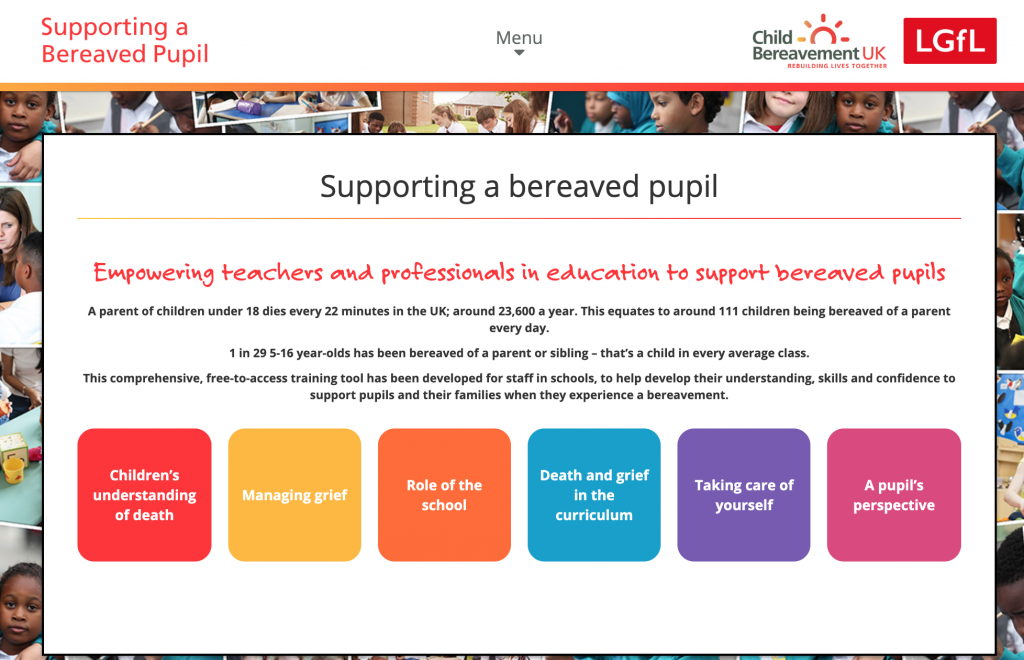 The resource is broken down into the following topics:
Children's understanding of death; Managing grief; The role of the school; Death and grieving in the curriculum; Taking care of yourself
and
A pupil's perspective
.
This open source gateway ensures that all schools can benefit from the resource and that they have the help and guidance they need when they find themselves supporting pupils at the most difficult time in their life.
Simple, short guidance through quotes, external links and video interviews with experts helps provide the information that schools and teachers need to provide a caring and managed response to support pupils in their schools dealing with grief, as well as enabling them to discuss death and grief with pupils in a sensitive and age related way.
Commenting on the resource, Dan Bowden, Headteacher at Greenvale Primary School in Sutton said:
"Supporting a Bereaved Pupil provides simple, straightforward and easy to digest advice from fellow professionals about a very difficult topic that most teachers will encounter at some point in their careers. The considerations, suggestions and videos ensure that the resource is accessible and provides sound advice that can help to school community to support families at their most challenging of times."
Drawing on the vast experience of Child Bereavement UK (CBUK) and with video footage from school leaders within the LGfL community, this resource has been developed as a tool for teachers in school to support children at this most difficult of stages in their lives. Alongside the short videos there are also a range of guides for staff to use these include looking at: ideas for capturing memories; looking at the emotions and behaviours surrounding pupil's expression of grief.
"By offering them simple choices, it can give them a little bit of control back in a life which feels very much out of control."
There are also links to the CBUK website these include lesson plans, supporting videos and book lists so that staff are able to provide support not just for the bereaved pupil but also to enable them to address the issue of death and grief across the curriculum.
' Following on from the success of the Managing a sudden death in a school community resource development, we have been delighted to partner once again with Child bereavement UK to support schools on a different aspect of managing bereavement within a school context. Supporting a bereaved pupil utilises the expertise at Child Bereavement UK and the curriculum team at LGfL to produce a school focussed resource that helps develop a deeper understanding of the issues relating to bereavement for both pupils and those that support them. The resource blends expert video explanations on sensitive and complex issues, with accompanying text explanation, downloadable resources and further reading weblinks. We hope that schools find this additional bereavement support resource to be as useful as the Managing a sudden death resource, as these topics impact on schools every single day and the feedback received so far is that they provide a unique source of expert insight and support for everyone working in school contexts.' Bob Usher LGfL Content Manager
The report, Improving Bereavement Support in Schools, funded by the True Colours Trust, surveyed over 1000 teachers and staff in pastoral, outreach and management roles within primary and secondary schools. In addition, case studies were gathered from seven schools from Scotland, South Wales, South West England, South Central England and North West England, and seventeen in-depth interviews with teachers were undertaken. The research aimed to gain a better understanding of the drivers and barriers for schools in accessing training and effectively supporting bereaved pupils.
Child Bereavement UK supports families and educates professionals both when a child dies or is dying, and when a child faces bereavement. The charity has trained around 3,500 schools and, currently, 14% of calls to its national helpline are from teachers seeking guidance around bereavement. 92% of teachers surveyed for the report said that schools should prepare ahead in case there is a bereavement in the school. However, only a third (34%) of those teachers felt their school was equipped to manage a death when it occurred.
Despite the impact of bereavement, only 2% of teachers said that their school had a clear, practical bereavement focus with most saying that the topic was only addressed conceptually in subjects such as English, Philosophy and Ethics, PHSE and Science. Teachers surveyed called for a greater emphasis on death and bereavement in the curriculum, but many said they had not received adequate training to give them the confidence and knowledge to provide this support, and stated they were overwhelmed by other demands. Just 20% of teachers said that bereavement support and training was a priority in their school with 68% listing budget as a barrier and 34% citing time constraints.
One teacher commented:
"I can't believe that individual teachers are not trained and in 2018 this shouldn't be the case. We shouldn't just focus on Maths and English. Nothing is getting better and nothing is being done and feeling your way through the issues isn't enough."
Working once again in partnership with Child Bereavement UK, we hope that this open access resource will enable schools to provide support to their pupils, most grieving children do not need a 'bereavement expert' they need people who care. Schools, just by carrying on with their usual day-to-day activities while being aware of the bereavement, can do a huge amount to support a grieving pupil.