Utilising the combined talents from the team at Inspyro (now Discovery Education), an expert Palaeontologist from the Manchester Museum and specialists within the curriculum team at LGfL, we have created Fossils and Dinosaurs for EYFS, KS1 and KS2 learners.
Fossils and Dinosaurs guides you through the development of life on our planet over billions of years. From the very first signs of life 3 billion years ago, through the 'Cambrian Explosion' of life 500 million years ago, the emergence and demise of the dinosaurs 65 million years ago to the final evolution of Homo Sapiens, a mere 2 million years in the past. This period of time spans the existence of the Earth as it developed over 4 billion years, which in itself is a difficult and abstract concept to teach due to the vast amount of time involved. The video below is a walkthrough of the resource:
Fossils and Dinosaurs is broken down into topics to help teach this fascinating and exciting subject that explains our appearance and dominance on our planet as well as the impact and threat to its very existence as we consume fossil fuels left behind by the incredible story of life on Earth. With activities linked to the EYFS framework as well as covering elements of the English, Maths, Science, Art and Computing curriculum at both KS1 and KS2.
The resource is a blend of videos, still images, teacher plans, immersive Augmented and Virtual Reality. Working with Dr David Gelsthorpe from the Museum of Manchester, the curator of one of the most important fossil collections, with over 100,000 specimens, we have chosen a selection of fossils and other specimens that help tell the story.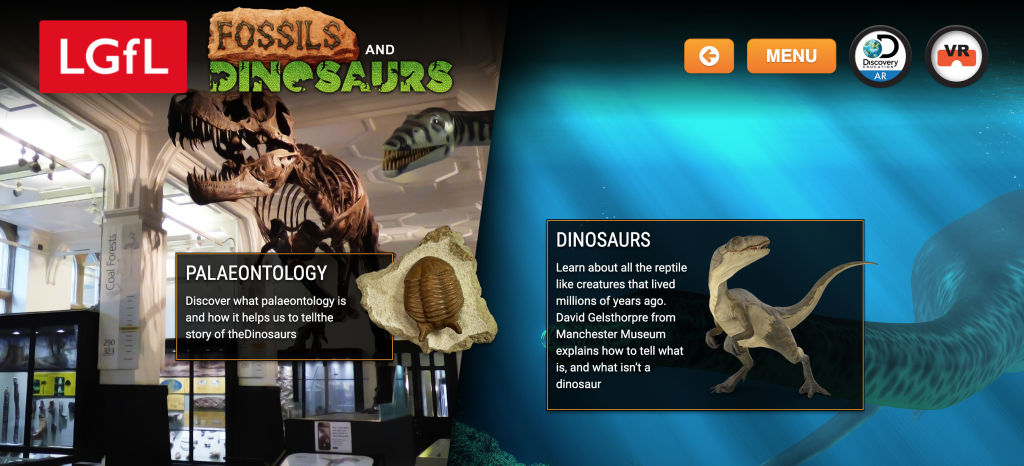 The resource for KS1 and KS2 is split into two sections: the first looks at Paleontology and the second looks at Dinosaurs both use expert videos filmed with Dr David Gelsthorpe, the curator of one of the most important fossil collections in the UK. Alongside Augmented Reality through Active Worksheets making use of Active lens technology the topics covered include: Planet Earth, Early life, Fossil remains, Fossil to fuel, Jurassic depths, Feathered friends, Tyrant Lizard King, Extinction and Humans all of these are aligned to the Primary Science curriculum.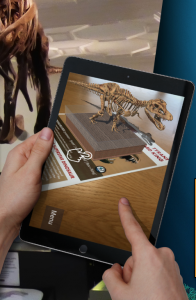 The information is presented in an engaging way for example, using Augmented Reality, the children can 'see' fossils come to 'life' and compare fossils in a way that use of 2D pictures can not possibly convey, making the resource both distinctive and innovative, ensuring that the learning is literally in the hands of the learners. The teacher guide gives an overview for use in class, listing the resources including a brief description of each Active worksheet and what is covered as well as linking to cross curricular lessons. The guide also provides teachers with an explanation of how to download and access the resource.
The Museum of Manchester is home to the world's most complete Plesiosaur fossil skeleton and alongside the Active Worksheets, the resource features a VR experience that brings this beautiful marine reptile to life. Plesiosaur Encounter VR takes pupils on a journey back in the TimePod to 150 million years ago to see this magnificent creature swimming in the early Jurassic seas. Children are tasked with observing the plesiosaur in its natural habitat and report back, this can either be a scientific or a journalistic report.
Children are natural scientists. Their curiosity leads them to ask open-ended questions, explore by interacting and observing with the world around them and try to figure out how everything works by exploring and playing with the things around them. Dinosaurs are one of the topics that fascinate young children. Whether it is their truly larger-than-life image or the fact that you can't visit a live dinosaur in a zoo, children tend to have lots of questions about dinosaurs. This is why Fossils and Dinosaurs is the first resource from LGfL to include an EYFS section, complete with 6 lesson plans covering the following topics: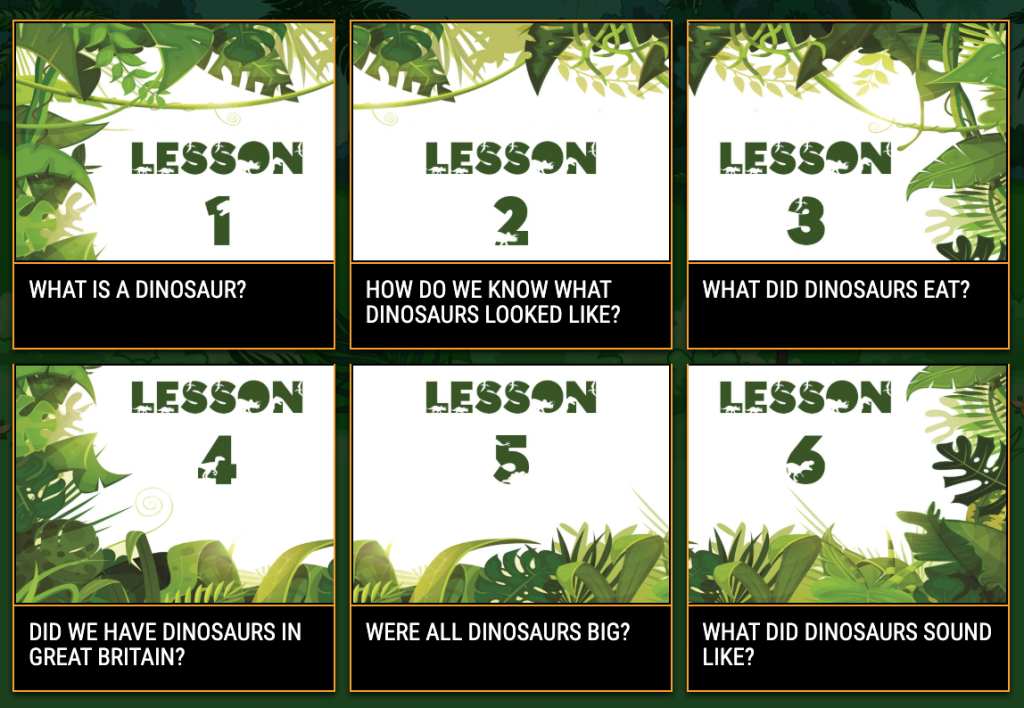 Each lesson plan is supported with a powerpoint that asks a simple question and allows children to explore their own thinking before the teacher gives them new information and allows them to explore the knowledge with a carpet-based activity, the lesson plans and notes also include key questioning and vocabulary cards to use with each lesson (some of the Powerpoints also come with embedded audio and animations) The lessons are designed to be taught once a week for 6 weeks so that it can easily slot into either literacy or topic lessons.
Alongside the powerpoints and lesson plans the EYFS section is further complemented with how the resource can be used alongside other LGfL resources as well as songs, apps and printables for both home corners and use within the lessons.
Fossils and Dinosaurs is also our most inclusive resource produced to date we have sought to employ the principles of Universal Design for Learning (UDL) throughout the production process. With UDL in mind, the mixed reality features of the resource and suggested learning activities help meet the need for multiple means of engagement and multiple means of action/expression. We have also created additional resources to ensure teachers are able to provide multiple means of representation to learners with a broad range of needs and strengths.
All sections of the resource contain companion texts created in two variations. The first is heavily simplified, for learners working at pre KS2 cognitive ability. The second is in an Easy Read format for those who may have difficulty accessing the written content but are cognitively able to understand the concepts and vocabulary in the resource. Each of these differentiated text levels has also been produced in a number of formats to meet a range of needs. This includes screen reader compatible, visual supported and plain text (for use with Braille printers). We have also included all differentiated text versions as a OneNote Notebook which can be viewed online and offline by downloading the free OneNote App. This enables users to access "Immersive Reader" which provides a large number of powerful accessibility features such as reading support and language translation.
In addition to these specific resources, Fossils and Dinosaurs contains inclusion support throughout its online content. This includes captioning/subtitling of all video content, descriptive "alt text" for all images (for use with screen readers), Widgit Point symbol support tool and a number of on page font options.
Fossils and dinosaurs combining expert advice alongside the latest technology enables all primary learners to reconstruct the past in an innovative and meaningful way.
At the time of commissioning this resource, Dinosaurs was the most requested teaching resource from LGfL schools that was missing from the LGfL portfolio, so we were keen to resolve this in an effective way.
Utilising the combined talents from the team at Inspyro (now Discovery Education), an expert Palaeontologist from the Manchester Museum and specialists within the curriculum team at LGfL, we are proud to offer Fossils and Dinosaurs for EYFS, KS1 and KS2 learners. Like LGfL's Space Adventures, this resource aims to model best practice in supporting a range of online and immersive technologies, whilst offering support for all learners regardless of development age or learning context.
Part of the reason for working with experts in their field when developing LGfL topic-based resources is that sometimes non expert teachers can inadvertently reinforce mis conceptions, but these can be avoided through expert input during the creation of a specialist new resource such as Fossils and Dinosaurs. Through the use of a wide range of engaging and immersive technology, we hope that learning progress with pupils can be secured faster and deeper than more conventional teaching methods. For further examples of how LGfL topic based immersive resources feature experts in their field go to www.casestudies.lgfl.net.' Bob Usher LGfL Content Manager
We hope that you enjoy using the resource as much as we enjoyed producing it - please let us know via either our Twitter or Facebook pages or in the comments below if and when you use the resource in class.