Supporting Young Carers in Schools

Across the UK, as many as 1 in 5 children and young adults in secondary schools are young carers. That means it is highly likely you will have some young carers in your school. Furthermore, how do we identify a "young carer" and what are the challenges they face at home and at school?
A young carer is someone under 18 who helps look after someone in their family, or a friend, who is ill, disabled or misuses drugs or alcohol. The help they provide may include practical tasks such as housework and shopping. Or it could be emotional support, physical care, looking after siblings because the parent is not able to do so, helping someone to communicate, accompanying someone to appointments, administering medication, and much more.
'A young carer becomes vulnerable when their caring roles risks impacting upon their emotional or physical wellbeing and their prospects in education and life' Department of Health and Social Care - Care Act Statutory Guidance, 2014
All too often, children with caring responsibilities think they are just doing the right thing and don't understand that they are in fact young carers. This makes early identification and support for young carers at school all the more important if they are to reach their full potential.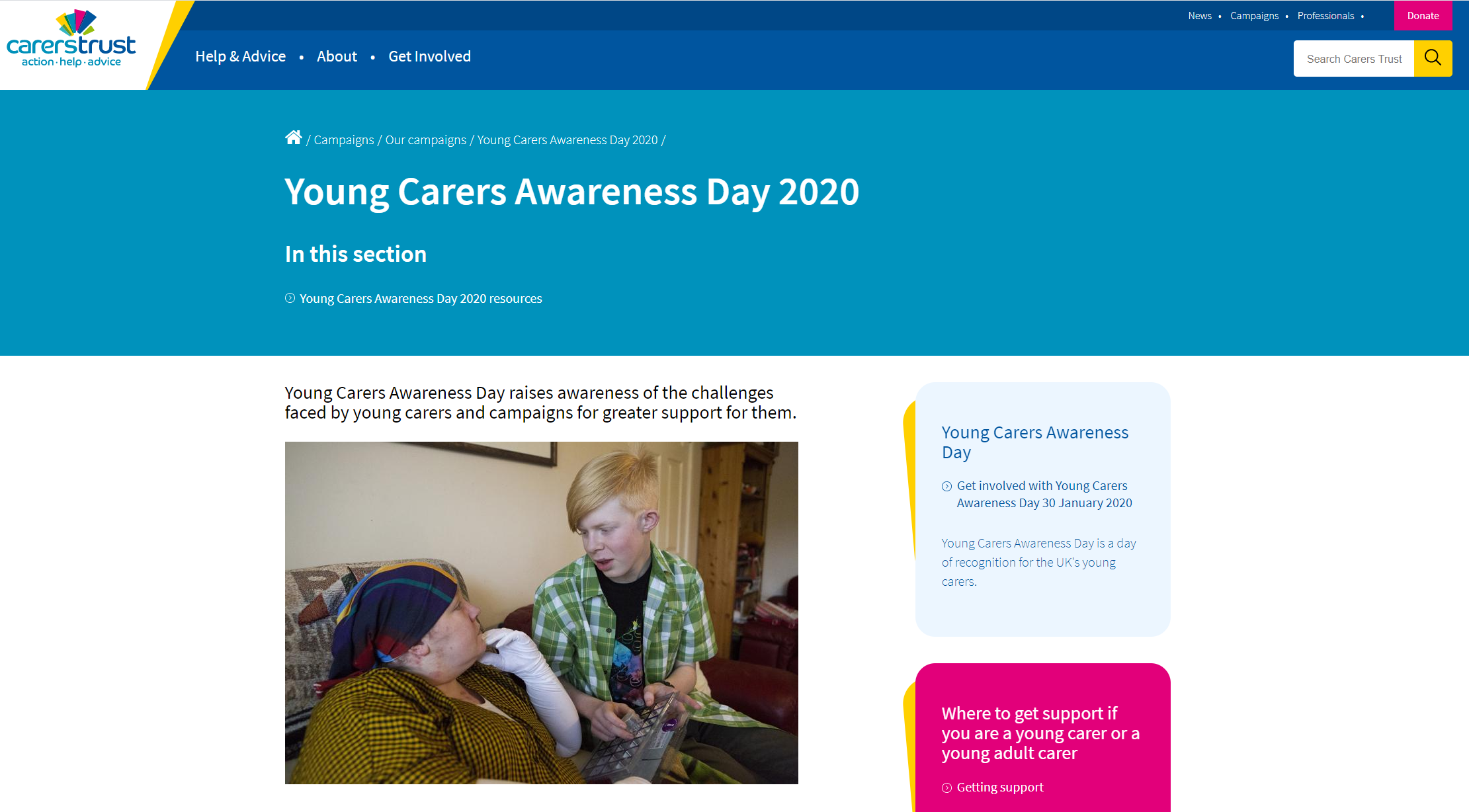 Young Carers Awareness Day takes place this year on 30th January. Carers Trust is asking schools to do more to identify their hidden young carers so that they receive the support and recognition that they deserve.
Being a young carer can have a big impact on education and future opportunities:
It can affect a young person's health, social life and self-confidence.

Many young carers struggle to juggle their education and caring which can cause pressure and stress.

27% of young carers (aged 11–15) miss school or experience educational difficulties (40% where children care for a relative with drug or alcohol problems) (Dearden, C, Becker, S, 2004).

A quarter of young carers said they were bullied at school because of their caring role (Sempik, J & Becker, S, 2013).

They are more likely than the national average not to be in education, employment or training (NEET) between 16 and 19 (The Children's Society, 2013).

They have significantly lower educational attainment – the equivalent of nine grades lower at GCSE level (The Children's Society, 2013).

Early identification and support at school is crucial in helping young carers these challenges. Simple measures, such as flexible homework deadlines, exceptions to mobile phone policies, a Carer's Passport Scheme, or career advice which takes the skills developed through caring into consideration, can have a hugely positive impact. Formal assessment by a Local Authority, facilitated through a local young carers service, can safeguard young carers from taking on unreasonable care responsibilities and identification at school can be a step towards this.
First steps to support young carers in your school
If you would like to start identifying and supporting young carers in your school, here are three first steps that you can take:
Get in contact with your local carers service to find out what support they can offer you and the young carers at your school:

https://carers.org/search/network-partners?postcode=

Complete a baseline review of what your school is already doing to support young carers and map out what else can be done:

https://carers.org/young-carers-schools

Explore our #CountMeIn resources and host a Young Carers Awareness Day event on 30 January:

https://carers.org/young-carers-awareness-day-2020
About Carers Trust
Carers Trust is a leading national charity for carers, currently reaching more than 25,000 young carers around the UK. We work to improve support, services and recognition for anyone living with the challenges of caring, unpaid, for a family member or friend who is ill, frail, disabled or has mental health or addiction problems.
If you are interested in hearing more about Carers Trust and our work to support young carers, please contact youngandyoungadultcarers@carers.org or visit the Carers Trust website: carers.org
Please let us know if you have a suggestion regarding other subjects to cover in blogs by sharing on our Twitter feed or our Facebook page #CountMeIn