We are really pleased to announce that some of our popular training resources for supporting those pupils with English as an Additional Language (EAL) have been updated and are now also more "mobile friendly".
The Hampshire EMTAS EAL E Learning Resources available through LGfL provide a set of high-quality, cross-phase, interactive online training units based around catering for the needs of EAL learners. This resource is aimed at Governors, SENDcOs, Teachers and TAs/LSAs and has particular relevance for NQTs/ECTs and trainee teachers.
The online learning modules consist of a number of different units including Introduction, Core Principles, Working with Parents, SEND and EAL, Bilingualism and Teaching and Learning
The materials have been developed by specialist teachers of EAL in conjunction with senior leaders and class teachers based in local schools
They contain a variety of interactive learning materials supported by text, images, podcasts and video
There are assessable assets and free-form activities that enable learners to reflect on their current practice
The materials can be visited at a learner's own pace and in their own time-frame
The system records progress throughout each unit
Completed units are certificated by the system and can form part of a learner's CPD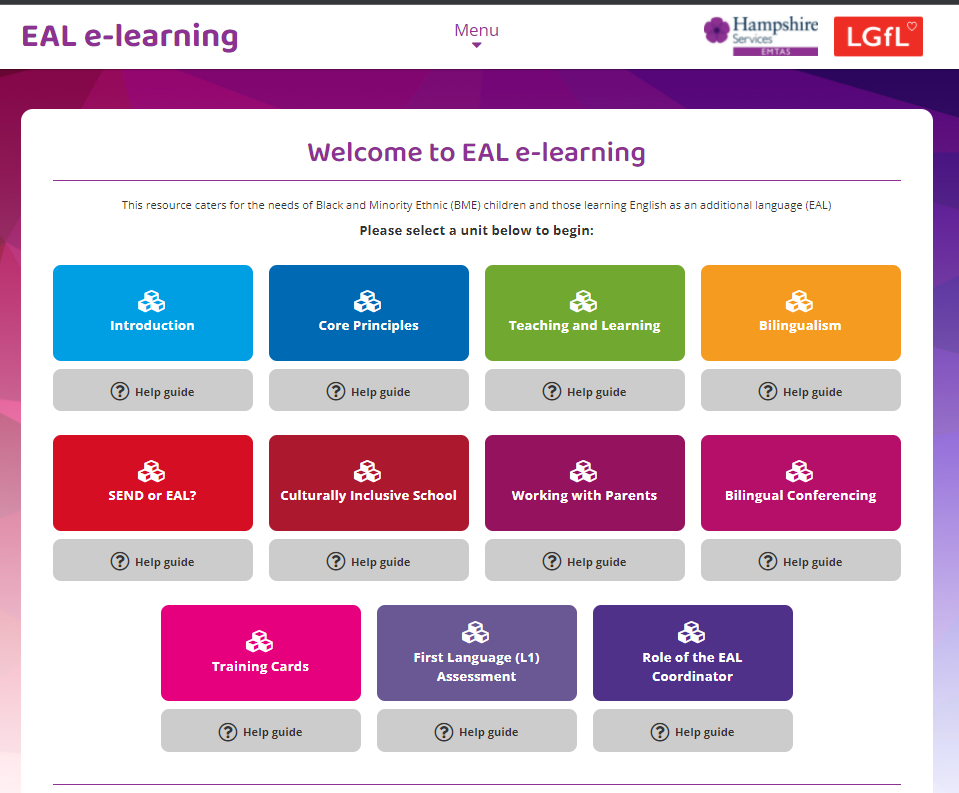 What has been updated?
Most of the modules are the same - although quite a few have been slightly updated with different content eg where data have changed and/or terminology has altered or in the case of the 70+ training cards more content (another 31 cards have been added). The main difference is that they now use a new player which makes the units more mobile friendly and in addition one extra module called 'Role of the EAL coordinator' has been added.
The Young Interpreter Scheme ®, recognises the huge potential that exists within each school community for pupils of all ages to use their skills and knowledge to support new learners of English so that they feel safe, settled and valued from the start.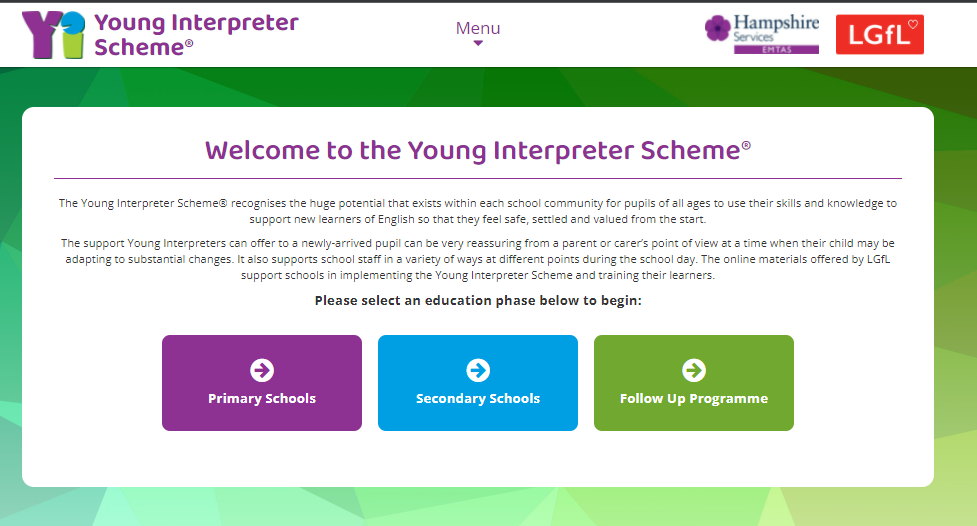 The supporting content, which is available to LGfL schools, supports the selection of children and young people based on specific different personal qualities they may have. The materials also offer specific training to equip learners as they begin their new role as Young Interpreters.
The support Young Interpreters can offer to a newly-arrived pupil can be very reassuring from a parent or carer's point of view at a time when their child may be adapting to substantial changes. It also supports school staff in a variety of ways at different points during the school day. The online materials offered by LGfL support schools in implementing the Young Interpreter Scheme and training their learners.
What has been updated?
The Young Interpreter Scheme has also been updated into the new player. There is a lot more content added, including some collaborative YI games for pupils, and a follow up course for the YI Scheme coordinator to help keep up the momentum of the programme. There are also additional training materials. There are a lot more handouts as well.
Widgit
Finally, a reminder that widgit is a resource already used by many SEND and EAL specialists. The symbol database has over 15,000 images and over 1000 activity sheets, differentiated books and classroom resources for many curriculum subjects. Providing EAL pupils with symbols for key vocabulary both topic related and for general classroom objects will equip them with a way to communicate whilst they learn English. (Pictured below is a Widgit science experiment template).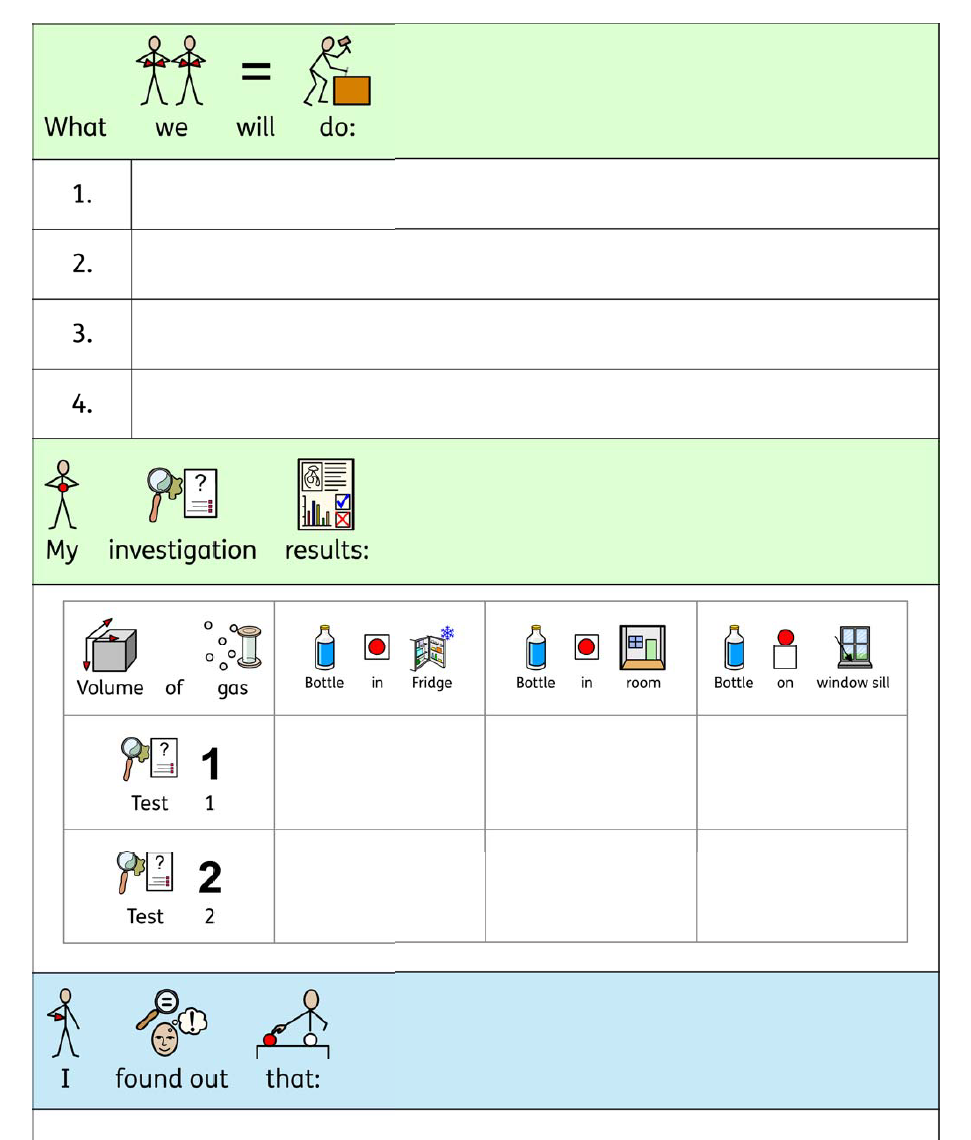 If you use these (or indeed any other LGfL resources) we would love for you to share this with the LGfL community and wider via our Twitter or Facebook pages.