National Poetry Day - The Environment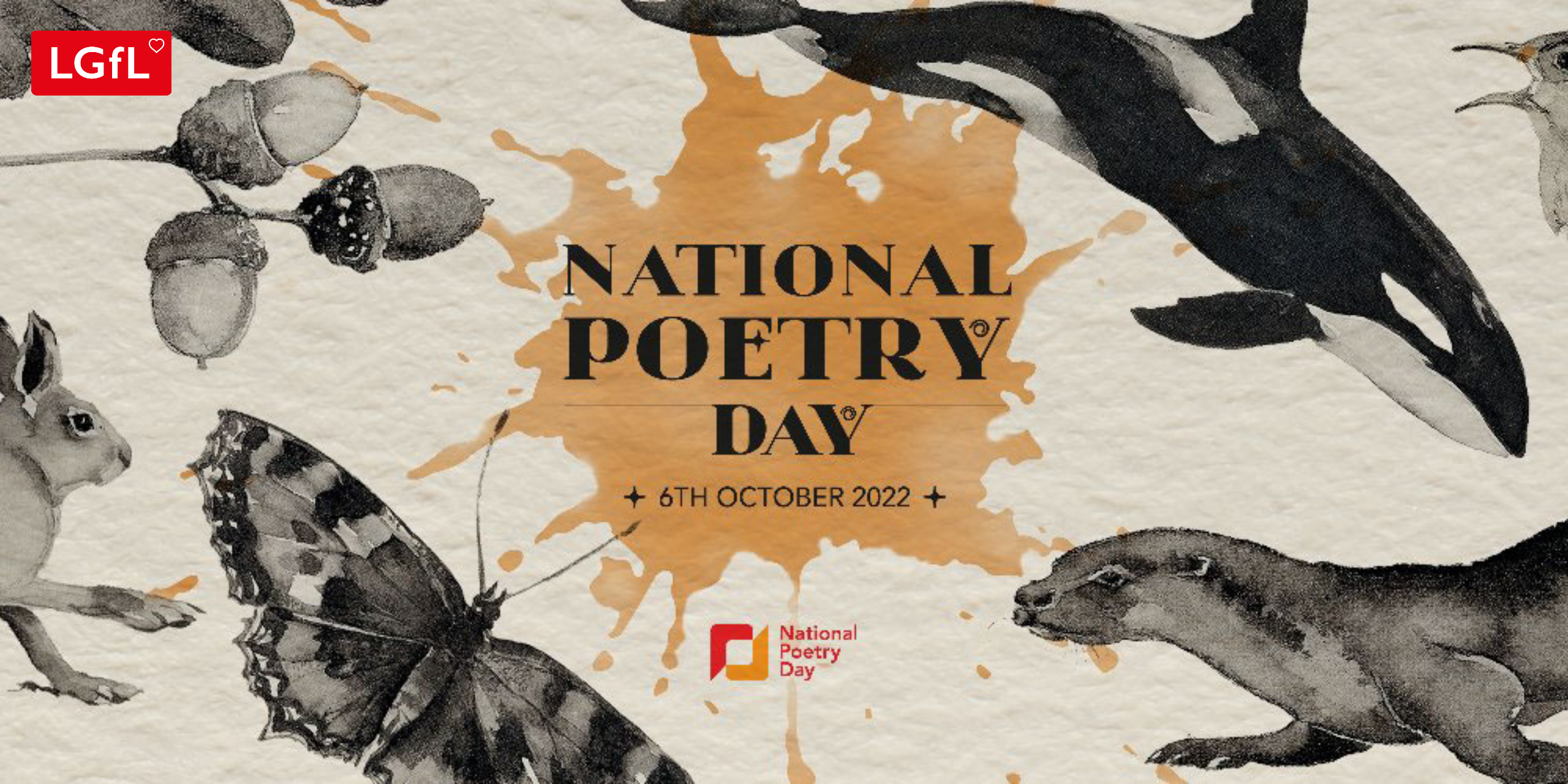 National Poetry Day is the annual mass celebration on the first Thursday of October that encourages all to enjoy, discover and share poetry. This year, National Poetry Day takes place on 6th October 2022, and the theme is The Environment.
There are a number of resources that can be used to help you plan and deliver lessons on or before National Poetry Day based around the theme of Environment from the National Poetry Day website:
They have curated a selection of permissions-cleared poems for you to share based on their theme, which they will be adding to in the lead up to National Poetry Day
A trove of resources you can use to structure a class lesson
Poster for display
You could enter some of your students' poems to The Lost Words Competition - Inspired by 5 years of The Lost Words book by Robert Macfarlane and Jackie Morris; they are inviting children to write an acrostic poem about their favourite plant or animal. The competition is open to children in two age categories: 7–9 (Years 2–4); and 10–12 (Years 5 – 7). Take a look outside what can they see? What would they like to protect for the future? The deadline for submitting up to 20 entries per application via this link is 5pm on Friday 4 November 2022.
Another place to share the best poems on National Poetry Day is by tagging pictures on Instagram or Twitter (@PoetryDayUK) with #MyNPDPoem. Perhaps you could even hold your own poetry show on National Poetry Day by inviting everyone to perform their poems aloud in a special National Poetry Day assembly.
Celebrating Poetry for National Poetry Day (For Years 3-6) - Friday 14th October, 2pm - 2.45pm

Poet Joshua Seigal will remind us why poetry is fun to share and will encourage children to write their own poetry. To sign up email info@readingzone.com.
Head to ReadingZone Live to see all the videos from previous ReadingZone events and use interviews with poets as a starting point when looking at writing poetry and the themes within them.
Zaro Weil one of the poets featured in ReadingZone Live explains how she begins writing a poem: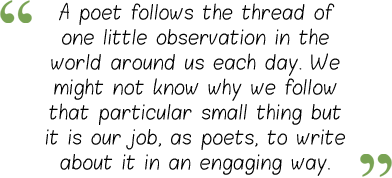 ReadingZone Live also features the poet Roger Stevens who founded and runs the award-winning Poetry Zone website, which encourages children to write and publish their poetry and offers guidance and ideas for teachers on how to make the teaching of poetry fun and rewarding.

J2e Toolsuite can be used for children to use any of the j2write tools to write their own poem on the theme of 'The Environment' (there is also a template for planning their poems in the j2library area). Why not use j2 vote to get the children to vote for their favourite poem?
Adobe Express has some free "poem templates". They say, whether you're sharing a stanza from your favorite poet, or publishing your own original prose for the world to read, Adobe Express will serve as your creative guide. Create captivating graphics that are just as beautiful as your poem. Explore poetry templates that you can customise to perfection. Then, resize as needed to share on any social platforms or printed format. It's as easy as choosing a template, customizing, and sharing! We would love to see submissions shared to on our Amplify site - since one of the themes is "Environment".
Dom Traynor (EDU Evangelist) at Adobe has shared his Natural Environment Poetry Project. This includes a stimulus video, questions to generate ideas and a tutorial video on how to make a simple video poem.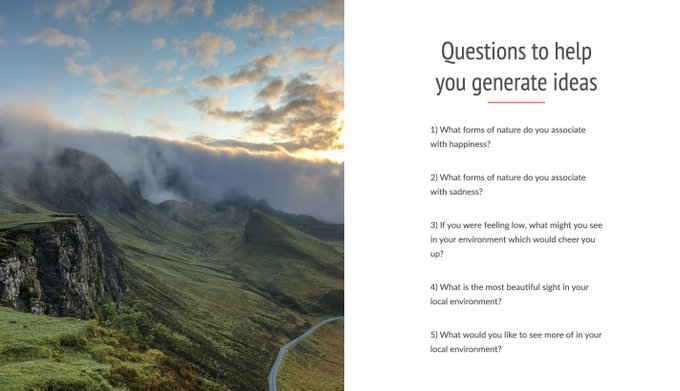 Non-LGfL Resources:
Poetry Roundabout is the go-to place to find anything and everything about poetry for young people. Poems do not have to be written specifically for young people to be accessible to them; content is however always suitable. This is a place of fun poetry, interesting poetry, lyrical poetry, poems in all different forms and shapes and sizes! Visit for interviews with the best children's poets, poetry news, how to write poems, poems of course, and poetry book reviews… and more besides! For teachers, young people's poets, and poets who are young people!
Places of Poetry aims to use creative writing to prompt reflection on national and cultural identities in England and Wales, celebrating the diversity, heritage and personalities of place. You can visit the archive of writing collected in 2019 from all ages and backgrounds and the many perspectives on the places and histories of England and Wales. They have a range of toolkits still accessible for both primary and secondary schools on how to run poetry sessions within schools.
Visit The Royal Society of Literature (RSL) have the #WriteAcrossLondon Poetry Map – an interactive map of poems written by people who experienced lockdown in London. N.B Poems may contain references that may not be suitable for every reader including sexual references, swear words or other sensitive material. Teacher/reader discretion is advised. All poems have been published as they were submitted.
Or why not use the resources from BBC Live Lessons (2018) led by award-winning performance poet and author Joseph Coelho, poet and author Tony Walsh, and CBBC's Katie Thistleton, this lesson features poetry reading and performance and critical analysis of similes and metaphors. This is just one of many BBC Teach resources for both primary and secondary that can be used to bring poetry to life within the classroom, you can find the collection here.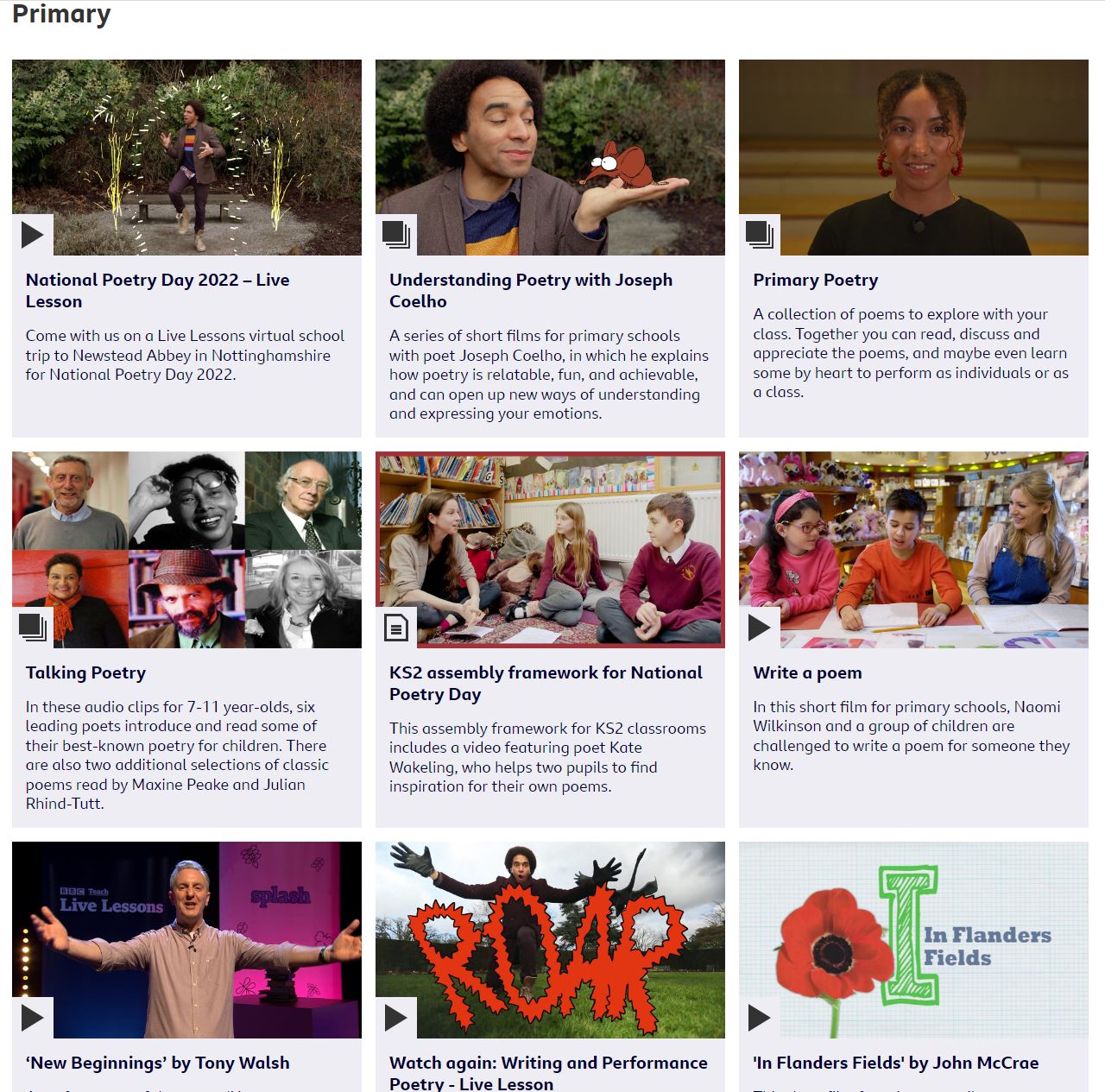 Literacy Hive is a literacy resource signposting website designed to help teachers find resources to support the literacy curriculum quickly and easily. There are categories for Inspiring Writers and Poetry, as well as a calendar of events, literature festivals and competitions to help you plan your literacy year.
Finally, take a look at the National Poetry Day Ambassadors; inspiring poets who bring poetry to new and young audiences all year round (the website has contact links for if you are wishing to invite a one of the ambassadors in for a workshop or similar).
We would love to see the work you do around National Poetry Day theme of The Environment via our Twitter or Facebook pages, using the #MyNPDPoem #NationalPoetryDay hashtags.