"Storytelling can be found enriching lives everywhere. The sharing between teller and listener empowers, feeding the imagination from one generation to the next."- Society for Storytelling.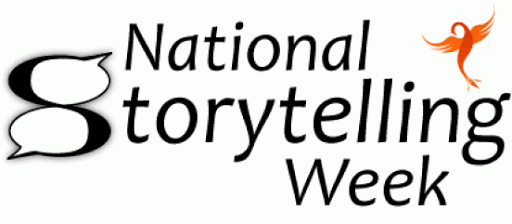 The Society for Storytelling is hosting its annual National Storytelling Week from 28th Jan~ 5th February. Supporting & promoting Storytelling in the UK. Oral storytelling is one of the most ancient art forms and continues to this day as a vibrant part of culture throughout the world. The Society for Storytelling have loads of helpful resources that will give you guidance on many aspects of Storytelling. Storytelling has been shown by studies to aid learning in children for history, increase interest in science and have a positive effect on memory. When the students do the storytelling, it can encourage higher-level thinking skills, such as analysis and synthesis, as well as skills in oral composition.

National Storytelling Week is celebrated for a full week in February and takes place in all sorts of places, including schools, hospitals and care homes. Stories are chosen and told in a magical way between the teller and the listener. It's a fantastic way for people to share their own stories, or even invent something entirely new.

Here are the Inspire team's top tips and recommendations on how to use LGfL's range of teaching and learning resources to support you and your students during National Storytelling Week.
The Whole Story resource features a professional storyteller offering his advice to teachers on how to incorporate storytelling across the curriculum using images, objects and structure. This resource aims to explore how storytelling can maximise creativity within learning activities for your students by capturing the expert advice of a professional storyteller and arranging this advice into a simple interface.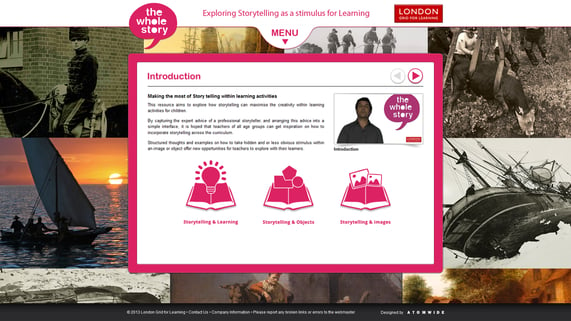 Students can also get advice on how to create their stories from well-known authors in ReadingZone Live. ReadingZone Live is a development of the existing partnership between LGfL and Readingzone and brings regular interviews and live video calls with some of the best contemporary children's authors to schools nationwide.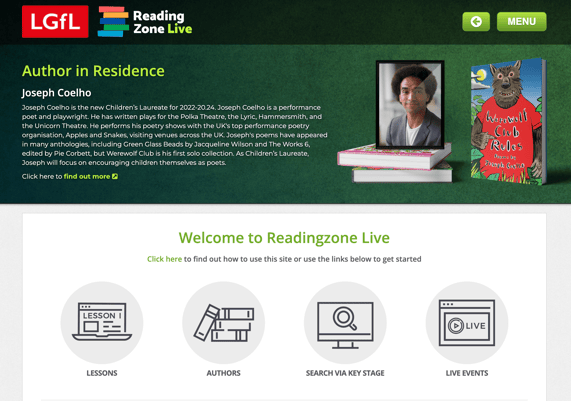 Antony Horowitz, Henry Winkler, Sophie McKenzie, Michael Morpurgo, Oliver Jeffers, Sally Nichols and Lauren Child are among the authors who have already joined us for ReadingZone Live, which is helping inspire young people to explore new authors and genres and to develop their own creative story creating.
The wonderful Busy Things team who have released a large number of well-known book extracts and activities based on the Reading Zone Live content. Just Visit English > Reading: comprehension in your chosen setup and explore all the resources don't forget they are a range of traditional tales resources available as well.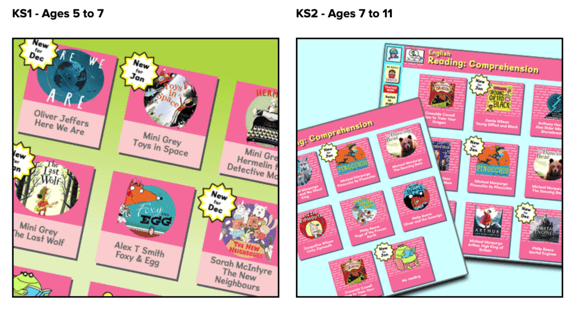 For a truly 'out of this world story,' You could explore Space Adventures Mission to the Moon. This unique and engaging cross-curricular resource is based on an original story commissioned by LGfL by the award-winning author Cath Howe. It features dramatic content and a Virtual Reality (VR) experience linked to the narrative. The aim is to draw the learner into the turn of events that threatens the ability of our intrepid astronaut, Tazz, to return safely back to Earth. Will Mic, the onboard computer, be enough to get her back safely? Or will she need to use her maths problem-solving skills and science knowledge and understanding to get her back to safety?
Early Years practitioners or Key Stage could make use of our Fairy Tales resource and then re-tell their favourite Fairytale using the PDF images included within the resource.
Another fantastic resource to use during this week is Listening Books; these audiobooks are great to appreciate stories read aloud. There is a great range of fiction and non-fiction available to support pupils from Key Stage 2 up to A-Level, including:
Matilda by Roald Dahl
My Friend Walter by Michael Morpurgo
The Color Purple by Alice Walker
Face by Benjamin Zephaniah
Don't forget as an LGfL subscribing school, you also have access to all the tools found in the Adobe Creative Cloud, why not use these tools to help your students tell their stories with this simple but powerful lesson example from Adobe Education Exchange?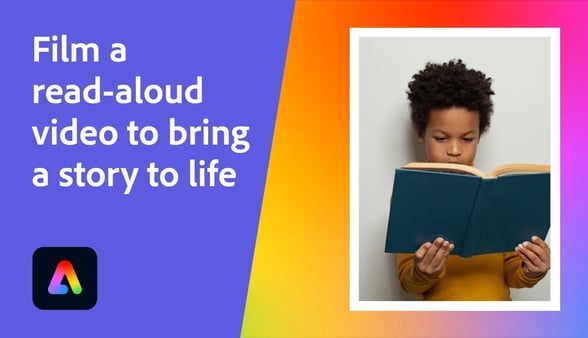 This resource will walk you through a quick challenge to get started with Adobe Express*. Learn creative ways the tool can be used to help your students make their thinking visible and share their voices with the world! Creative Cloud Express for Education is a simple, powerful, presentation and storytelling tool which is perfect for the classroom. it's quick and easy to master runs on any browser and includes a beautifully creative set of tools that will help unlock the creativity of your students.

For an even more powerful tool, why not use Adobe Audition the professional tool for precision audio editing, mixing, and sound effects? (Again part of your Let's Get Digital Bundle) with this tool you capture, design, and mix sound with the industry's best digital audio workstation. With multitrack, waveform, and spectral frequency displays, easily record, edit, and clean up audio content, for more support with Adobe Audition go here.
*Adobe Spark for Education is now known as Adobe Express for Education. This new browser-based creativity tool brings together the Creative Cloud Express app, Photoshop Express, and Premiere Rush. You can still use your old Spark passwords and any projects you have saved will still be available. (Adobe has worked with Google to make sure that Creative Cloud Express is fully compatible with Chromebooks.)
The National Literacy Trust have a range of useful links and resources to support the event here.

BBC Teach has a collection of teaching resources for primary and secondary schools, perfect for inspiring your class with the wonder of stories during National Storytelling week.

Be sure to also check out World Book day's reading recommendation lists, where they have book lists for all readers of all ages with all types of interests. For younger readers, discover their Share a Story Corner video books
The LGfL Inspire team would love to hear some of your pupils' stories – why not share them on our Twitter feed or our Facebook page #NationalStorytellingWeek.