National Writing Day is an annual celebration of the power of writing creatively, inspiring people of all ages and abilities to try writing for fun and self-expression.
It is taking place on Wednesday 21 June 2023, and provides a great oppportunity to celebrate the reasons why young people write (as outlined in their research) and to encourage everyone to find their own motivation and voice.
Grab your pens, pencils and laptops and make your voices heard, as you join First Story in the annual celebration of the pleasure and power of creative writing. Whether you're a young writer, a teacher, a parent, or anyone in between, National Writing Day is for you.
What is National Writing Day?
Everyone has a unique voice, a story to tell, and a right to be heard. Now in its sixth year, National Writing Day is an annual day dedicated to celebrating and practising creative writing for pleasure and self-expression.
How can I take part?
Anyone can take part — at home, at work, in schools, online, or just about anywhere really! — with free resources available to help stimulate your creativity and inspire writing activities. Check out the range of great resources on their
website
.
The
National Literacy Trust
has also created new classroom resources including insights and activities for early years as well as inspiration and ideas for ages 4 to 14.
LGfL Resources
The Whole Story
This resource features a professional storyteller offering his advice to teachers on how to incorporate storytelling across the curriculum using images, objects and structure. This resource aims to explore how storytelling can maximise the creativity within learning activities for your students by capturing the expert advice of a professional storyteller and arranging this advice into a simple interface.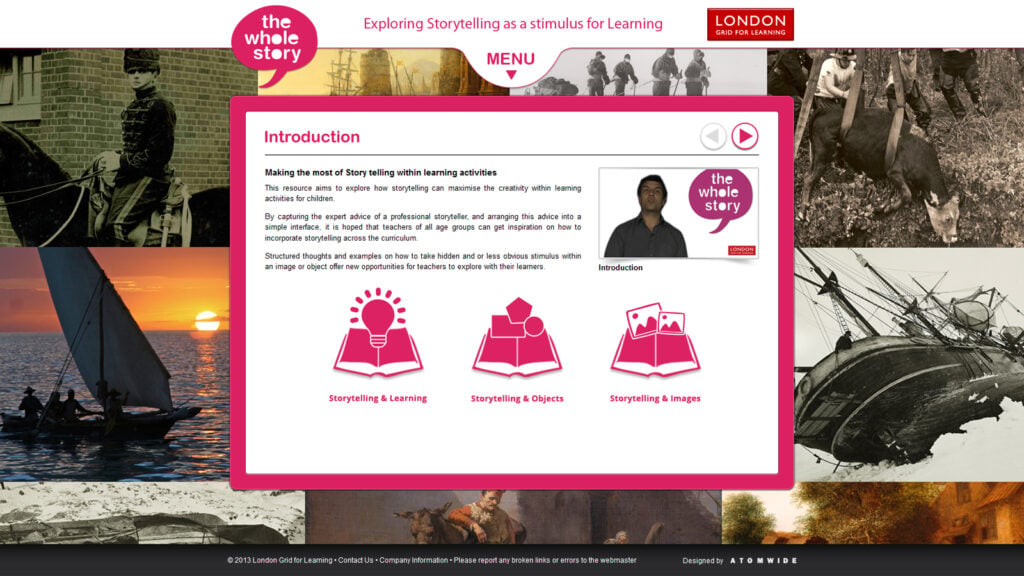 ReadingZone Live
Students can also get advice on how to create their stories by well-known authors in ReadingZone Live. ReadingZone Live is a partnership between LGfL and Readingzone and brings regular interviews and live video calls with some of the best contemporary children's authors to schools nationwide.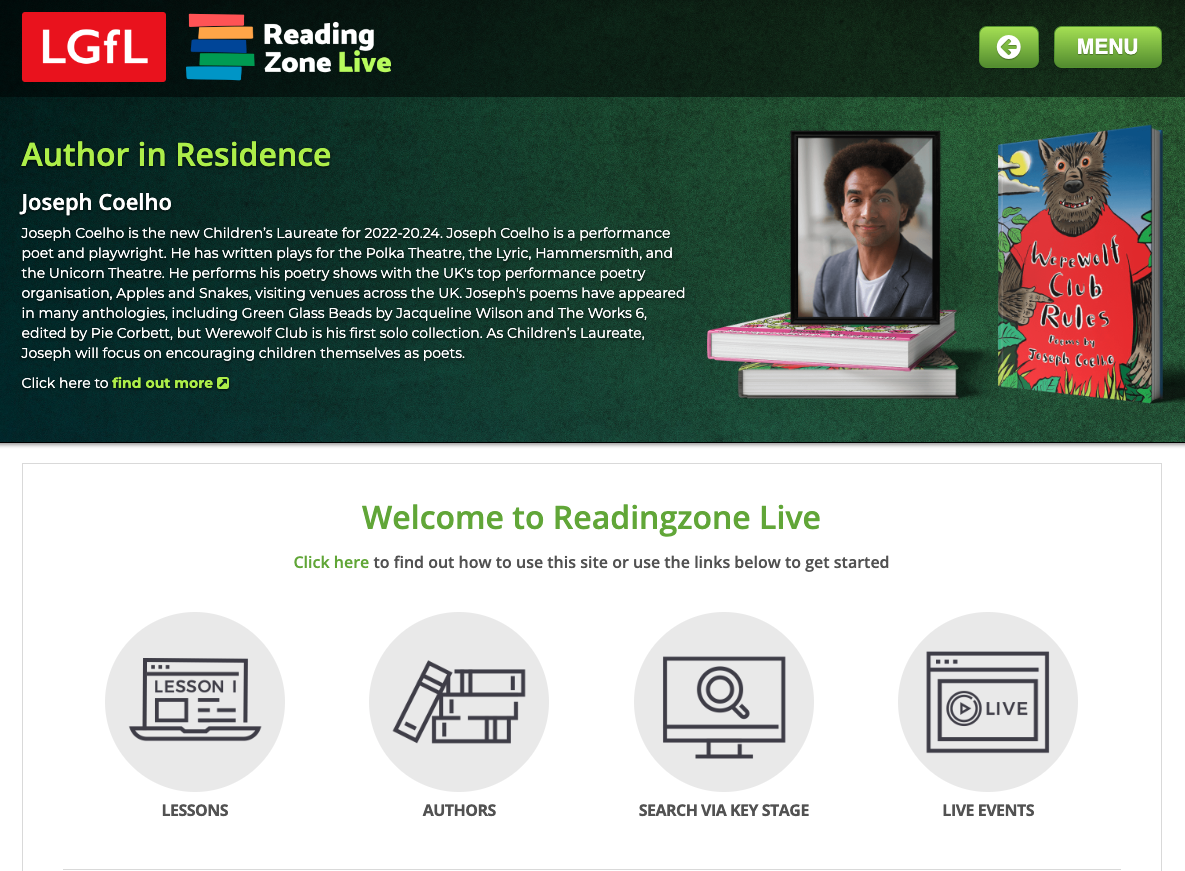 Antony Horowitz, Henry Winkler, Sophie McKenzie, Michael Morpurgo, Oliver Jeffers, Sally Nichols and Lauren Child are among the authors hosted on ReadingZone Live; helping inspire young people to explore new authors and genres and to develop their own creative story creating.
Also remember that you can join in with the ReadingZoneLive Bookclub! The ReadingZone Bookclub programme of free virtual author events each term. The Bookclub is aimed at classrooms and libraries that are keen to develop a love of reading. Events for ages 5-11 years. Meeting an author can have a real impact on children's reading for pleasure - plus our Friday afternoon virtual Bookclub events are a great way to end the week! To sign up for any of these free events, and for more details (although a brief outline is shown below too), email info@readingzone.com
June
Jerry Craft on graphic novels - Friday 18th June, 2pm - 2.45pm - For Years 7&8
Join NY Times bestselling author and illustrator Jerry Craft as he takes you on his journey from being a VERY reluctant reader to becoming a Newbery-Award-Winning author. He'll share images from his childhood, including early comic books, his self-published books, and ending with his groundbreaking graphic novels.
Robert Muchamore introduces Robin Hood for the 21st Century - Friday 30th June, 1.30pm - 2.15pm - For Years 7 & 8
Meet bestselling author Robert Muchamore who will introduce his Robin Hood series, fast-paced adventures that bring the Robin Hood myths into an alternative contemporary world, reshaped by the climate crisi
July
Environmental Adventures with Natasha Farrant - Friday 7th July, 2pm - 2.45pm - For Years 5&6
Join Natasha Farrant as she introduces her latest novel, The Rescue of Ravenwood, an epic adventure with a call to arms: we must fight to save the most treasured things on our planet. Natasha will be discussing various themes including: The climate and environmental crisis; Climate and conservation activism; Children taking control of their own future; Navigating the modern world; and reading and writing for pleasure.
Busy Things
The wonderful Busy Things team have released a large number of well-known book extracts and activities based on the ReadingZone Live content. Just Visit English > Reading: comprehension in your chosen setup and explore all the resources and don't forget they are a range of traditional tales resources available as well.
Space Adventures
You could explore Space Adventures Mission to the Moon. This unique and engaging cross-curricular resource is based around an original story commissioned by LGfL by the award-winning author Cath Howe. It features dramatic content linked to the narrative. The aim is to draw the learner into the turn of events that threatens the ability of our intrepid astronaut, Tazz, to return safely back to Earth. Will Mic, the onboard computer, be enough to get her back safely? Or will she need to use her maths problem-solving skills and science knowledge and understanding to get her back to safety?
FairyTales
Early Years practitioners or Key Stage 1 could make use of our Fairy Tales resource and then re-tell their favourite fairytale using the PDF images included within the resource.
Listening Books
Another fantastic resource to use during this week is Listening Books (note USO sign in needed); these audiobooks are great to appreciate stories read aloud. There is a great range of fiction and non-fiction available to support pupils from Key Stage 2 up to A-Level, including:
Matilda by Roald Dahl

My Friend Walter by Michael Morpurgo

The Color Purple by Alice Walker

Face by Benjamin Zephaniah
Adobe Creative Cloud Express
Creative Cloud Express for Education is a simple, powerful, presentation and storytelling tool which is perfect for the classroom. it's quick and easy to master runs on any browser and includes a beautifully creative set of tools that will help unlock the creativity of your students.
Don't forget as an LGfL subscribing school, you also have access to all the tools found in the Adobe Creative Cloud, why not use these tools to help your students tell their stories ? Use Creative Cloud Express for Education to get your students making their thinking visible and sharing their voices with the world!
* Creative Cloud Express for Education was previous called Adobe Spark for Education. This browser-based creativity tool brings together the Creative Cloud Express app, Photoshop Express, and Premiere Rush.
For an even more powerful tool, why not use Adobe Audition the professional tool for precision audio editing, mixing, and sound effects. (Again part of your Let's Get Digital Bundle) with this tool you capture, design, and mix sound with the industry's best digital audio workstation. With multitrack, waveform, and spectral frequency displays, easily record, edit, and clean up audio content, for more support with Adobe Audition go here.
BBC Sound Effects
When retelling and recording stories your students could make use of the BBC Sound Effects Archive – to enhance and enrich their oral stories, this large database of audio sound effects can be used within a wide range of applications in an educational context. Many sounds have multiple versions to suit different uses.

LGfL Training
We are delighted to remind you that we are running a 'How to use technology to help lead more effective writing moderation in your school'.
Book here (Monday 12th June 15:45 to 17:15 online)
Join LGFL and the team from Pobble, an award winning writing platform, to learn how you can use technology to improve your approach to writing moderation. In the session you'll have the opportunity to work with a highly experienced moderation manager to develop your understanding and skills, ensuring every moderation session you lead is engaging, effective and valued by your staff.
Pobble believes writing moderation should be a valuable, robust and positive experience.
During this session you will learn how to:
- gain a clear understanding of pupils' standards.
- connect online with others to gain confidence and accuracy in making assessment judgements.
- build online evidence banks and develop writing exemplars
- develop skills such as the ability to professionally challenge to ensure your moderation is robust but kind.
Moderation is a non-statutory, but vital process conducted by schools internally and, where possible, with other schools. It should be a collaborative process undertaken throughout the academic year and normally with colleagues across different age groups. Using technology can make this even easier!
Don't miss this valuable professional development opportunity.
Another training opportunity is our Literacy Study Tour as part of our EdTechHubs. Kings Cross Academy are hosting the event on 29th June from 12:30 - 16:00. You will have the opportunity to visit classrooms to see how effective pedagogy and well-chosen technology can enhance the impact of Literacy across the curriculum and then have discussions with teachers and pupils from across the academy to discuss further what has been seen on the tour. Click here to sign up for the event.
Other Resources
BBC Teach have a collection of teaching resources produced for World Book Day and National Storytelling Week which could be perfect for inspiring your class with the wonder of stories during National Writing Day.
Be sure to also check out World Book Day's reading recommendation lists, where they have book lists for all readers of all ages with all types of interests. For younger readers, discover their Share a Story Corner video books.
The LGfL InspirED Team would love to hear some of your pupils' stories – why not share them on our Twitter feed or our Facebook page #NationalWritingDay @FirstStory