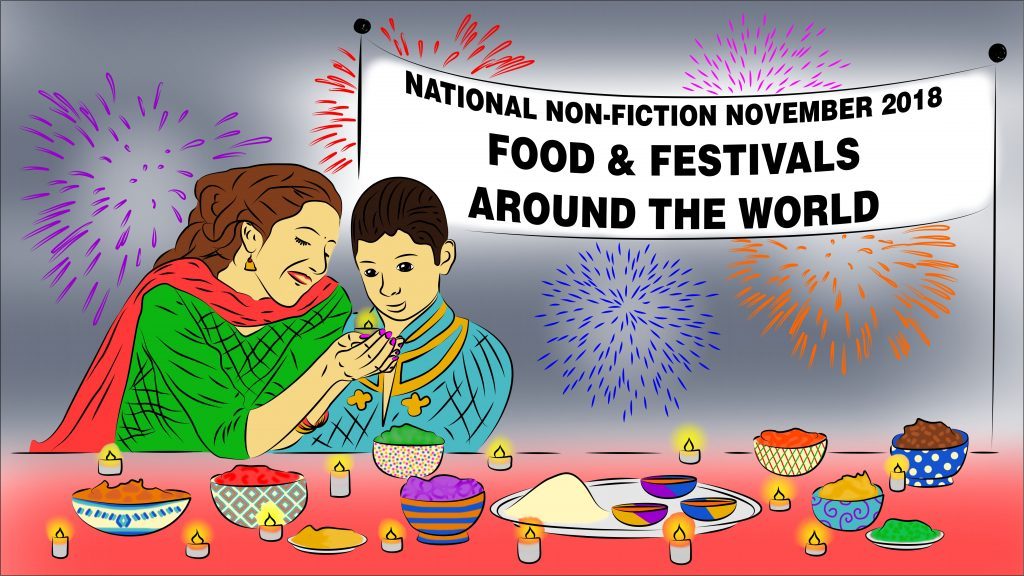 National Non-Fiction November is the Federation of Children's Book Groups' annual celebration of all things factual. Born out of National Non-Fiction Day, the brain child of Adam Lancaster during his years as Chair, the whole month now celebrates all those readers that have a passion for information and facts and attempts to bring non fiction celebration in line with those of fiction.
The theme they have chosen for National Non-Fiction November (NNFN) for this special 50th anniversary year is 'Food and Festivals Around the World'. Food is a necessary requirement for keeping healthy and, in the case of children, for growing and developing. It is also associated with celebrations and festivals around the world. Young people enjoy having the opportunity to grow their own food and to learn how to prepare food and cook for themselves, and they hope that one of the outcomes of NNFN will be the creation of some fabulous recipe books to share. They also hope that the theme will provide an opportunity for children to explore the everyday food enjoyed at home and by different cultures, in addition to finding out about the special foods associated with the festivals of the major religions.
To tie in with this year's Food and Festivals Around the World theme, they are running a competition, open to children's book groups, schools and libraries in the UK, the challenge is to design a birthday cake for their very special celebration – the Golden Anniversary of the Federation of Children's Book Groups. The design can be for a single, double or triple tier cake, or if preferred, a shaped cake. It could include the FCBG logo, feature their mascot bear #FedTed or be decorated with gold. Alternatively, the cake could be inspired by a favourite book, book character or author, or based on the Federation's aim to bring children and books together. You can find out more details and how to enter the competition here.
Perfect to use during this month to help children create their own recipes would be Cookit from E2BN. The primary purpose of Cookit is to improve pupils' skills, understanding and enjoyment of food and healthy eating. The site provides support for the teaching and learning of a wide range of basic skills and processes. It encourages and inspires learners to explore cooking and to create and share their own recipes.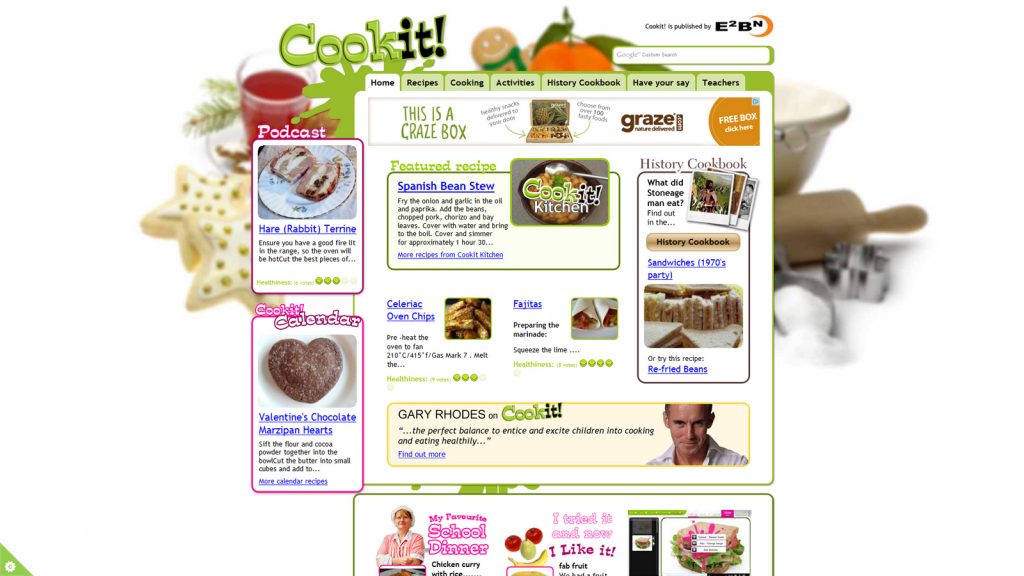 Once children have researched and found out about different recipes they could then use the j2write tools within the j2 tool suite to produce their recipe books.
Espresso faiths would be perfect to use with children to explore different festivals during Non-Fiction November. Espresso Faiths covers the six major world faiths - Buddhism, Christianity, Hinduism, Islam, Judaism and Sikhism - by looking at these faiths within London communities. This is a joint production with espresso and is available to all LGfL-connected schools, irrespective of whether or not they take out a subscription to espresso.
Busythings have a range of resources that could be used during the month including making a Pizza or a tasty pancake game for Early years to a writing template for older students to write about their favourite meal.
ReadingZone Live also features non-fiction authors that could be used during the month. Oliver Jeffers who published his first non-fiction book Here we are, earlier this year said:
"It started off as a book about the realisation that new life is a blank slate (trying to explain what a door is, and what a kitchen is for), and the strangeness of being a new parent. But as the book unfolded, so did the global events of the last year or so, and it felt like it became more urgent to reinforce some basic things my parents taught me about the simple principles of humanity. I wanted my son to know that while we are all unique individuals, we are all in this together."
You can watch the part 2 of the Reading Zone Live featuring Oliver Jeffers below:
As well as Oliver Jeffers there are other authors within Reading Zone Live that look at non-fiction resources, why not look at Andy Seed to look at how you can make non-fiction books interesting as well as what advice he would give for someone writing a non-fiction book.
You can also use your LGfL USO account to access over 100 curriculum based audio books, through Listening books. These are a great tool for using with your students who have SEND or an illness which makes it difficult for them to read. There are several non fiction books available that you can listen to during the month including: Horrible Histories, Coming to England, Mathmagicians and Why is snot green and other extremely important questions.
As well as listening to books, you can download two non fiction books from within our Ebooks from Rising Stars, Graphic novels and fast cars are available to download and both books also come with teacher notes and guidance, perfect to use in guided reading sessions.
Non- fiction texts also feature in Talking Stories, Talking stories 1 is perfect for KS1 and one of the stories is all about the Great Fire of London, while Talking stories 2, features cooks and cooking that perfectly ties in with the theme for this year, lesson plans for Year 3 and 4 are also included for this book.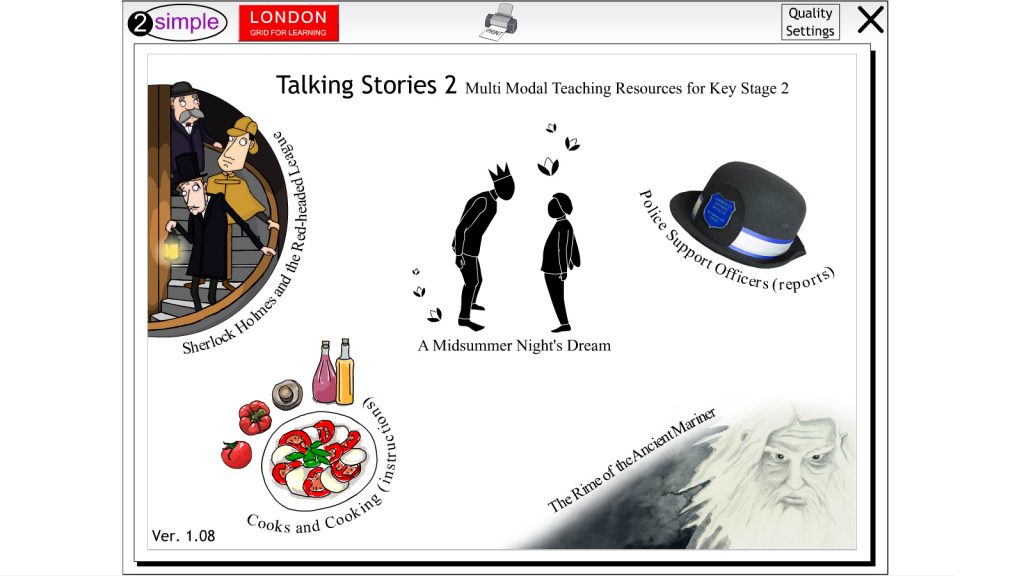 The Literacy Shed blog has a great post entitled: With Google at our fingertips, do we still need non-fiction texts? The post includes a short video and recommendations of non-fiction books for the primary classroom.
Whatever you decide to do during National Non-Fiction November, the month provides a great opportunity to promote reading non-fiction for pleasure, to allow young readers to indulge in fascination for facts and to celebrate, the breadth, depth and richness of non-fiction writing, illustrating and publishing for children and young people. (NNFN website)
Please let us know via our Twitter and Facebook pages or leave us a comment here to let us know what you are doing for Non Fiction November.