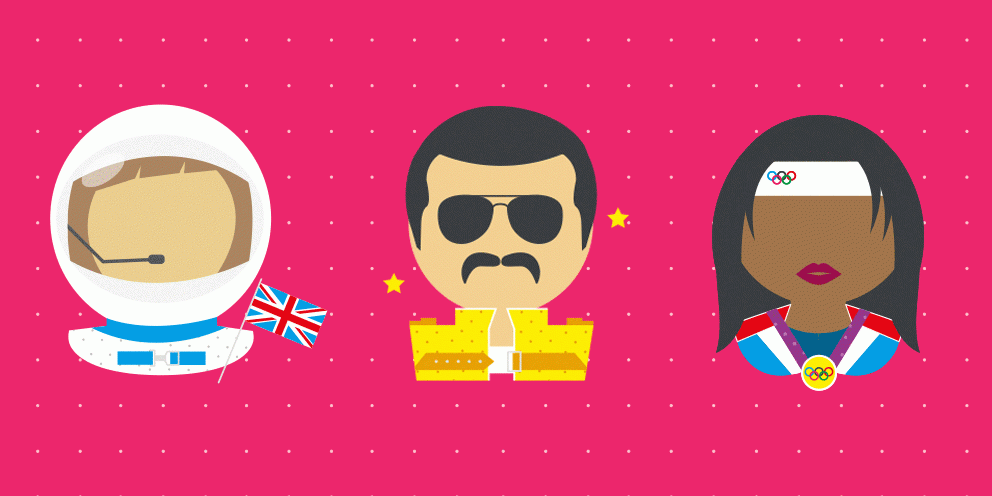 This Friday is the third London History Schools Day. London History Schools Day is the sister event to London History Day (May 31st) led by Historic England to celebrate our city's unique history and heritage: its historic buildings, sites, communities and heroes.
The London Curriculum team, along with Historic England and Museum of London, launched London History Schools Day in 2017 to encourage schools to bring London's unique characters, past and present, to life with a dress-up day and activities. It aims to inspire young Londoners to learn more about the city's cultural heritage and communities.
This year the themes will be Celebration and Local Culture, supporting the Mayor's wider #LondonisOpen campaign, showing that London will always be open to the world and to celebrate its culture and diversity. There's a great teachers' guide full of information on famous Londoners and local icons as well as activities to carry out on the day or during the month of May. There are also a wealth of resources for KS2 and 3 that can be found here to use when studying London - from Explorer trails to going underground to bringing communities to life.
LGfL have a wealth of resources to use when looking at London and its rich and varied history, suitable not just for London History Schools day but throughout the year.
The Romans in London produced in association with the Museum of London, this resource features unique video explanations at locations around the City of London and of Roman objects used and found in London and a range of Roman images for you to use in your study of The Romans in London.
The resource is divided into 6 thematic 'lessons', each one having a mix of filmed explanations of surviving remains and of objects, both real and replica. This offers a large amount of resource material to enable teachers to tell the story of Londinium without leaving the classroom and for students to access information to enable further research when learning from home. LGfL has worked with virtual and augmented-reality experts at Computeam Ltd to create a series of artefacts and experiences that complement this learning resource by bringing it to life in a way that is otherwise unimaginable.
Tudors in London also produced in association with the Museum of London, aims to develop an understanding of a historical context in which to appreciate how events of 500 Years ago still impact London life today. featuring over 140 high-quality video clips and over 60 high resolution images from the Museum of London Archaeological Archive, Royal Collection Trust and key Tudor locations in London, the extensive digital collection is further enhanced by a framework of curriculum-linked materials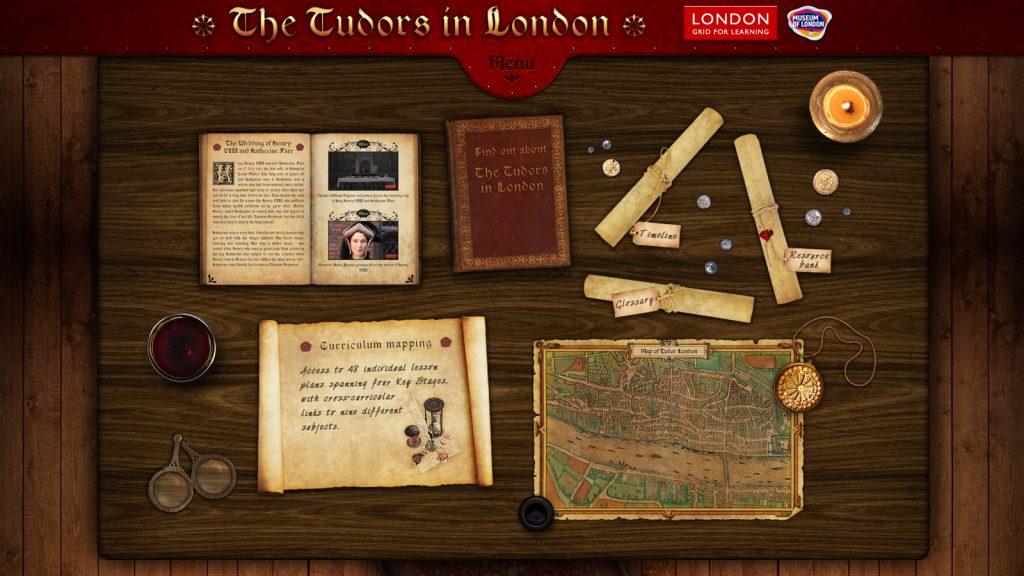 The Museum of London has its own Teacher Network that is free to join. It gives free advance access to book sessions and activities, a regular email with resource and activity ideas, private views of our exhibitions and 10% off in our museum shops. You can sign up here. As well as offering interactive sessions at the museum, it also offers in- school sessions and range of online resources for teachers to use in class.
Queen Victoria as you've never seen her before, this resource transports pupils into the regal world of Victoria the girl, the princess, the new queen and longest reigning monarch. What's in a picture? Quite a lot in fact and thanks to this latest collection of paintings and photographs from Royal Collection Trust, you will find even more. 56 carefully collated images tell the story of one of Britains favourite monarchs, accompanied by lesson plans and curriculum notes to create memorable learning experiences for pupils. All the images are available as high-resolution downloads, ideal for studying details - even on a large screen and licensed for educational use.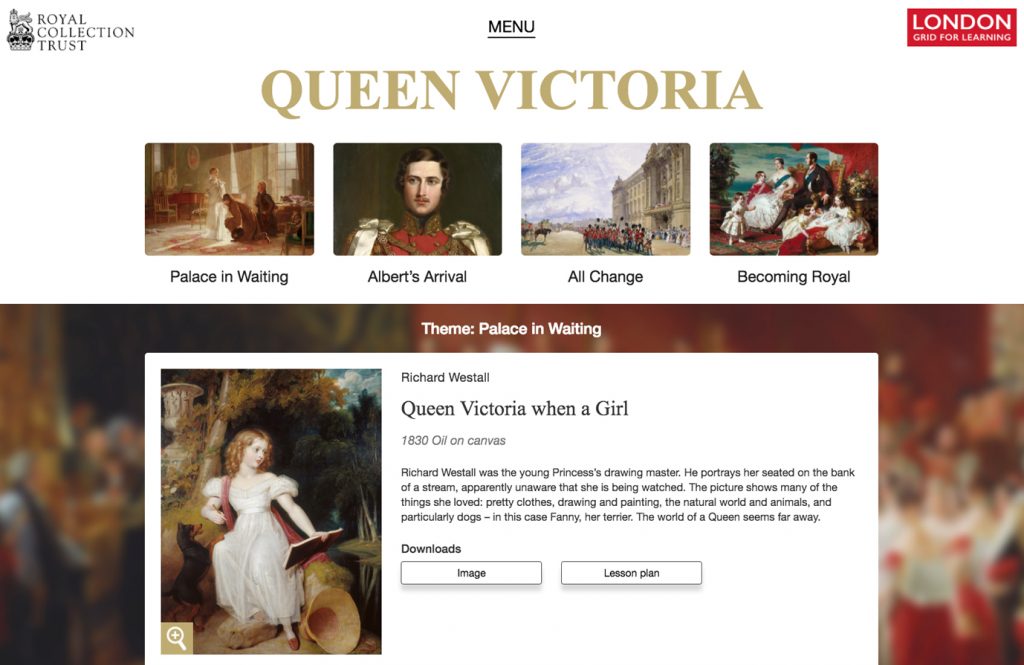 They are divided into four themes, each with lesson plans and general guidance to inspire teaching through images:
Palace

in

Waiting

Albert's

Arrival

All

Change

Becoming

Royal
The LGfL Image bank is an expanding collection of high-resolution images from a range of cultural institutions, featuring the British Library and the Royal Collection Trust, that can used when looking at the History of London.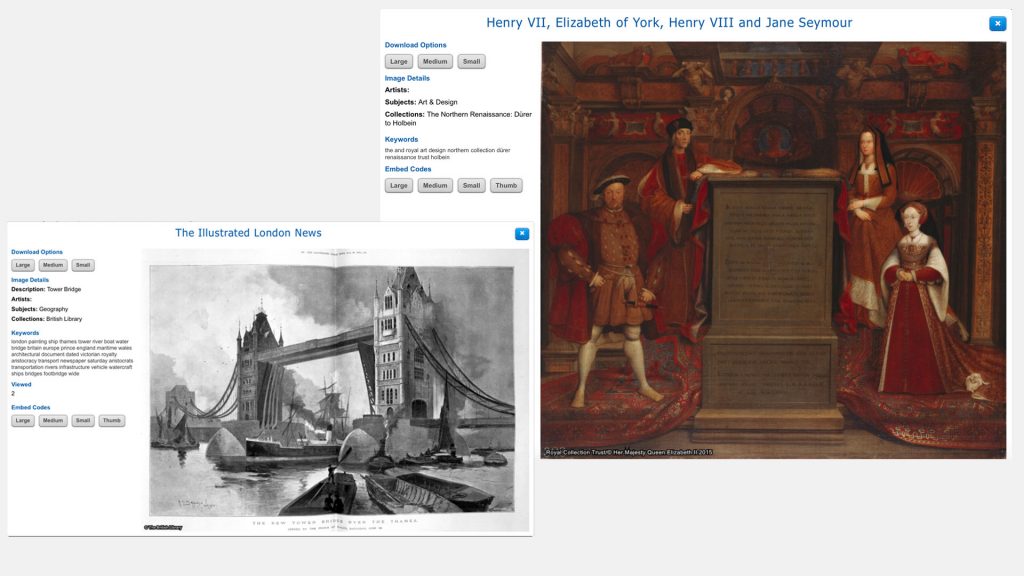 Please note: Adherence to the licensing terms of use by teachers and learners is essential. This will ensure that content providers continue to partner with LGfL and offer uniques resources fro teachers and learners connected to the National Education network.
The Royal Mews is a unique resource about the daily work of the Royal Mews at Buckingham Palace featuring video explanations of centuries-old techniques and historic documents, perfect for looking at the history behind the traditions that continue to support the Royal Household and suitable for KS1-KS4 pupils.
This resource gives an exclusive insight into the life of the Royal Mews and the work of Royal Household staff. It features archive photography, historic documents and unique filmed interviews with members of the Royal Household. The Royal Mews is a working stable and home to many of the beautiful royal carriages which are used on state occasions. The 1902 State Landau, for example, was the carriage used in April 2011 to take The Duke and Duchess of Cambridge from their wedding service at Westminster Abbey back to Buckingham Palace.
The Big Day out has a range of activities for KS1 and presents a scientific, mathematical, geographical and historical challenge for investigation or exploration, perfect for using during a study of London.
The River Thames in London resource helps pupils to understand more about this iconic river and how it has influenced and continues to influence life in and far beyond London. The resource has lesson plans and stand alone assets for Key Stages 1-3, with high-quality materials provided by the Royal Collection Trust, Museum of London and the British Library helping to uncover the river's secrets through paintings, maps and photographs.
Topics covered include Trade, Transport and the Slave Trade.
Whatever you choose to do for London History schools day, you can share your activities and pictures via our Twitter and Facebook pages. #londonhistoryschoolsday #LondonisOpen