October is nearly upon us which means it is time again for The Big Draw Festival, this international festival is for anyone who loves to draw, as well as those who think they can't! It's an opportunity to join a global community in celebration of the universal language of visual literacy. Uniting people, pencils and pixels across the globe for the 20th colourful year.

In 2020 The Big Green Draw Festival #ClimateOfChange focuses on the relationship between people and our living environments and ecosystems; highlighting how we live today and the ways in which we do and do not harmonise with nature. The Big Green Draw is eager to help showcase mindsets and actions that proactively support positive symbiosis between people and the Earth. So this is a great year to bring your community together, draw, explore, get out and about, kick start a new creative you and be part of The World's Biggest community of drawing enthusiasts!
Take a look at their Endangered animals' page to learn about some of the beautiful, endangered creatures created by Vicky Philips, Lightship Printshop, for this year's festival theme. If you're feeling creative, why not grab a pencil & some paper and draw them? Upload to social media using the hashtags #BigGreenDraw #ClimateofChange!
Every year, during The Big Draw Festival, thousands of drawing activities connect people of all ages – artists, scientists, designers, illustrators, inventors with schools, galleries, museums, libraries, heritage sites, village halls, refugee organisations and outdoor spaces. Over 400,000 people take part in this annual festival, which has a presence in over 28 countries around the world.

Founded in 2000, The Big Draw is a visual literacy charity that promotes the universal language of drawing as a tool for learning, expression and invention. They lead a diverse range of programming including The Big Draw Festival which takes place in October, as well as The John Ruskin Prize which is the fastest growing multi-disciplinary art prize in the UK.
Subscriptions are officially open, and The Big Draw is ready to equip and support museums, galleries, civic centres, retail shops, businesses, universities, schools, community centres, zoos, wetlands, gardens and individual artists to take on our 2020 theme and spark creativity worldwide. Various subscription tiers are available for organisations large and small see here for more details.
LGfL have a range of resources that can help support drawing and art in the classroom, from digital tools to helpful tutorials we have you covered!
Culture Street is a one-stop destination to introduce young people to contemporary artists, writers, curators and performers and their amazing work. The resource is jam-packed with interactive activities to inspire. There's everything from making a clay coil pot to understanding what the Turner prize is all about.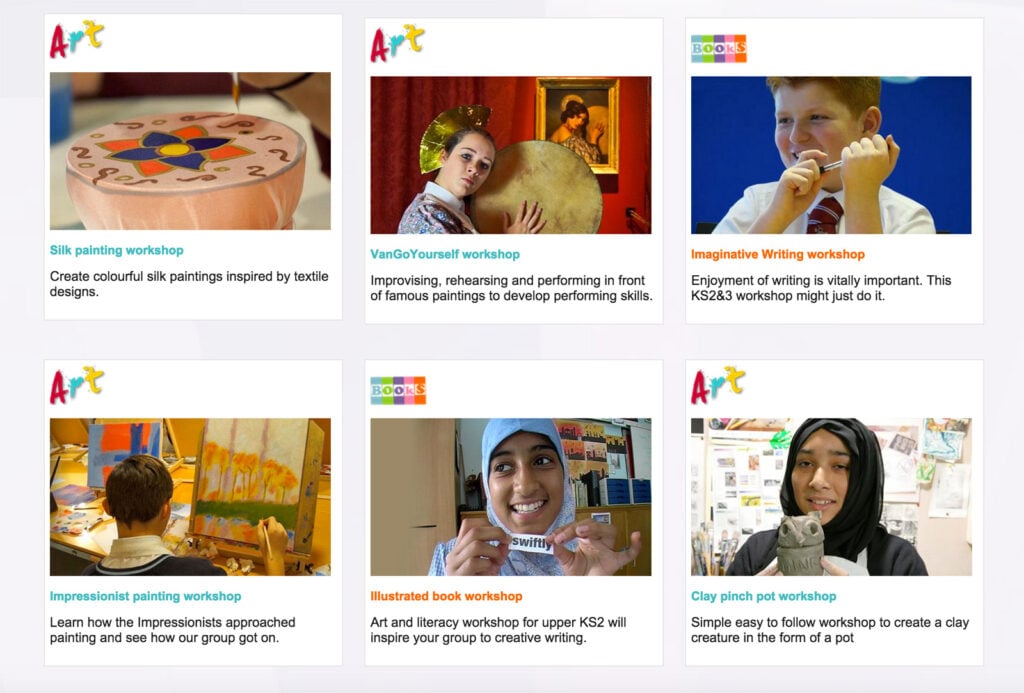 A great way to introduce the idea of the creation of digital art for younger children is found in the j2e Tool suite, first off within the tool suite for your youngest students you can use jit5, students can create a range of marks by using a palette of tools/brushes, clip art and also have the ability to import images.
Speech bubbles and text can now be added to the digital canvas, vastly improving the learning possibilities, enabling storyboards to be created across a range of curriculum subjects. The stamp feature takes the creativity on to new levels, you now have the ability to create your own digital stamps which can be saved in a 'My Stamps' area and be used across the JIT platform.
By using the microphone feature (which works as long as you have either an inbuilt microphone or an external microphone for your device) your students can add their voice to their own of art to explain their work/feelings or why not try to import various interesting works of art into the j2e Tool suite and allow children to explore being an art critic by talking about how the artwork makes them feel.
For older students, j2e Tool suite offers j2e5 a powerful digital tool, Students use j2e5 intuitively, just like a sheet of paper. The ease of use encourages their natural creativity. Combine text, graphics, animations, sounds, videos and embedded objects. j2e5 is an online, fun, creative tool, children create their own line art or use j2e5 to explore other works of art or artists.
Busy Things offers a range of activities to suit any age, it encourages young children to create art and music through experimentation. Choose from a large array of unusual tools and allow a picture or sound composition to evolve in front of you. No experience is necessary – just click or touch and watch or hear what happens! There are also ready-made templates and clipart to help you design a monster, superhero, a fashion item and much else! Older children can use Busy Paint to create artwork on a chosen topic. Busy Paint is an easy-to-use art tool offering drawing tools, brushes, shapes, stamps, clipart, symmetry options and more. Just search for The Big Draw in the special events calendar to get you started.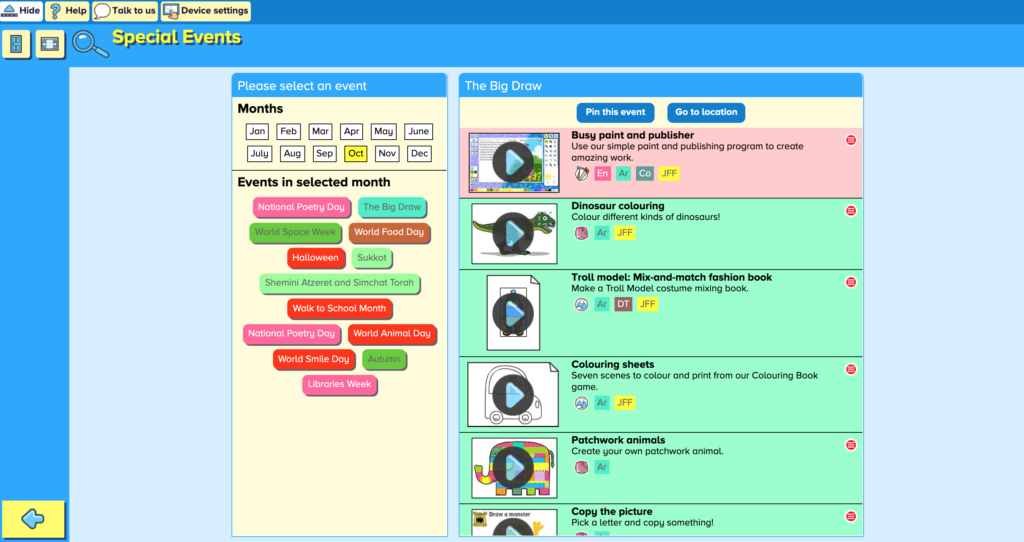 If you haven't seen it Busy Things also have a fantastic new resource called 'Make a Masterpiece!' Children can explore and learn about famous artists and genres by having a go themselves. Busy Things have special paint tools will help your students to magically recreate the brush strokes and techniques used by modern masters such as Monet, Van Gogh, Picasso, Pollock, Warhol and more! There are even video guides for each activity to help show how best to create a picture.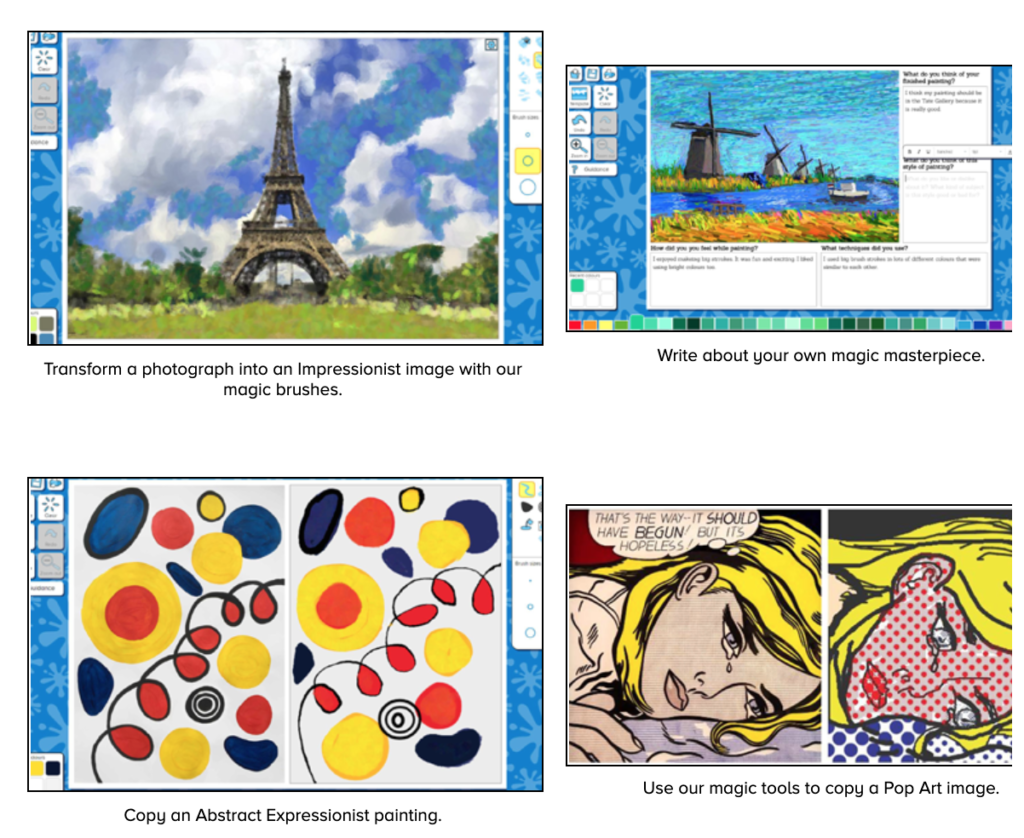 Linking drawing with storytelling is another way to inspire students, you can find multiple interviews with illustrators such as Tony Ross, Chris Riddel and Oliver Jeffers in Reading zone live, exploring their feelings on creating works of art that explore moods, emotions and tell epic stories.
For images to explore and to inspire LGfL Image Bank and LGfL Gallery are an ever-growing collections Image Bank has, with unique access to collections from The Royal Collection and The British Library, It's purpose is to provide a free repository of high-quality materials copyright cleared for use in teaching and learning.
All of the resources in the Image Bank are archived at the highest quality available so they can be used on whiteboards, printed materials, animations and for any other educational application. All of the resources are copyright cleared so they can be downloaded, edited and re-purposed for educational use, both within the classroom and at home.
LGfL Gallery is a growing collection, at present containing over 60,000 images. All the resources are copyright cleared so they can be downloaded, edited and purposed for educational use, both within the classroom and at home and offer a range of images to start your drawing journey off.
If you need to brush up on your art skills or terminology then you can with Art Skills for Teachers In Partnership with the Ben Uri Gallery. This resource offers simple explanations of a range of art techniques in action. The resource is full of unusual and easily accessible techniques to make art a truly inclusive activity for all members of your school community.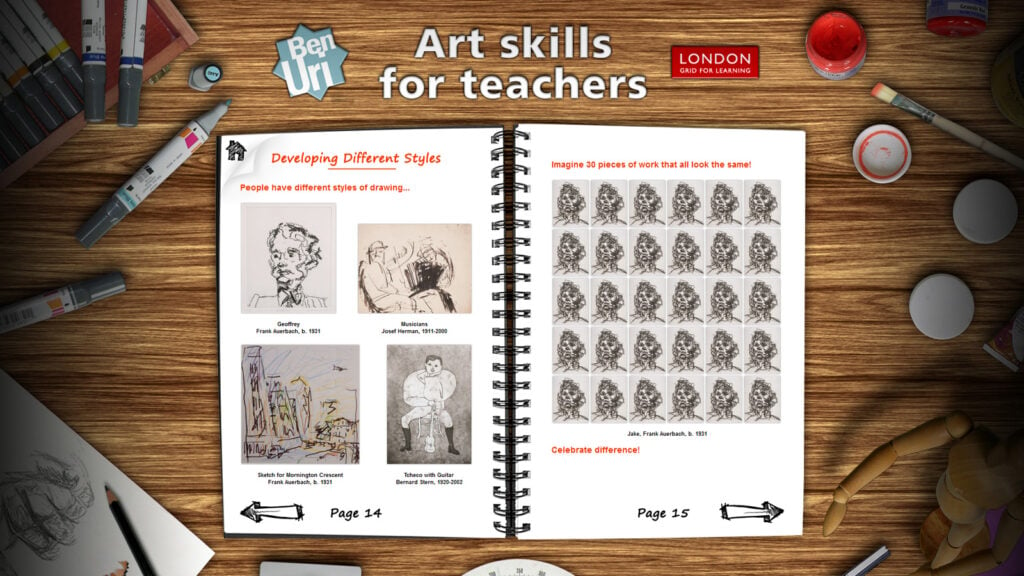 We also offer 2 more art units:
Ben Uri: Art in the Open This teaching resources contains information and points of discussion about works from the collection under the themes of Relationships, Movement and A Sense of Place. Also included in the resources are examples of how schools have used the content in a number of innovative and creative ways.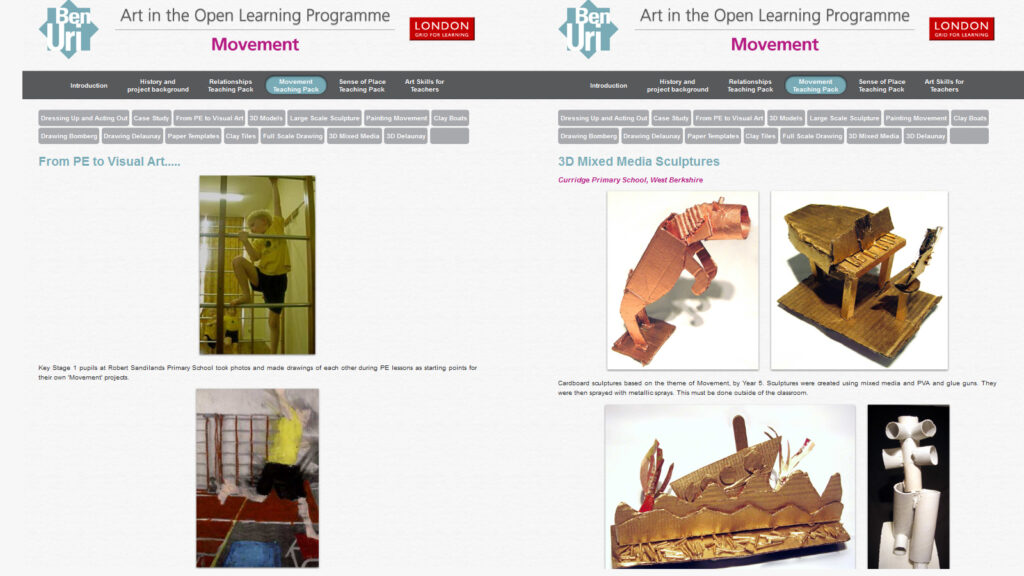 Ben Uri: Portraits & Identity Starting points for portraiture and identity projects in the classroom, including teacher's notes about selected works from the Ben Uri collection. It also offers activities suitable for Key Stages 2-4.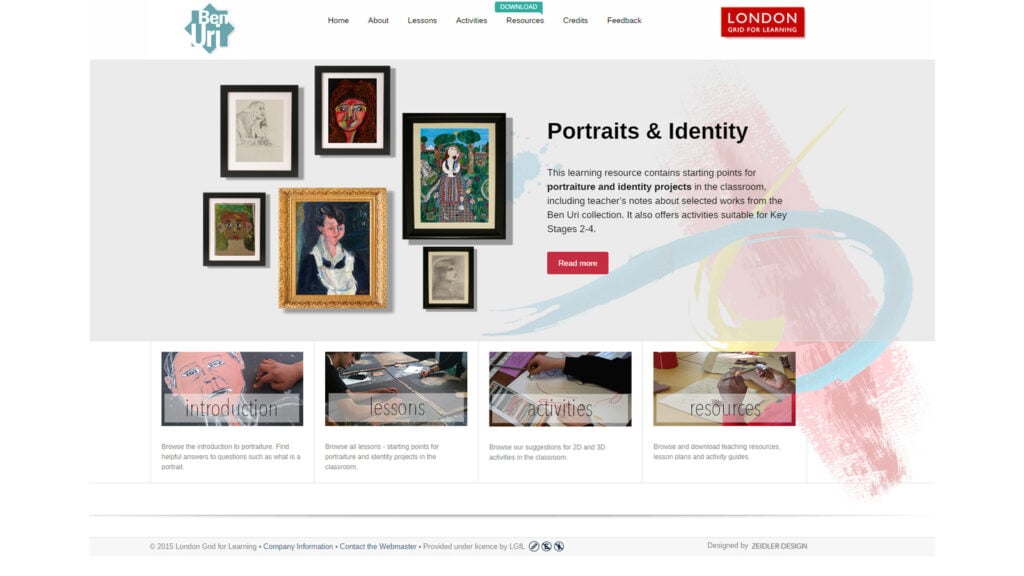 Don't forget about the abundance of creativity opportunities you have with Adobe Spark for Education and Adobe Creative Cloud; you can support your students' creative journeys from primary and secondary education and beyond with this package of creative tools.
Adobe Spark for Education makes it fast and easy for students and teachers to turn ideas into beautiful graphics, web stores, and video presentations with free app accessible from anywhere and on any device.
Adobe Creative Cloud gives you and your students access to a comprehensive set of the worlds best creative desktops apps including Photoshop CC, Illustrator CC, InDesign CC and Premiere Pro CC so that they can create and communicate anything they can imagine.
If you have are looking to create via digital media Apple have published Everyone Can Create, A collection of project guides that bring creative expression to every subject. he projects in the Everyone Can Create guides teach students to develop and communicate ideas through video, photography, music and drawing. And they help ignite creativity by giving teachers fun and meaningful ways to bring these skills into any lesson, in any year group.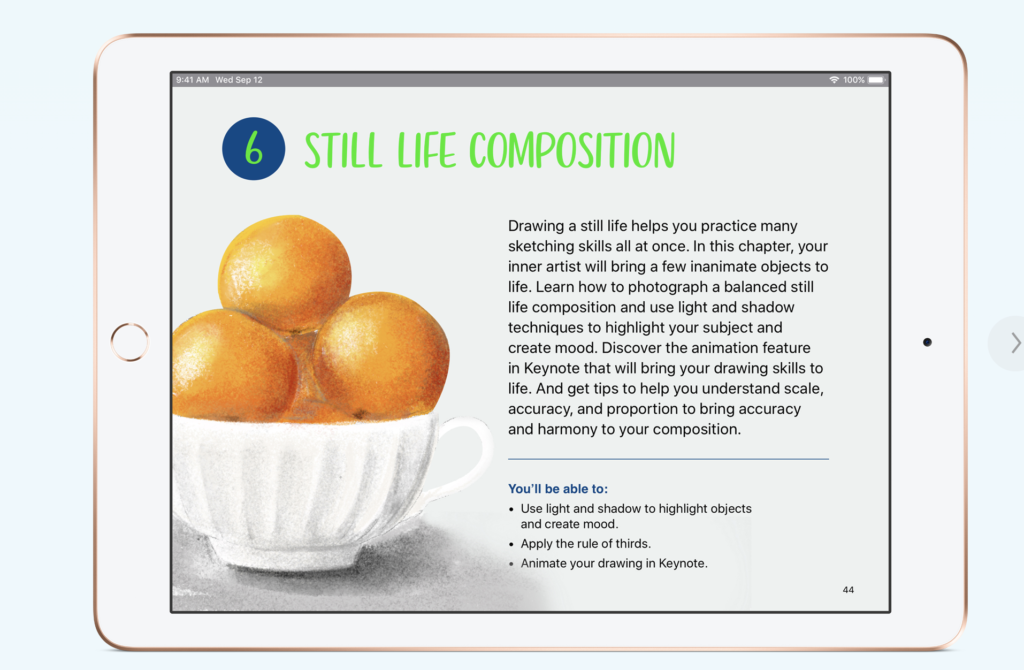 For more details on this, I have written a blogpost which I can into depth on how to use these guides here.
For even more inspiration, The Big Draw has created a Minimag and a guide for hosting online/digital events.
We would love to see how you are going to use LGfL services and resources to help energise your students learning, let us know by sharing your evidence of impact (it could be photos or students work) via our Facebook and Twitter and if we like and retweet your work you could win an LGfL goodie bag! and don't forget The Big Draw 2020 hashtags #BigGreenDraw #ClimateofChange #BigDrawTurns20