Recently, I have had the opportunity to work with many schools who are looking at how the LGfL Curriculum (otherwise known as Energise) resources can support schools in offering a broad and balanced remote learning curriculum. When planning a strategy for this, one of my goals was to lay out the processes needed to get the most out of our Energise curriculum content. I felt sure one of the Inspire Team members would have written a blog post about this; imagine my shock to unearth that we have never written a 'Let's Get Started' blogpost! I decided this needed rectifying and thought there is no better time than right now!
Below are my top tips on getting the most out of the Energise content which your school has access to via its "Let's Get Digital Subscription".
Find out what you have:
From Busy Things to ReadingZone Live, Switched on Science to Ancient Egypt... LGfL's premium learning resources are a blend of commercial content and homegrown exclusives. This not only saves money on popular licences but also gives access to exclusives that money can't buy.
If you are in an LGfL school, we know when you are using a school computer (via IP authentication), so you only need to log in to resources that track progress or save work (as we need to know who is using them). This is exactly the same for pupils. Now to further support schools offer continued meaningful education during local lockdowns/school or class group closures, the majority of LGfL Energise resources have been changed to open access (ie no login is needed) for the LGfL school community.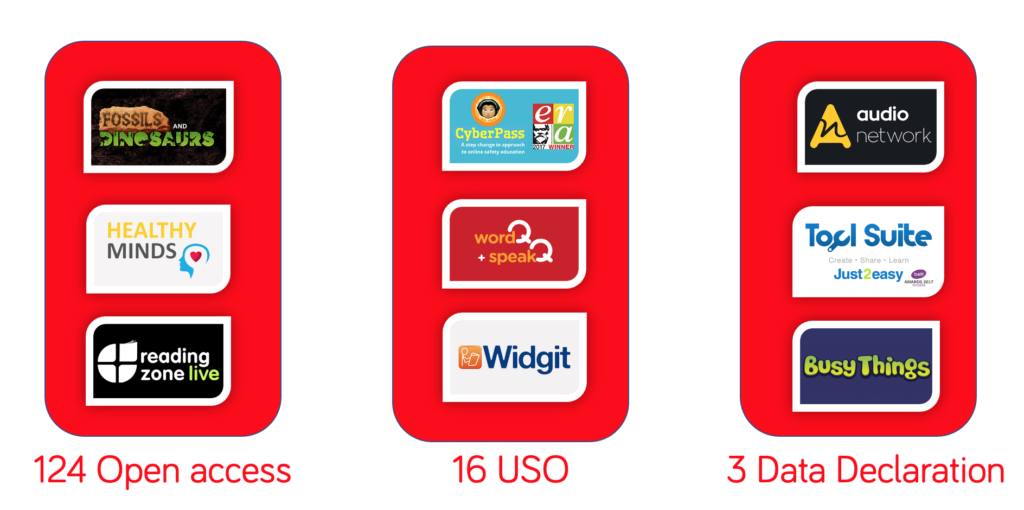 How can I find the right resource for my school?
Simply go to the 'Discover' page of the lgfl.net site (discover.lgfl.net will take you straight there next time), where you can browse by subject/KS or carry out a detailed search by keyword, a programme of study or individual NC descriptor.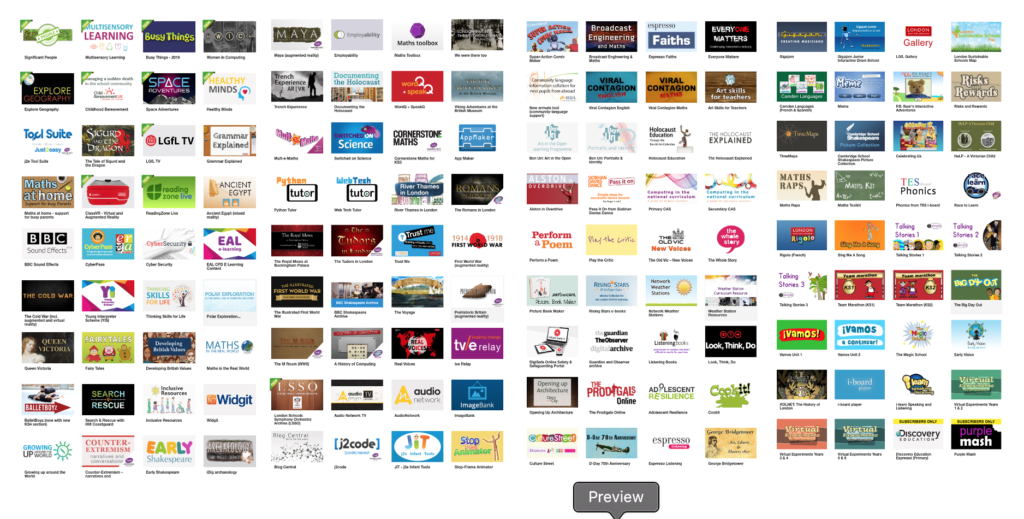 Make sure you have your USOs:
Make sure you and students have access to all of the LGfL content at school and home by having your USO and password, watch this simple video below to see just how easy it to get your hands on your school's USOs and passwords and for more information go to password.lgfl.net, it is vital to have USO's for students to make sure you unlock the potential of resources like Just2Easy Toolsuite and Busy Things.
Know who you Nominated Contacts are:
A Nominated Contact (NC) is a user whose account has the permissions to access a range of resources to configure and manage their establishment's service. Nominated contacts at each LGfL school are able to raise a support case via our online and telephone helpdesks. (Click here whilst at school, if you are not sure who your NCs are - needs to be done from school for IP authentication).
Data Declaration:
In order to use LGfL USO logins with Busy Things, Just2Easy Toolsuite and Audio Network a school will first need to ensure that the Headteacher has approved the "Data Release Self-determination" Declaration via the
Support Site
. There is a two-step process in the release of data. Only the Headteacher or the Headteacher proxy (delegated Headteacher permission authority) of an establishment, as the data controller, will be able to authorise data release.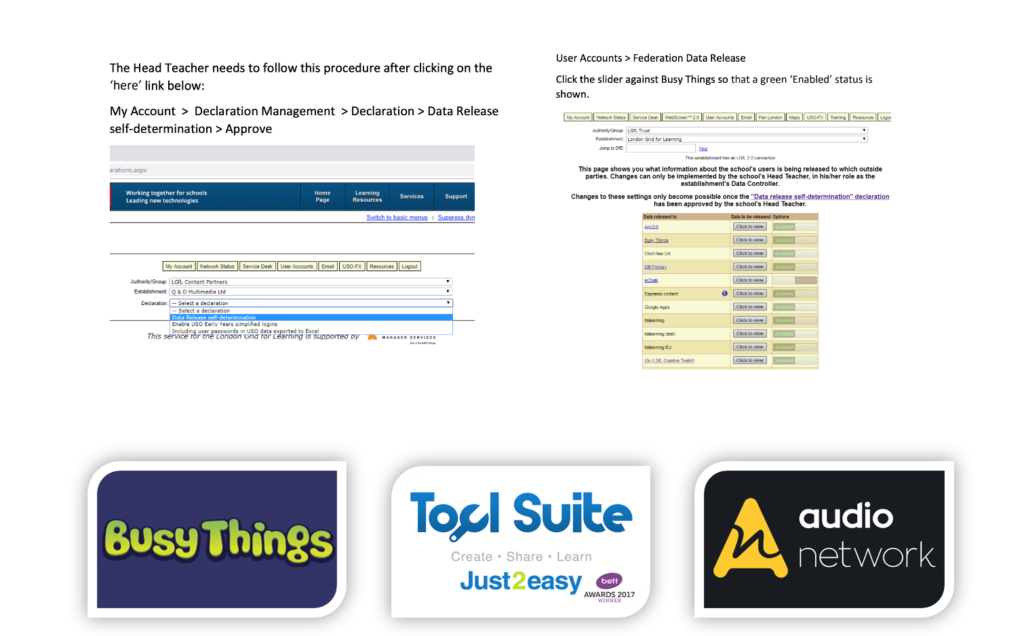 Sign up to our newsletters:
Every month we send out an email update to everyone who has signed up to hear about new events and online learning resources, updates to education legislation, or news on how we can help keep your students safe and learn more with LGfL. We have three different newsletters LGfL, DSLs and Online Safety Leads and SEND (from the IncludEd Team).
Read and subscribe to our curriculum blog:
Our blog is open access, so no need to log in but you can subscribe to it so as not to miss a post! It is also mobile-friendly so is perfect for the morning commute to school if you travel by public transport! It's updated weekly and offers a mix of topical pieces relating to how best to use LGfL content within your school setting. We always aim to promote inclusive practice so (as from 2020) we now include all things related to inclusion, SEND, Mental Health and wellbeing into the curriculum blog rather than having a separate one. If you subscribe, you get the latest post sent straight to your inbox.
Check out our training hub:
Our LGfL Training Hub offers CPD at its best, offering a unique range of courses. We have updated our training portal ready for the spring term and training comes as part of your Let's Get Digital Subscription. You can find out more about the courses on offer and how to sign up here. Examples of future courses include Safeguarding Leads, Online Safety training, Creative Computing, Adobe Spark training, as well as Google and Microsoft training 9coming soon), browse and book or share the link with colleagues.
Book a bespoke training session:
LGfL Learning Resource Consultants (LRCs) are available at no extra charge to support the effective use of LGfL Learning Services in schools. LRC's are able to *visit teachers and senior leaders in school* to support the development of new approaches to delivering the curriculum using digital technology. (* currently remotely via Google Meet)
Whether it's to help with planning for the strategic adoption of cloud platforms to transform teaching and learning or energising teaching and learning with the latest Augmented or Virtual Reality, all support can be tailored to meet the needs of the individuals or groups of schools. You can book a bespoke training session by simply filling in this form here.
Get Creative with Adobe Creative Cloud and more
Adobe Creative Cloud can support your students on creative journeys that take them through their primary and secondary education and beyond widening their future careers choices and developing key creative problem-solving skill, If you're an LGfL school or MAT that is connected to our National Grid for Learning you can save more than you spend with LGfL. With our market-leading broadband service, we bundle high-quality products that schools need and have asked us for including:- Adobe Creative Cloud, Neverware, Sophos Intercept X, Meraki MDM, Malwarebytes, Secure Remote Access, Firewalls and DDoS Protection. Claim your licences here.
Like and follow us on Social Media:
Follow us on our social media channels Twitter and Facebook to keep up-to-date with the latest news, research highlights and benefit from a range of useful resources.
Get the resources being used at home:
To get the most out of you subscription make sure your students can access LGfL's award-winning curriculum content at home too, by checking that your Headteacher has completed the Data Release Declaration for Busy Things, Just2EasyToolsuite and our newly updated Audio Network. We have also provided you with a simple letter that you can adapt to share the resources with your parents, please do feel free to modify the wording to suit your school setting.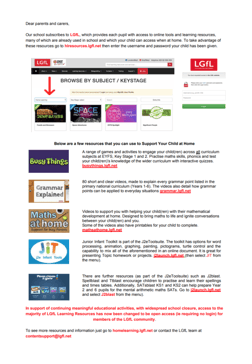 Save your school money:
We have been working closely with schools and education leaders to build a new generation of cloud-based digital services that provide fantastic value, keep children safe and support innovation in schools. As a result of this collaboration, we are delighted to announce a positive and fundamental refresh of the LGfL subscription. For schools, the changes mean that a number of new market-leading products are now available at no additional cost and form part of the LGfL subscription. Find out how much you are saving or can save at savings.lgfl.net and claim your free licences too. We estimate that primary and secondary schools making use of all the additional software save (or achieves additional value) worth around £7,000 and £17,000 per annum, respectively.
Why not share your work on our Twitter or Facebook pages the next time you and your pupils use some @LGfL Energise content. We love to see the resources being used by pupils.