May 8th 2021 marks the 76th anniversary of VE Day, Victory in Europe Day commemorates Tuesday, 8 May 1945, the date when the Allies of World War II formally accepted Nazi Germany's unconditional surrender of its armed forces. It thus marked the end of World War II in Europe.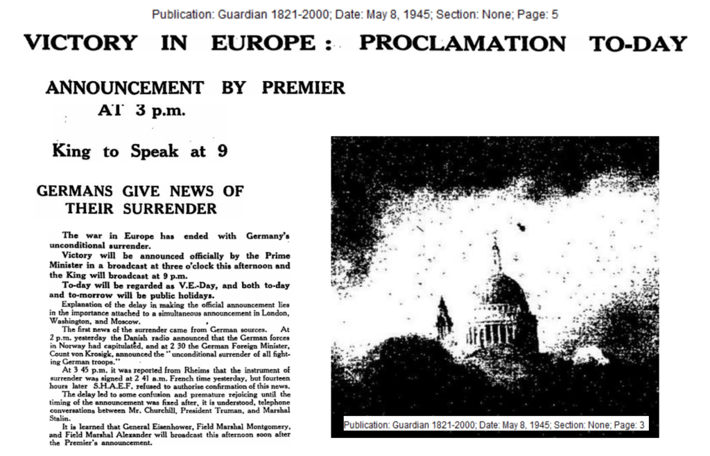 In previous years, VE Day has been celebrated with street parties, community gatherings and services of thanksgiving. This year because of the coronavirus pandemic and the UK's lockdown restrictions, planned celebrations for the 76th anniversary will not go ahead, and the day will look slightly different from originally intended. Despite the restrictions, however, VE Day celebrations can still and must go ahead.
Much like last year, People are being encouraged to forgo group gatherings for afternoon tea and picnics and instead hold a smaller celebration in the garden or on a doorstep with your household.
LGfL has a range of resources to help you plan for the day or celebration before the day at school and also help your child research the topic of World War 2 in more detail.
To create an atmosphere and to help build a sense of the moment you could use the BBC Sound Effects resource. There are lots of 'war sounds' to pick from including Doodle Bugs, gunfire, air raids and tanks, why not get your students to build create their own air raid shelters and explore how it felt to finally know that they no longer had to hear these awful noises. (If using in school please do be aware of how your students may react to the noises used as these sounds may be triggering for some)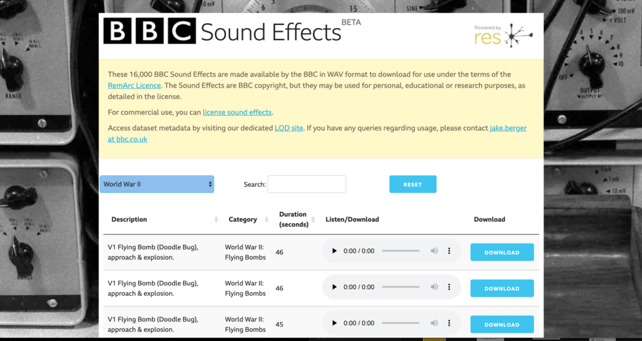 To explore and learn more about WWII with text suitable for most age ranges, the Widgit resource has WWII 'Books' and 'Activities'. The titles in the books include World War 2, The Blitz, War in the East, Life at Home and Life for Children. These short books contain simple sentences and pictures, with each covering a separate topic. Each book is available at 5 different levels and has relevant vocabulary cards at the back and has an activity pack (with six activities – matching activity, missing vowel, quiz, sentence matching, spelling and word search) to download.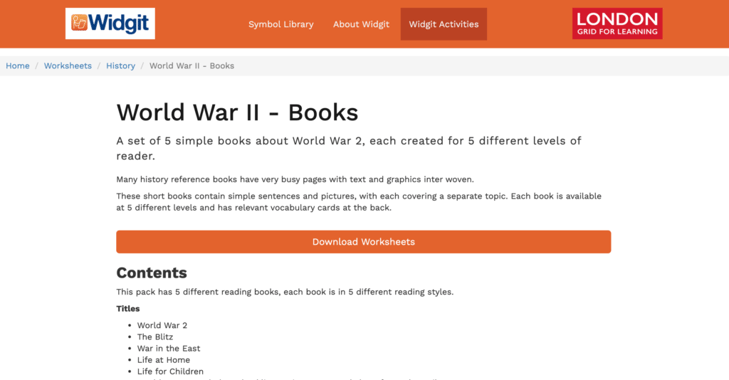 Busy Things has a 'World War 2 warfare' resource that explores the question, "What was it like for soldiers to fight in the war?" In addition, you could use the new Comic Strip resource in BusyThings with your pupils/children. They could storyboard the announcement that the war was over, the way people celebrated VE Day or even the causes of WWII by choosing from the pre-prepared templates for comic strips.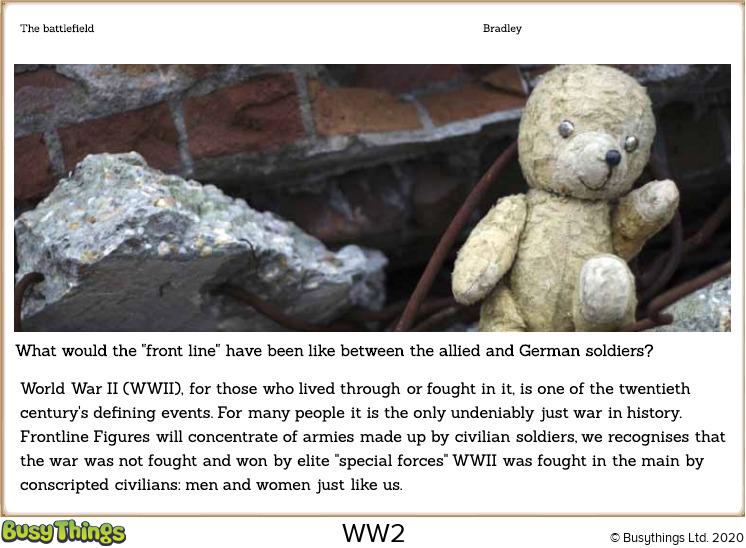 Create your very own WW2 dinner with some recipes from the CookIt bank of historical recipes, you can found out how eating habits were changed greatly by wartime shortages. For many people rationing, synthetic foods, strange food combinations, and the daily diet restrictions were among the most vivid memories of life in WW2.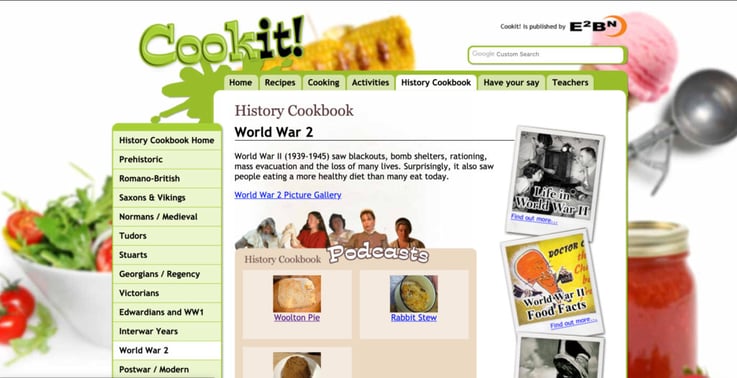 Why not make a Lord Woolton Pie or bake an eggless cake? The Cookit Menu maker activity allows you to create a huge range of colourful and attractive menus. Why not make a menu for your VE Day celebration?
Should you want to explore the work of women as code breakers during WWII then our resource 'Women in Computing' aims to recognise and promote the achievements of women in British Computing within the social context of the time. Children can learn about the important role they played in the eventual victory of WWII.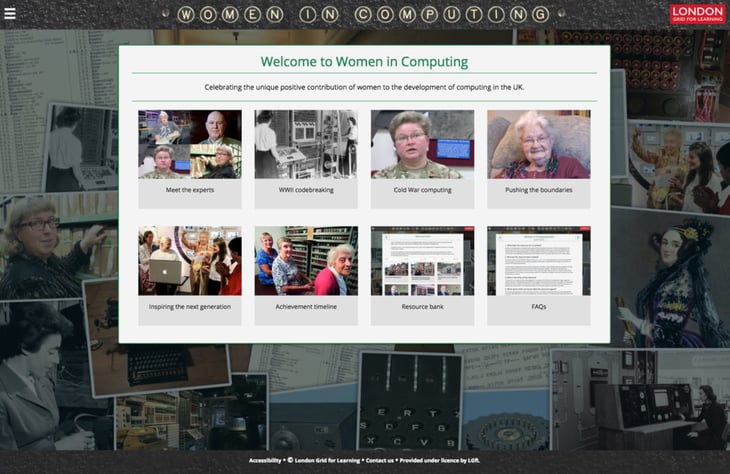 Bletchley Park has also made their own VE resources you can use including VE Day Activities (Puzzles and Codebreaking activities) and VE Day Celebration Pack (Recipes, crafts, music and costume ideas) and more.
To explore the Holocaust and Nazi era in greater depth, you could use the Documenting the Holocaust resource. LGfL has been given unique access to the Wiener Library's collection (a world-leading and extensive archive on the Holocaust and Nazi-era). This powerful resource is aimed at Key Stages 2-5 PSHE, Citizenship, History and R.E.
The M Room resource from LGfL gives exclusive access to secret World War II listening sites where the British Secret Service bugged high-ranking German Military prisoners. The resource features an interview with one of the original secret listeners and extensive primary-source material from the Ministry of Defence, relatives of those involved, and The National Archives.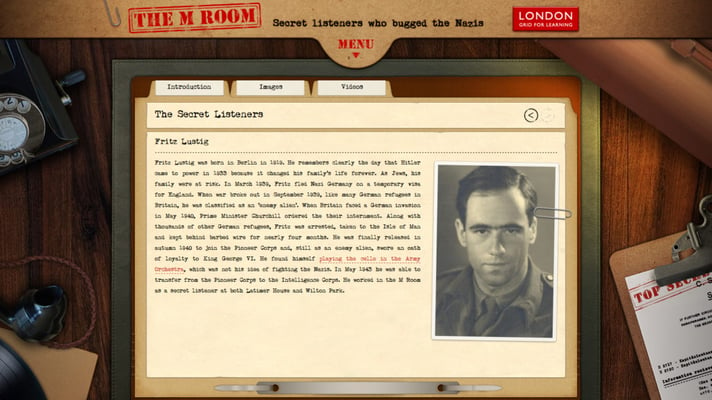 Further resources not hosted on LGfL which are free to access can be found below:
The War and Peace shed from the Literacy Shed, has a range of short films that could be used when looking at the theme of World War II (including 'German in the Woods', 'The Piano' and 'Beyond the Lines'.)
Visit the Imperial War Museum site for "What you need to know about VE Day" and the 10-photos of VE Day Celebrations.
The Royal British Legion's Teaching Remembrance covers a range of Remembrance topics, with resources designed for Key Stages 2-4.
The BBC has put together this collection of teaching resources here with resources for ks2 here and resources for KS4 here:
Imperial War Museum have this fantastic video answering the questions "What does the 'VE' in VE Day stand for? What was the cause for so much celebration?"
English Heritage showcases VE celebrations with a selection of images and videos here
We hope this blog proves useful, should you be exploring celebrating VE Day. If you complete any of the activities why not share what you did on our Twitter or Facebook accounts? And don't forget to share your Second World War stories, family histories and messages of remembrance on social media using #VEDay to join the conversation now.