It's that time of the year when like or not we are all exposed to Christmas media campaigns, be it advertising for a movie or supermarket. Over the last week I've been exposed to two campaigns which on the face of it have little or no link, but when looked at more closely, all share an important message. So, how is an advert for a movie, supermarket and LGfL content linked? Read on.
Just before I hopped on a train at Paddington station this week I couldn't help but notice the many Paddington Bear promotional material around the station. What drew my eye the most was the latest issue of The Big Issue with a striking cover with Paddington Bear being showcased as a 'Migrant British Icon"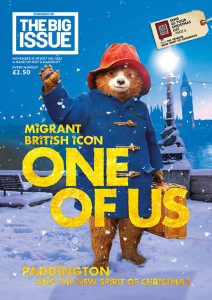 Inside the Magazine Kiri Tunks vice president of the National Union of Teachers and who teaches a Global Perspectives class at her school in Tower Hamlets, tells why she had used Paddington Bear in her teaching of British Values.
Is Paddington a migrant? A refugee? What is the difference between the two? Does it matter?
These questions were being debated in the classroom, with Paddington acting as a symbol of immigration in order to introduce children to issues surrounding refugees and immigration.
"It's one of the popular lessons, kids really like it," she says. "I was looking for a way of getting into the refugee question, and tackling the issue from a slightly abstract angle rather than using real-life stories, it is quite useful in representing the other view that sometimes refugees are seen as."
"It makes the point that when you talk about people in an abstract sense, it's easy to see them as a threat and different but once you know their story you start to relate to them." You can download the lesson plan here, and for more Refugee resources created by the NUT go here.
At LGfL we have created a range of resources that can help support the idea of knowing the person behind the label, Developing British Values offers unique, high quality, safe and relevant teaching resources that foster deeper understanding of keys issues that are raised with the concepts of immigration, tolerance and inclusivity. Celebrating Us looks at issues relating to cultural diversity and identity, rights, roles and responsibilities, online safety and good citizenship. Real Voices is a series of three short interviews with Syrian refugees living in Jordan; they talk about their experience having to leave home, their journey to safety and life in a refugee camp.
And if your youngest students want to go on more bear related adventures PB Bear offers stories that offer starting points for cross curricular work allowing children to make connections in their learning and to put them in to a relevant context.
And finally, Tesco's Christmas campaign "Everyone's Welcome"
[embed]https://www.youtube.com/watch?v=qSUkAURUU1I[/embed]
In the clip, different families are seen celebrating the festival as they dig into a turkey. Commenting on the campaign, Alessandra Bellini, Tesco's Chief Customer Officer, said: 'This year, our campaign will celebrate the many ways we come together at Christmas It's important to remember that no matter how different we are, we have more in common then we think"
To explore this idea in more depth why not use Espresso Faiths to look at different communities and ask your students to explore the common links that they can see in religious celebrations? If you wanted to look at this in the wider context you could use Growing up around the World, which aims to help Children in the UK understand the realities of children in different contexts, the resources show that many struggles and challenges are the same from South Africa to India.
If we can take one message from the many campaigns and resources is the theme of Diversity and Tolerance, and the idea of coming together as a whole, because we truly do have more in common then we think. Or as Dr Seuss wrote"Maybe Christmas, the Grinch thought, doesn't come from a store"
Are you using Christmas media with LGfL content in your school to inspire your students? If so let us know by posting them on LGfL's twitter or Facebook