The site contains hundreds of TV and radio programmes from the BBC's Shakespeare collection,as well as more than a thousand photos from classic Shakespeare productions and can only be accessed within school, however it is possible to search the database at home just not view the resources.
Summary of the archive content
Online

access

to

the

BBC's

Shakespeare

collection

of

hundreds

of

TV

and

radio

programmes

from

the

1950s

to

1989

Includes

performances,

sonnets,

documentaries,

interviews

and

more,

dating

from

the

1950s.

Over

1000

photographs

of

classic

Shakespeare

productions

and

performers.

All

cleared

for

use

in

the

classroom.

Suitable

for

teaching

of

English

and

Drama.

Includes

all

major

texts

across

the

English

Literature

curricula.
Cambridge School Shakespeare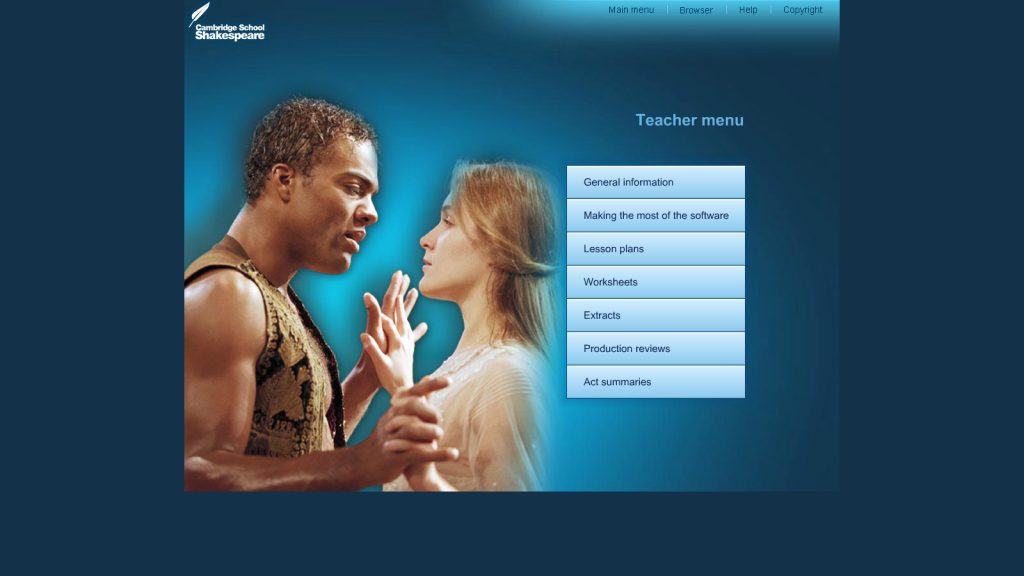 The LGfL online Shakespeare Picture Collection features production photographs from a wide range of stage and film versions, designed to support students' exploration of interpretation,staging and performance.
Fully differentiated for use with students aged from 11 to 19, each play includes over 100 pages of editable, printable support material including lesson ideas, worksheets and production reviews. These include teacher notes (above) so that teachers can structure the use of the resource within the classroom.
BusyThings also have a range of resources linked to Shakespeare for you to use in the classroom these include labelling the Globe and completing a timeline alongside fact files and exercises based on Macbeth and Romeo and Juliet. You can find all the resources linked to Shakespeare by using the search tool within BusyThings.
Or why not use one of the many tools within j2eTool Suite, children could use spotlight to create their own short animation of a William Shakespeare, they could use j2e5 or j2office to create their own Shakespeare insults or to create a presentation on the life of William Shakespeare.
The Tudors in London resource can also be used where you can find out more about the Globe Theatre.
There are also a range of resources online that teachers can use within the classroom.
Shakespeare's Globe
The Globe theatre is running a range of events to celebrate Shakespeare's birthday these include: a unique performance of Shakespeare's poetry in Westminster Abbey. Families can enjoy a wonderful storytelling session in the Playhouse and discover more about Shakespeare in our Exhibition & Tour.Teachers can also use brilliant Teach Shakespeare website which has hundreds of free learning resources including audio files, video, lesson plans and exam revision lesson plans.
Royal Shakespeare Company
The Royal Shakespeare Company has a huge range of resources for schools, including this year a free broadcast of Macbeth. The play will be broadcast to schools around the country on 26 April, along with student activities and a live Q&A with the actors. Schools can find out more and register here. There are also a range of teacher resources that will help bring Shakespeare to life in the classroom.
BBC
The BBC site has a huge range of resources for pupils, for primary pupils there are a range of radio plays available on school radio, you can watch Shakespeare shorts, or find out more via quizzes on the Cbeebies site - you can see the primary Shakespeare resources here. There are also a range of resources for Secondary school pupils including those from BBC Bitesize and a Secondary Shakespeare playlist you can see a collection of resources for Secondary schools here.
If you do use any LGfL content in your school to inspire your students do let us know by posting them on LGfL's twitter or Facebook pages.