Shakespeare Week is a national annual celebration giving primary school-aged children opportunities for enriching and enjoyable early experiences of Shakespeare. It is one of the pathways to Shakespeare provided by the Shakespeare Birthplace Trust for people of all ages and stages of interest. You can access hundreds of free resources including online workshops, storytellings and cross-curricular resources linked to Shakespeare's work, This year's event takes place from 21-27 March 2020.

Shakespeare Week offers cross-curricular resources and activities to educators and families, inspiring them to explore Shakespeare in creative and cross-curricular ways. All participating teachers and home educators can access hundreds of resources covering the breadth of the curriculum. Discover more about what Shakespeare Week has to offer For Teachers, For Home Educators, For Families and For Organisations
2019 saw the introduction of Will's Word Warriors to Shakespeare Week. The Word Warriors were recruited from all walks of life to champion Shakespeare's Forgotten Words (the list compiled by a linguist, author and academic Professor David Crystal) and promote more diverse uses of language. It is hoped that pupils will be encouraging their peers to 'drumble' along, or accuse them of being 'slug-abeds', or even telling their teachers to stop their 'bibble-babble'!
There are also fantastic free online resources that include a Kids' Zone on the Shakespeare Week website, which will have a series of interactive resources and videos for children to engage with online.
LGfL has a range of resources to support Shakespeare Week within the classroom.
Early Shakespeare is an innovative introduction to the Bard. SEND specialists at SEN Assist have taken two favourite Shakespeare plays (Romeo & Juliet and A Midsummer Night's Dream) and transformed them into literacy exercises that prove popular with pupils across the ability spectrum.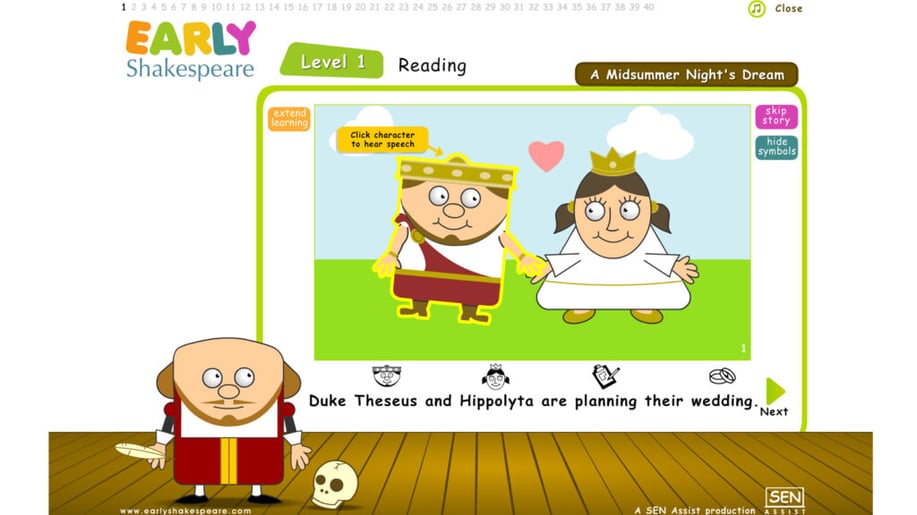 In the same format as SEN Assist's Fairytales, the two plays are broken down into one bite-sized sentence per scene, using the first 100 high-frequency words. This allows learners to easily follow, understand and remember the stories and helps ensure access to the curriculum for all. Pupils can watch at their own pace, and opt to turn on or off the accompanying text and symbols. Animated characters bring each scene to life, with differentiated activities to help include all learners as well as being able to listen to the text from the plays.
Busy Things also have a range of resources linked to Shakespeare for you to use in the classroom these include labelling the Globe and completing a timeline alongside fact files and exercises based on Macbeth and Romeo and Juliet. You can find all the resources linked to Shakespeare by using the search tool within BusyThings.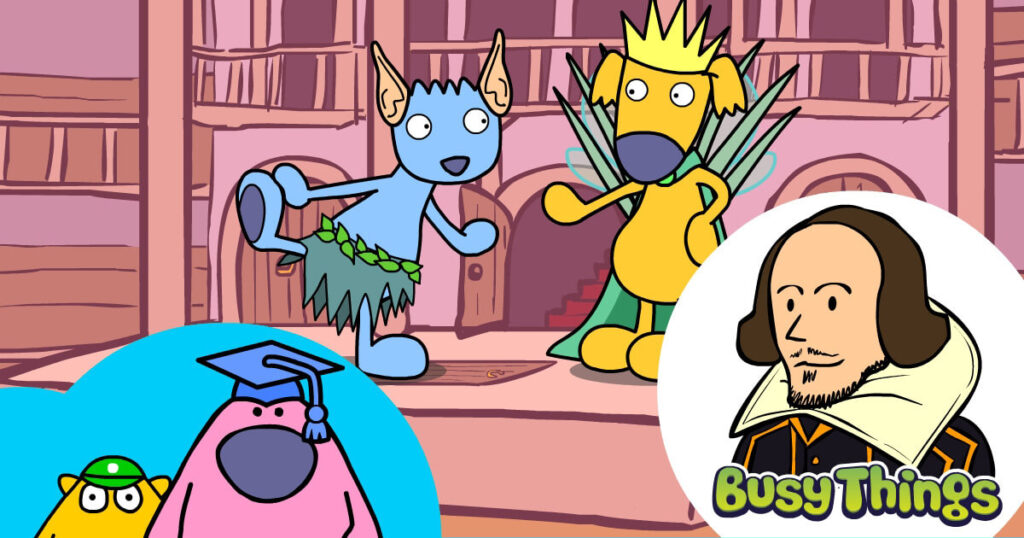 Understanding who Shakespeare was, the age in which he lived, and what theatre was like in those days all add context that helps children see the bigger picture. It's important for them to understand that theatre was open to everyone in those days, and that the play's principal reason for being was to be enjoyed.
Busy Things has interactive activities to complete on the Tudors, that are linked to the History curriculum, as well as activities based on William Shakespeare himself, The Globe and some of his plays, all linked to the English curriculum. Simply input 'Shakespeare' into the search tool to find them by key stage.
In addition to this, their topical pack (see below to sign to receive your free PDF) is available. This will give you a taste of some of the activities there have online, as well as:
A fact sheet about William Shakespeare's life

A categorising activity where the children need to decide if a play is a comedy, tragedy or a history

A writing activity about Shakespeare

A comprehension activity based on Shakespeare's life

A Shakespearean phrase and meaning matching exercise

Well-known quotes to place around the classroom

Worksheets for Romeo and Juliet
Just click on this link to sign up to receive your free PDF resource pack and do check out Busy Things very own blog here on Shakespeare week for more great information.
The Tudors in London resource can also be used where you can find out more about the Globe TheatreThe Tudors in London resource offers support to both specialist and non-specialist History teachers as they deliver elements of the new curriculum. It aims to develop an understanding of a historical context in which to appreciate how events of 500 years ago still impact London life today. Featuring over 140 high-quality videos clips and over 60 high-resolution images from the Museum of London Archaeological Archive, Royal Collection Trust and key Tudor locations in London, the extensive digital collection is further enhanced by a framework of curriculum-linked material. Lesson plans suggest classroom-based activities to help teachers make the most of the wide range of resources within the historical archive.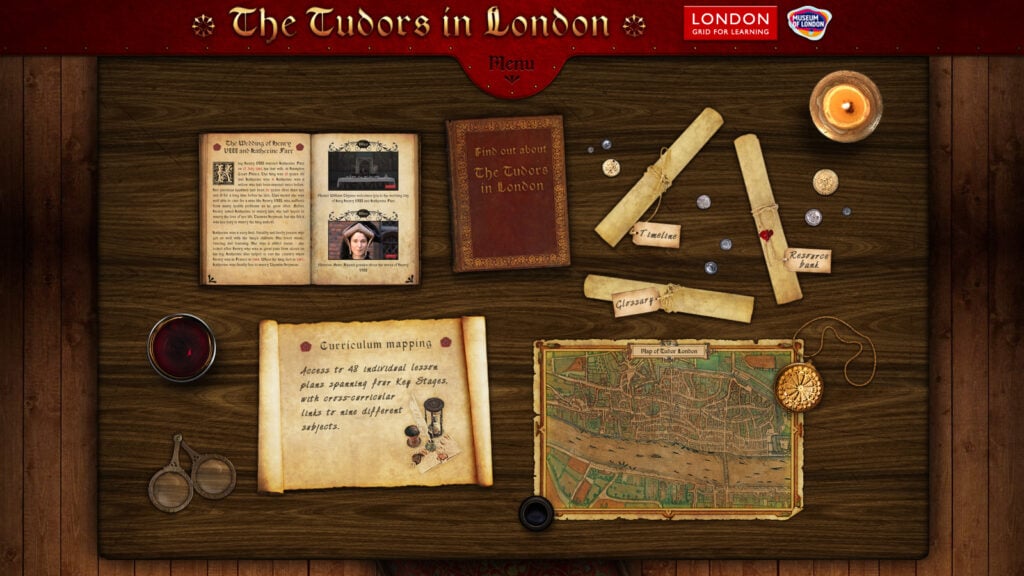 The resource is designed to be used both as a class teaching tool and in an individual learner context. The structure of support material is specifically designed to meet the needs of History teachers working with Key Stage 2 pupils. It is recognised that in the next few years, many non-specialist teachers will be required to deliver the History curriculum in a wide variety of contexts as they adapt to the revised National Curriculum. It is for these teachers that detailed lesson plans are provided, offering a complete support package to maximise the benefit of this digital collection. However, the resource is equally designed to be of great value to the subject specialist, who may wish to use it in a disaggregated way. The availability of video embed codes and downloadable high-resolution images allows teachers who are familiar with learning platforms to enhance the material further by creating their own online learning pathways.
BBC Shakespeare Archive* The site contains hundreds of TV and radio programmes from the BBC's Shakespeare collection, Play over 900 programmes from the BBC's archive of Shakespeare's plays, poems and sonnets. Please register for access to the Archive.
In partnership with the BBC, the Archive has been upgraded and enlarged with the addition of hundreds of new programmes, offering ERA users some of the very best Shakespeare TV and radio broadcasts from the last 70 years. There are over 900 historic and recent broadcasts of Shakespeare's plays and sonnets to explore, along with documentaries, comedies and critical analyses of his work. You can find the Shakespeare Archive here, and at the menu at the top of the page.
*The BBC Shakespeare Archive Resource is only available to those in, formal UK education and institutions holding an ERA license and is free at the point of use.
The BBC Teach site has a huge range of resources for pupils, for primary pupils, there are a range of radio plays available on the school radio, you can watch Shakespeare shorts, or find out more via quizzes on the Cbeebies site. There is also a range of resources for Secondary school pupils including those from BBC Bitesize and a Secondary Shakespeare playlist you can see the collection of resources here.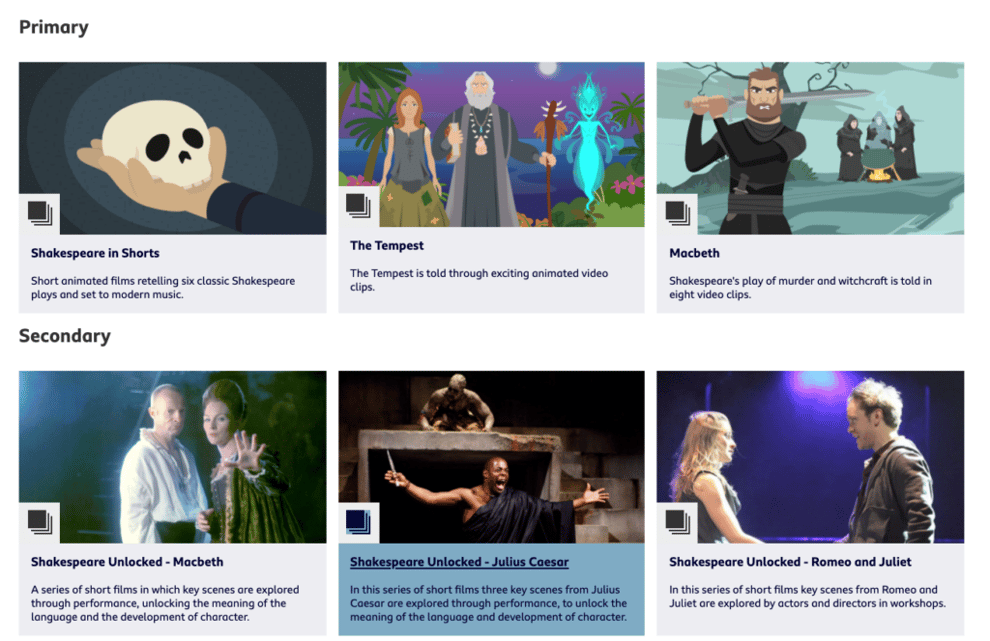 Teachers can also use the brilliant Teach Shakespeare website from Shakespeare's Globe which has hundreds of free learning resources including audio files, video, lesson plans and exam revision lesson plans.
Adobe's Creative Cloud Express resources are perfect for introducing primary school students to Shakespeare's plays. Engage your students as they create beautiful graphics, web pages, social posts and video stories in minutes.
Adobe and the Royal Shakespeare Company have worked with five UK artists and photographers to give iconic Shakespeare scenes from Romeo and Juliet, Macbeth and A Midsummer Night's Dream a modern-day makeover. Photography, illustration and comic book artistry have been used to make the playwright's work more relatable to today's Instagram Generation and offer teachers a new creative approach to enhance their teaching of Shakespeare with free teaching resources full of creative techniques and ideas, built to complement the Royal Shakespeare Company's unique rehearsal room approach, resources can be found here.
The RSC and Adobe have also developed a pack of activities designed to support KS2-3 students attending a First Encounters with Shakespeare performance or studying The Merchant of Venice. These resources are intended to equip teachers to teach Shakespeare in new, engaging ways using Adobe Spark and Creative Cloud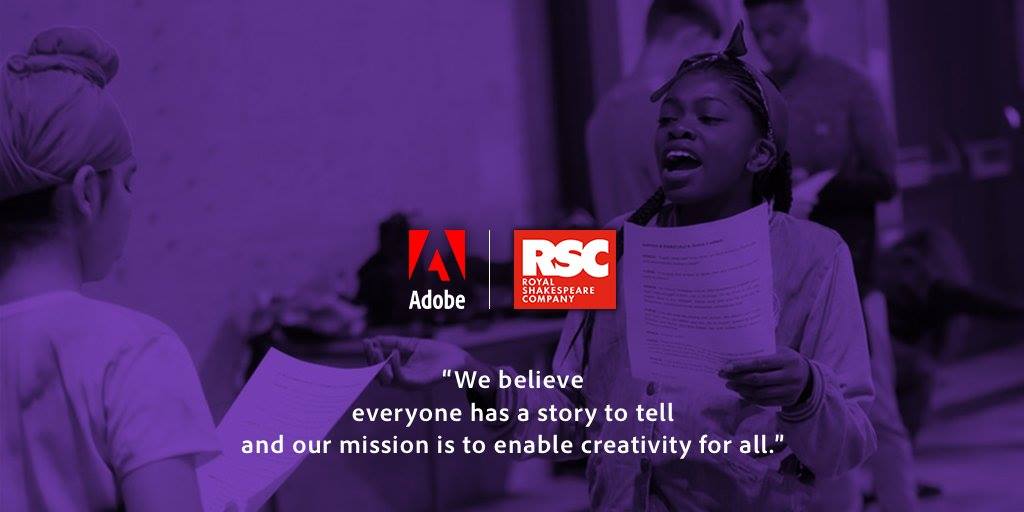 The Shakespeare Zone from The Royal Shakespeare Company gives you loads of information about Shakespeare's plays. You'll find key facts, key scenes, pictures from past productions, videos of actors and directors working on and performing the plays and find out about all the main characters and how they relate to each other. Whether you want to know a little or a lot, this site has the information you need.
If you do use any LGfL content in your school to inspire your students do let us know by posting them on LGfL's Twitter or Facebook pages. You can also follow Shakespeare Week on Twitter.