Guest blog written by Peter Ash, Artistic Director for LSSO.
The London Schools Symphony Orchestra (LSSO) will make films from its concert archive available online free of charge as part of a new digital concert series, LSSO ALIVE!
The orchestra will upload full-length concerts to its Facebook page each Monday from 7.30pm during the current phase of the lockdown.
How to Watch: https://www.facebook.com/londonschoolssymphonyorchestra/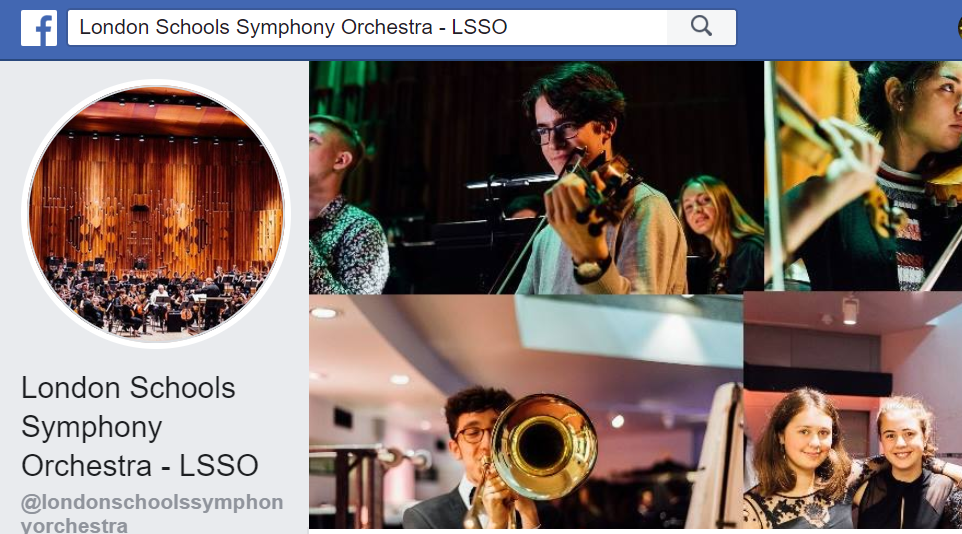 LSSO Artistic Director Peter Ash comments, "The LSSO is more than just an orchestra: it's a family that brings people together through music. We are determined to keep this 70-year tradition going, even though we can't meet in person.
We have a wonderful archive of concerts featuring generations of outstanding young musicians and some of the world's finest soloists. With the generous support of Black Swan Film & Video and The London Grid for Learning Trust, we are able to open up this archive and share it with the world.
In this small way, we hope to keep the music going, something we need now more than ever. We hope that our concerts will provide a moment of beauty and relief to everyone watching."
The LSSO celebrates its 70th anniversary in 2021, and would be delighted to hear from alumni who would like to join in with the celebrations. Please contact the LSSO via its Facebook page: https://www.facebook.com/londonschoolssymphonyorchestra/
Concert Schedule
The first two concerts scheduled for broadcast are detailed below (with further concerts announced in the coming weeks):
Monday 27 April, 7.30pm Music from the Dark Side
With Narrator Dame Janet Suzman, Conductor Sian Edwards, soloists from Guildhall School, Collin Shay, Brenton Spiteri and Thomas Mole and the LSSO Chorus.
Penderecki: 'Melodrama' from Paradise Lost Milton Reading from Paradise Lost
Mendelssohn: Prelude to First Walpurgis Night
Marlowe: Reading from Doctor Faustus
Liszt: Mephisto Waltz No 1
Milton: Reading from Paradise Lost
Berlioz: The Damnation of Faust: Rakoczy March
Goethe: Reading from Faust
Berlioz: The Damnation of Faust Ride to the Abyss & Pandemonium
Marlowe: Reading from Doctor Faustus
Schnittke: Faust Cantata
(Recorded 8 January 2020, live at the Barbican Hall)
Monday 4 May, 7.30pm The Planets
With Conductor Sir Richard Armstrong and Soprano Louise Alder.
Bernstein: Candide Overture
Barber: Knoxville, Summer of 1915
Holst: The Planets
(Recorded 9 January 2018, live at the Barbican Hall)
About the LSSO
Hailed by Sir Simon Rattle as "an incomparable ambassador for the dynamism and excellence of British youth", the London Schools Symphony Orchestra has, for over sixty years, been regarded as a potent symbol of the talents and achievements of London's finest young musicians. It was founded in 1951 by Dr Leslie Russell, to give young musicians from schools in London the opportunity to perform with professional conductors and soloists. The current artistic director is conductor/composer, Peter Ash.
The orchestra gives three concerts a year at the Barbican Hall. The repertoire is wide and varied, ranging from Baroque concertos to contemporary works commissioned especially for the LSSO. Recent premieres have included major pieces by Jonathan Dove, John Taverner, and Vladimir Tarnopolski's comic cantata based on Roald Dahl's Cinderella.
LSSO concerts over the last five years have given the orchestra's young players the opportunity to play the great masterpieces, including symphonies by Beethoven, Brahms, Sibelius, Tchaikovsky and Rachmaninov, as well as Richard Strauss's mighty Alpine Symphony. They have also presented four one-act operas in semi-staged productions: Ravel's The Child and The Magic Spells, Weber's Oberon, Puccini's Gianni Schicchi and Bartók's Duke Bluebeard's Castle.
The orchestra is generously sponsored by the City of London Corporation and managed by the Centre for Young Musicians, a Division of the Guildhall School, as part of the Guildhall Young Artists Programme.
LGfL
Please take this opportunity to explore the LSSO recorded archive, generously supported by one of the LSSO's strategic partners, LGfL - National Grid for Learning, enabling high quality music education in schools across the capital. The LSSO's partnership with the LGfL was inaugurated in 2014 and includes online teachers' resources for LSSO concerts plus a comprehensive archive of LSSO activities since its creation in 1951.
Please visit: www.lsso.lgfl.net to explore the teachers' resources and more.