Today at LGfL we are proud to launch our NEW PedTech Portal. We have been working with Dr Fiona Aubrey-Smith* on this pioneering new project which brings a fresh new focus on pedagogy, supported by technology.
We've packed it full of bite-sized videos which combine research evidence, thought-leadership and practical examples so that you can make instant changes in your classroom – giving your children an education fit for the globally digital world that we all live in today. We've brought together amazing school leaders and phenomenal teachers to show you what great learning looks like when classroom pedagogy is supported meaningfully by technology.
We believe the PedTech Portal will contribute to transforming how we think about technology in education: moving from EdTech to PedTech. And best of all, it's totally free for everybody to access.
We are finding the digital divide is no longer just about access to devices and connectivity. It's now a direct reflection of the choices we make in our schools and classrooms. For many children, in many communities, they are using technology to complete tasks more efficiently, connect their knowledge more precisely and collaborate with others more inclusively. These children are using technology to accelerate their learning. It's making an impact and it's teachers and support staff who are making that possible.
The pandemic made us all think differently about technology in education; whether you embraced online lessons and engaged with interactive activities or whether you found the whole thing overwhelming! We were also reminded that in education, what matters most are the relationships we have with our students and the interactions that we have together. That's what makes the greatest impact on children's learning.
Now picture your colleagues (teachers and support staff) in your school or MAT and consider the way they currently use technology with the students. Could it be used to further enhance efficiency, connect the students' knowledge more precisely and encourage more inclusivity and collaboration between the students? If you believe it could, the PedTech portal accessed in a staff meeting could start discussions about the way technology is used currently and where people would like to make changes and try something different.
The summary video below shows Dr Fiona Aubrey-Smith introducing the PedTech portal and explains the rationale behind its creation
This resource is a collaboration between experienced senior leaders and experts in the field of technology adoption in education and is intended to support school staff by putting pedagogical intentions first.
These key questions can be considered the starting point:
What is possible for the student in front of me if I support them:

- What do they need to do to achieve those possibilities?

- What can I do to support them in achieving those possibilities?
The site has been created with bite-sized videos arranged in themes as shown below on the home page: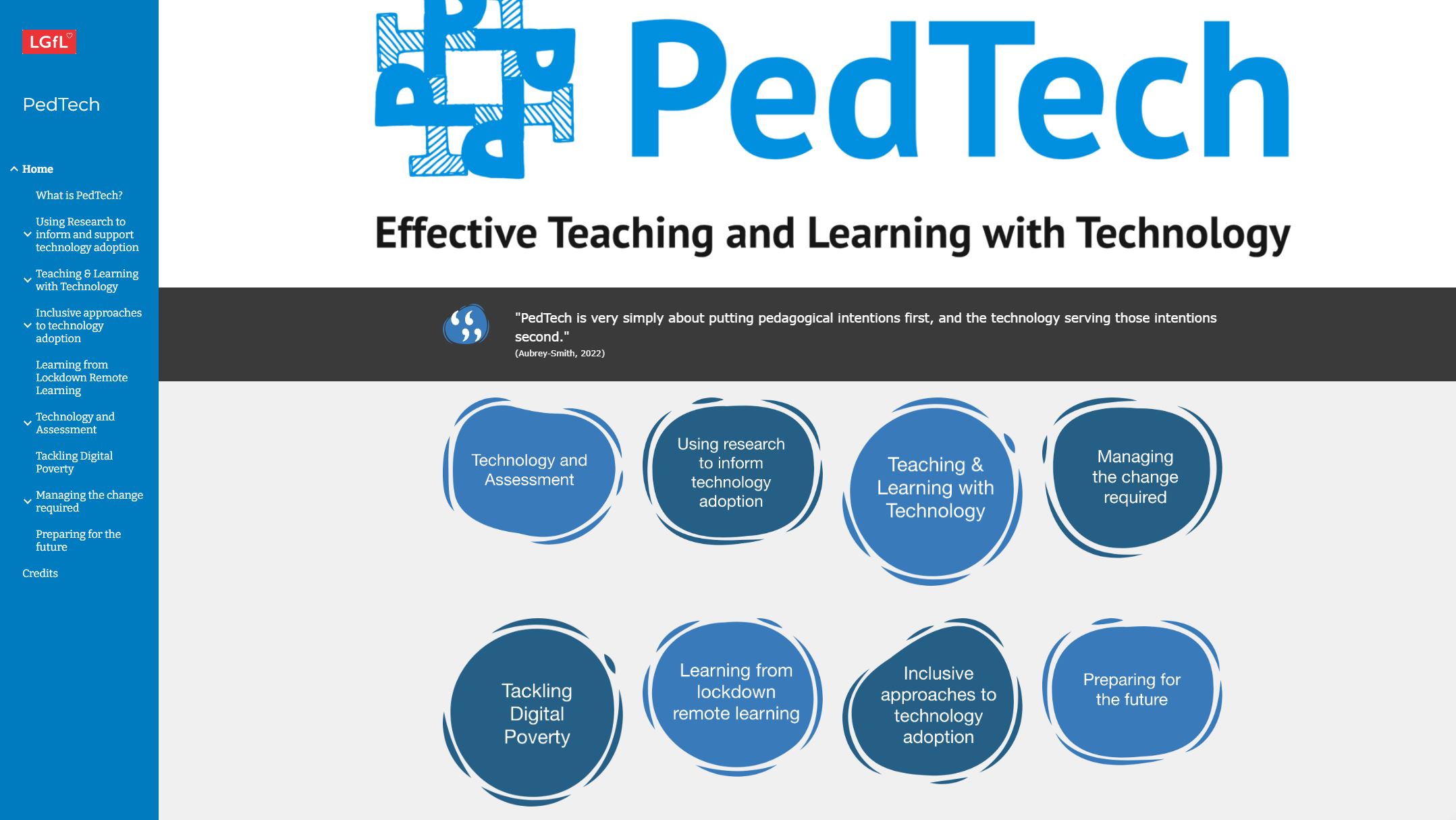 We are extremely grateful to the contributors for their generosity of time and support for the development of this resource and we envision it continuing to grow and evolve. So join us by putting Pedagogy first. Technology second.
Bob Usher, LGfL Content Manager commented,
'This important resource development has been a result of contributions from within the LGfL community of schools, lead schools from DfE EdTech Demonstrator programme and from experts in their field such as inclusion specialists Carol Allen and John Galloway; Dr Fiona Audbury Smith has been central to the whole development and generous with her support and time to help realise the vision of this unique resource.

The resource has also been informed by our observations within the curriculum team at LGfL during our everyday contact and support for schools from across the LGfL community and beyond. We hope that the resource helps practitioners reflect on their current practice and frames some challenging questions in a supportive way with the aim of helping teachers ensure they meet the needs of each one of their learners through the effective use of technology.
We would love to know what you think of our PedTech site and how we could improve it further. Please email contentsupport@lgfl.net with any suggestions and ideas you have to improve our portal further. Please also share your thoughts via our Twitter and Facebook pages.
* Dr Fiona Aubrey-Smith is an award-winning teacher and leader with a passion for supporting those who work with children and young people. As Director of One Life Learning, Fiona provides strategic education consultancy services to schools and trusts, professional learning providers and EdTech companies. She is also an Associate Lecturer and Researcher at The Open University, a Founding Fellow of the Chartered College of Teaching and sits on the board of a number of multi-academy and charitable trusts. Fiona is also a regular contributor to books, panels, and papers about Education, Pedagogy and Education Technology.