Join the ReadingZone Bookclub programme of free virtual author events each term. The bookclub is aimed at classrooms and libraries that are keen to develop a love of reading. Events for ages 5-12 years.
These events are open to schools and classrooms, and are free to join! Meeting an author can have a real impact on children's Reading for Pleasure - and taking part in a virtual bookclub event is a great way to end the week!
Author events still to come this autumn term:
Celebrating Poetry for National Poetry Day - Friday 14th October 2pm-2:45pm for Years 3-6
Kieran Larwood introduces his new environmental fantasy novel - Friday 21st October 2pm-2:45pm.
Question, please! Friday 11th November 2pm-2:45pm for Years 3-6
To sign up for any of these free events, and for more details, email info@readingzone.com
As part of our ongoing partnership we will be supporting the ReadingZone Bookclub - recordings will be added throughout the academic year. To watch the previous author events from last academic year and the start of this term visit ReadingZoneLive on LGfL (pictured below).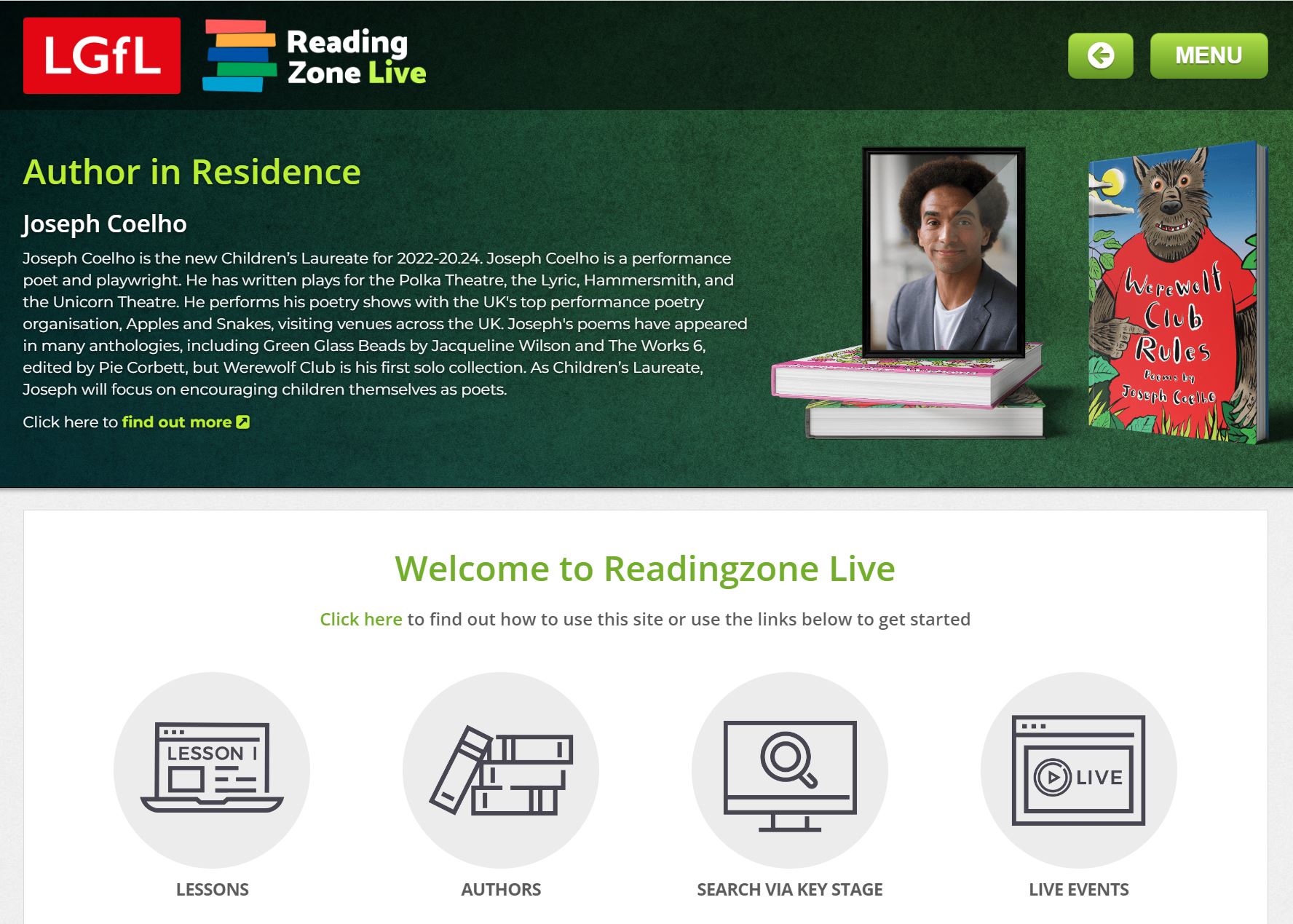 Below we have briefly summarised some of the sessions that were hosted last year, in case you missed them!
A selection of last year's sessions (with biographies featured from ReadingZone Live):
The session with Catherine focussed on Black History. Catherine spoke about the importance of including real situations and places in her books and how she tackles the topics of racism and tolerance. She also explored the importance of children reading books with a historical narrative and the challenges writers face with regards to the research they must undertake in order to ensure the historical references are correct.
Race to the Frozen North link on ReadingZone

Alastair's session was focussed on science fiction writing. Alastair explained why he enjoys writing science fiction, what makes a great science fiction story and how he starts building worlds for his novels. He also recommended some other science fiction writers for pupils to explore.
Adam-2 reviews & extract on ReadingZone
Orion Lost reviews & extract on ReadingZone
We would recommend LGfL's Space Adventures resource (including comprehensive resources for English) would complement work on science fiction. This unique and engaging cross-curricular resource is based around an original story commissioned by LGfL by the award-winning author Cath Howe, entitled Space Adventures: Mission to the Moon.
It features dramatic video content and a virtual reality experience linked to a narrative. The aim is to draw the learner into the turn of events that threatens the ability of our intrepid astronaut Tazz to return safely back to earth. Will her on board computer be enough to get her back safely or will she need to draw on her maths and science knowledge and understanding? You can watch a teacher walkthrough and several trailers (Let the Space Adventure Begin! and Make It Stop! by clicking on the links).
In addition, the LGfL Near Space Launch highlights when LGfL launched an Ohbot into (near) space in collaboration with the Ohbot team and an LGfL primary school. The event was documented via video and inflight data using a range of sensors. It also exemplifies how a small number of LGfL primary schools (gifted Picoh Robots) were able to explore AI/physical computing and make cross curricular links.

Matt performed some of his poetry during his session including the poems Ten, A Special Badger, Liam, Chameleon Kids and Split. He discussed where he got his inspiration for his poetry from and how schools can harness the power of poetry.
Bright Bursts of Colour Link on ReadingZone
A blog from Matt, 'Poetry as Rebel Writing: Introducing Poetry to your Classroom'
During Andy's session he discussed why he thought his series of Treehouse books was so popular and what inspires him to write new adventures in the Treehouse series.
The 143 Storey Treehouse on ReadingZone

This BookClub event was linked to National Non-Fiction November; we heard from both Roma Agrawal and Katie Hickey, author and illustrator of "How Was That Built?".
Roma shared her experiences being an engineer and spoke about being part of the team responsible for building The Shard.
During the session Katie gave a live demonstration on her iPad of how to draw The Shard. The pupils on the Zoom call were encouraged to follow her lead and to draw along with her as she guided them through how to make their sketches look realistic. The results were impressive indeed!
How Was That Built? - The Stories Behind Awesome Structures on ReadingZone.
Interview with Roma on ReadingZone

Nick Butterworth was born in Kingsbury, North London in 1946, but moved to Romford in Essex with his parents at the age of three. They moved to run a sweet shop, so Nick found himself fulfilling every child's sugar-coated dream of growing up right inside the proverbial chocolate factory.
Having intended to go to art college after leaving school, Nick decided to take a job as a typographic designer in the printing department of the National Children's Home at the last minute instead. He went on to work for several major London design consultancies before moving into freelance graphics. He has also worked as a television presenter on the TV-AM children's programme Rub-a-Dub-Tub and produced a regular illustrated story called Upney Junction for the Sunday Express magazine. Nick now concentrates on writing and illustrating his phenomenally successful children's books.
Percy The Park Keeper first came to life in One Snowy Night in 1989, which The Sunday Times described as, 'a tremendous and well-deserved success' and The Independent called, 'a heart warming bedtime tale.' It wasn't just the reviewers who loved Percy and the world of his park – children, parents and teachers alike fell in love with the kind-hearted park keeper.
Percy and his animal friends have now been charming families for generations and Percy even starred in in his own television series. Global sales of Percy's books now exceed 9 million copies and this much-loved character celebrated his 30th Anniversary in 2019.
During the session Nick read from 'One Snowy Night' and gave a live demo of drawing Mr Fox on his iPad using Adobe Photoshop to create his illustration (see image below). Remember, your school can claim LGfL Adobe licences. just complete the request if you are an LGfL school.
Nick said, "I store moments and memories in my head, in jars on a shelf in my mind - ready to come out to create new stories when I need them!" He went on to describe how authors have to draft and redraft their writing and that no story is ever perfect straight away.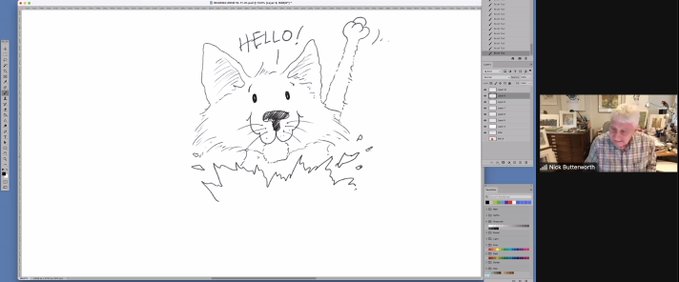 The recordings from autumn 2022 will be chapterised and uploaded to LGfL's ReadingZoneLive site soon.
Bett Award Winners 2021
In 2021, we won a Bett Award for the category "Collaboration With a School". This award was for work completed on ReadingZone Live in collaboration with Cheam Junior Academy and LEO Academy Trust. The readingZone Live site is packed with interviews with authors including Michael Morpurgo, Oliver Jeffers, Jacqueline Wilson and Cressida Cowell to name a few; alongside interviews with the authors explaining their inspiration and writing resources, there is also a range of resources for teachers to use in class.
The work completed with LEO Academy means ReadingZone Live has additional activities that complement some of the author interviews with extracts from their books and a range of comprehension questions, self-marking quizzes and tasks to complete.
These activities and interviews aim to inspire young people to explore new authors and genres and to develop their own creative writing. Contextualised cross-curricular opportunities have also been developed to cover elements of, not only English, but also the science, history, geography, art, music, DT and computing curriculum for primary schools.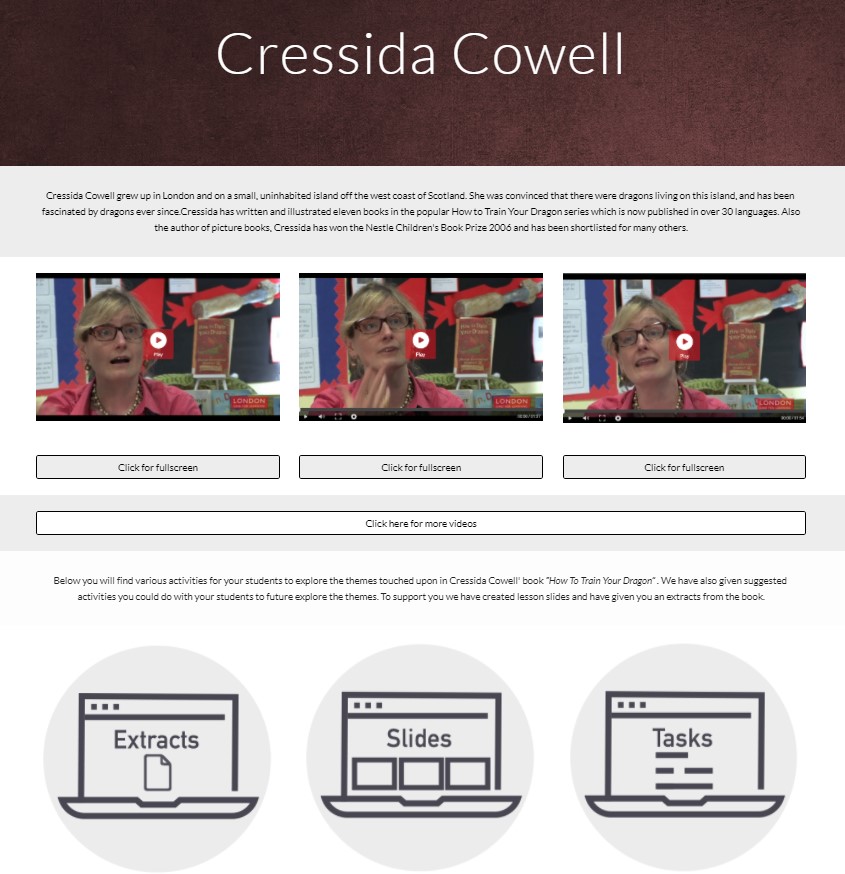 Pictured above is one of the 19 authors with a book extract, comprehension quizzes and lesson suggestions. Cressida Cowell is the previous Children's Laureate; this accolade is awarded once every two years to an eminent writer or illustrator of children's books to celebrate outstanding achievement in their field. The current Children's Laureate is Joseph Coelho who also features on the site.
Busy Things and RZL
Were you also aware that BusyThings has a dedicated area (English/Reading Comprehension) with some of the ReadingZoneLive featured authors?
These are organised in a Key Stage 1 and Key Stage 2 collection. The book viewer was especially designed for book extract activities; use the paging controls at the bottom of the screen to read through the extract. (You can jump to pages using the controls at the top left.) To enlarge the view, use the Zoom button at the top right and the tracking pad that appears. (A double-click on the tracking pad will restore the view to normal.) You can also use your mouse wheel to zoom.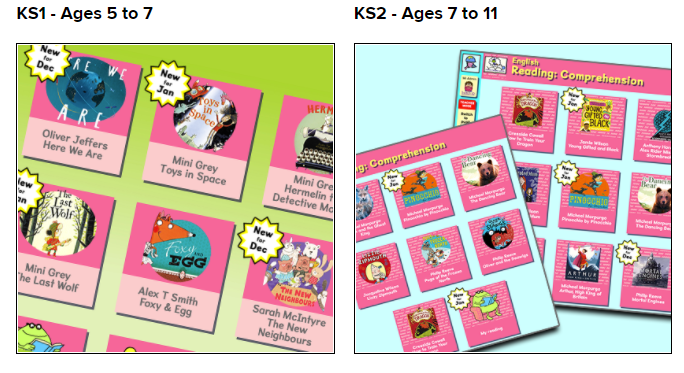 There are currently nineteen extracts in the collection; within their book viewer some of the extracts now have a grammar tool. (Clicking the grammar button reveals the menu of options you can use. The paging controls in the top left show the grammar-enabled pages in yellow. Use the grammar feature to identify nouns, verbs, adverbs and the more advanced grammatical patterns in sentences. See example below: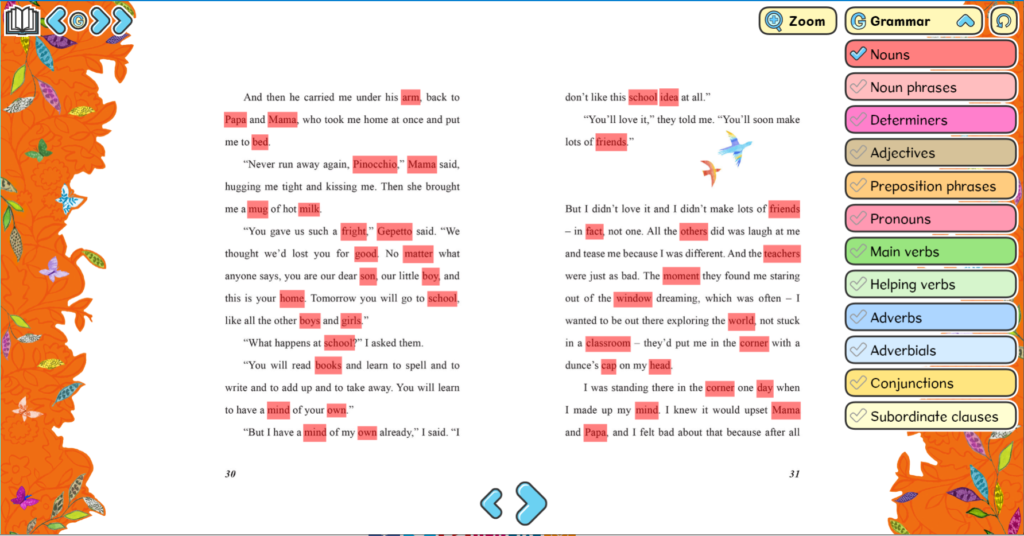 There are lots of activities supporting each book extract, plus some discussion points. Popular supporting activities include grammar and comprehension quizzes and (depending on the book) there are links to related humanities activities on BusyThings too!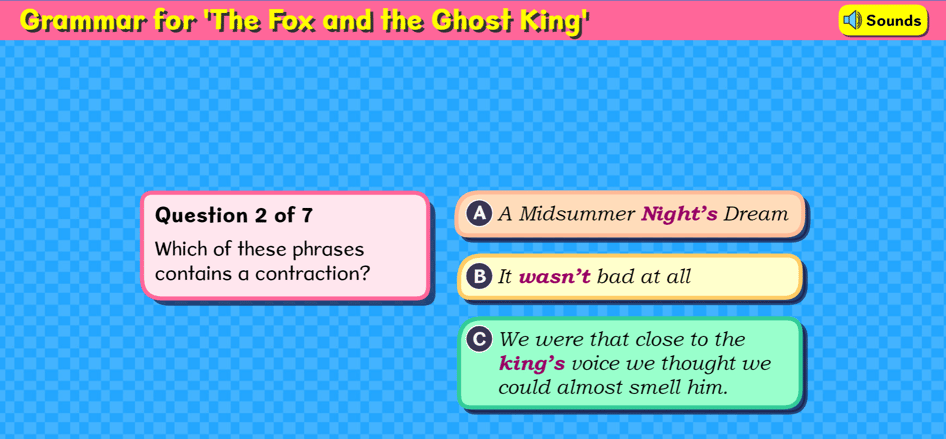 If you are have trouble accessing your LGfL Busy Things account, they offer great support via LGfL@busythings.co.uk , call 01332 364963 or get in touch with them via https://www.busythings.co.uk/contact-us/support.
Do you want to get even more pupils reading for pleasure at your school? Then what are you waiting for; get exploring the ReadingZone Live resource, book the BookClub free author events and explore Busy Things* content today! (*Premium Resource on LGfL with login required).
Remember, we love to hear from our community. If you join in with the BookClub or make use of ReadingZone Live or BusyThings as a result of reading this blog please do let us know by tagging us on our Twitter or Facebook pages.