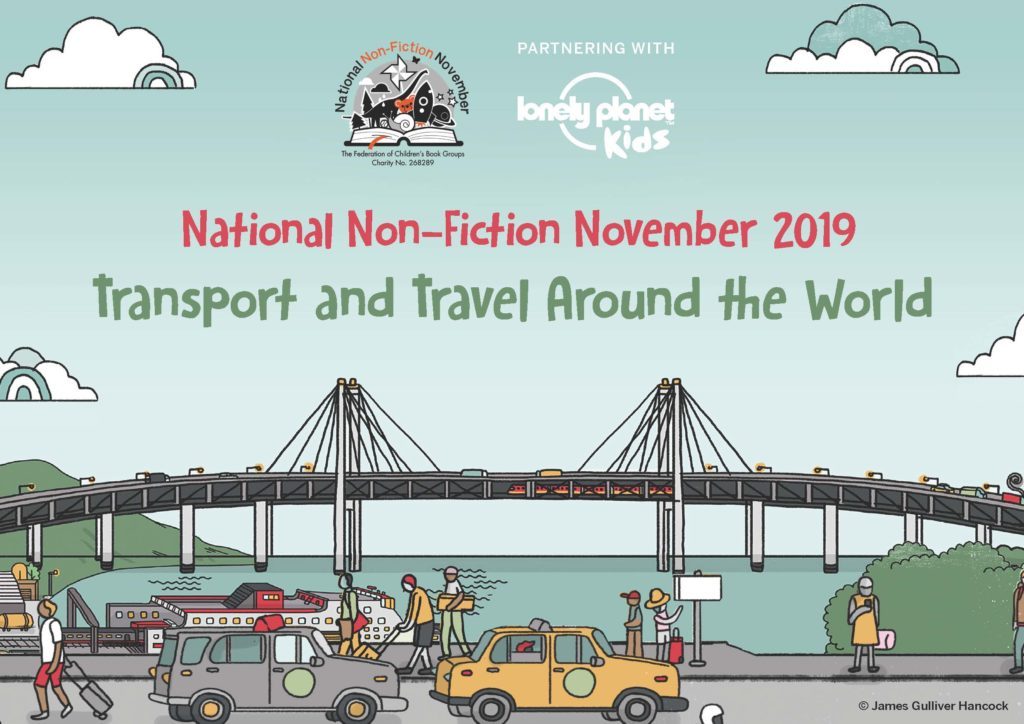 National Non Fiction November is the Federation of Children's Book Groups' annual celebration of all things factual. Born out of National Non-Fiction Day, the brain child of Adam Lancaster during his years as Chair, the whole month now celebrates all those readers that have a passion for information and facts and attempts to bring non fiction celebration in line with those of fiction.
The theme they have chosen for National Non-Fiction November (NNFN) for 2019 is 'Transport and Travel Around the World'. A lot of young people are fascinated by different modes of transport – and most experience travel for one reason or another – ranging from a visit to the shops, their journey to school, a day out in the countryside, or a long haul flight to visit oversea relatives or a holiday destination. They hope that this year's theme will provide children with the opportunity to find out more about travelling both locally and around the world.
They have published a book list grouped into the following three themes: Travel, Transportation and Space, you can download it here. They are also running a competition this year in partnership with Lonely Planet Kids, and have taken inspiration from the work of internationally renowned artist and illustrator James Gulliver Hancock, creator of How Airports Work and How Trains Work.
The competition is for children to design a vehicle of tomorrow - showing how and where it moves, including brief labels about the design coupled with the name of the vehicle of the future. Entires will be judged in 3 groups: KS1, KS2 and KS3 and they have some fantastic prizes for both the winning school and child, you can find more information and how to enter here. The closing date is the 6th December so there is plenty of time to come up with a winning design either in class or as part of an after school club activity.
They also have a whole page on their website with ideas for activities, lesson plans, bunting and posters to download.
LGfL have a range of resources that can support Non-Fiction November and this years theme of Travel and Transport.
Thames in London - There are many reasons why towns and cities spring up around rivers, and it is these reasons that make them exciting to study. The River Thames in London resource helps pupils to understand more about this iconic river and how it has influenced and continues to influence life in and far beyond London. The resource has lesson plans and stand alone assets for Key Stages 1-3, with high-quality materials provided by the Royal Collection Trust, Museum of London and The British Library.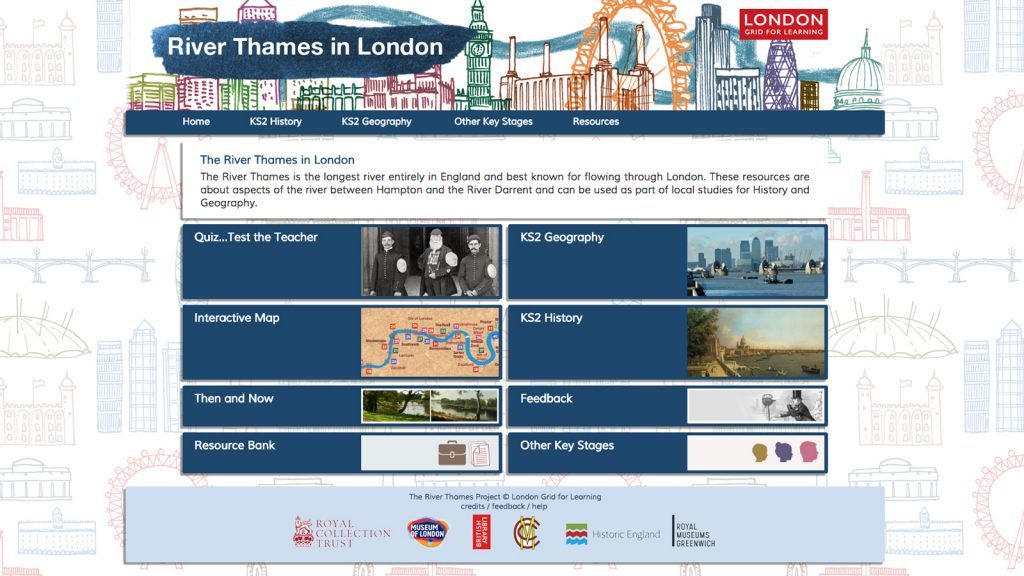 The Royal Mews - This is a unique resource about the daily work of the Royal Mews at Buckingham Palace featuring video explanations of centuries-old techniques and historic documents. Working in partnership with The Royal Collection LGfL were granted exclusive access to film staff members as they went about their daily work. The resource features extensive video resources showing the techniques and rationale as to why centuries old traditions continue to support the Royal Household and the significance they have for wider society. The videos and images are also supported by a range of teacher resources and links to the theme of transport and travel by looking at The Royal Stables, Saddlers and Cars.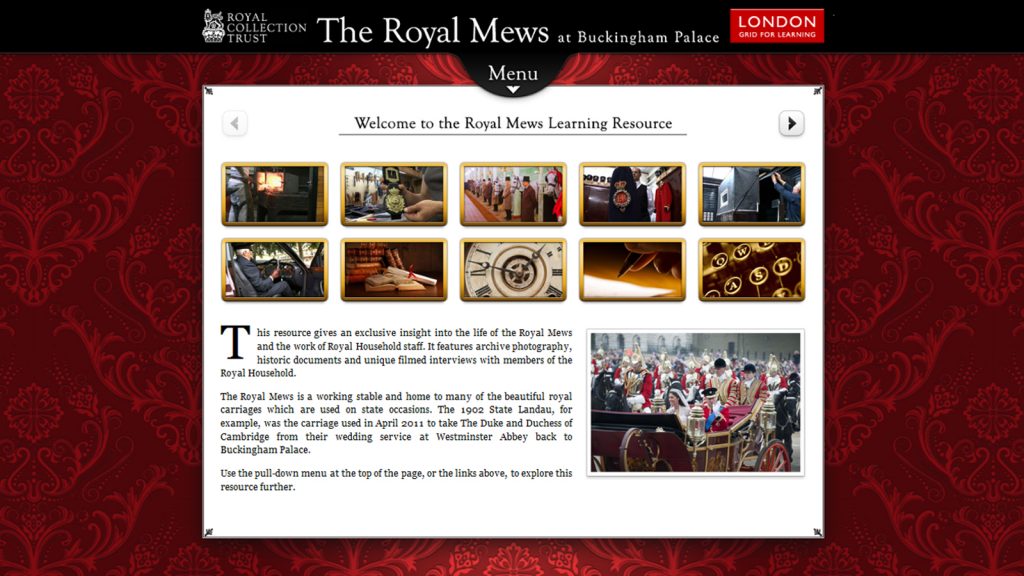 During non fiction November you could also make use of the j2e tool suite within school in the following ways:
could use JIT and j2e5 to create books about transport through the ages, they could produce an animation involving different modes of transport, or write instructions for a trip or a journey
they could use the paint features to design their mode of transport for the future
They could use j2vote to vote for either their favourite method of transport or which country around the world they would like to visit.
Using the graphing tools they could also tally up how they travel to school or what forms of transport would be the most popular.
Coding - make use of JIT and j2code to write instructions and code for spaceships/rockets and cars in fact the only limit is their imagination - there are also examples available like the rocket game below that children can use as a starting point.
Busythings have a range of resources that could be used during the month including graphs to record travel, travel in French and Spanish and customisable cars for early years. You could also make use of the extensive maps within Geography to recap countries around the world and use Busy Paint and Publisher to produce transport of the future as well as writing about their favourite destination to visit.
ReadingZone Live also features non-fiction authors that could be used during the month. Oliver Jeffers who published his first non-fiction book Here we are, earlier this year said:
"It started off as a book about the realisation that new life is a blank slate (trying to explain what a door is, and what a kitchen is for), and the strangeness of being a new parent. But as the book unfolded, so did the global events of the last year or so, and it felt like it became more urgent to reinforce some basic things my parents taught me about the simple principles of humanity. I wanted my son to know that while we are all unique individuals, we are all in this together."
You can watch the part of the Reading Zone Live featuring Oliver Jeffers below:
As well as Oliver Jeffers there are other authors within Reading Zone Live that look at non-fiction resources, why not look at Andy Seed to look at how you can make non-fiction books interesting as well as what advice he would give for someone writing a non-fiction book.
You can also use your LGfL USO account to access over 100 curriculum based audio books, through Listening books. These are a great tool for using with your students who have SEND or an illness which makes it difficult for them to read. There are several non fiction books available that you can listen to during the month including: Horrible Histories, Coming to England, Mathmagicians and Why is snot green and other extremely important questions.
As well as listening to books, you can download two non fiction books from within our Ebooks from Rising Stars, Graphic novels and fast cars are available to download and both books also come with teacher notes and guidance, perfect to use in guided reading sessions.
Maths in the real World has a range of activities that could be used to complement work for Non Fiction November, there is Search and Rescue all based around HM Coastguard including a cross-curricular topic for KS2, Space Adventures for cross curricular travel and why not plan a trip around the world, all the resources are supported by teacher guidance as well as activities for children from KS2-KS5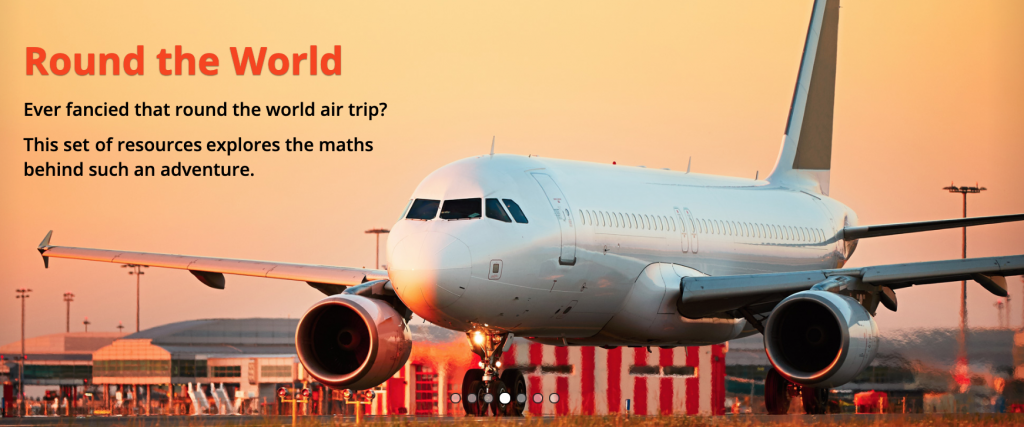 Big day out has a range of London based activities which incorporate English, Maths, Geography, Science and History, each activity is designed primarily for KS1 pupils and presents a scientific, mathematical or geographical challenge for investigation or exploration.
Thinking skills for life is a set of inclusive multimedia resources to support young people including those with SEND, access important areas within Life Skills, including a section on Travel and Leisure - perfect to link in with the theme of Non Fiction November. The topics are addressed using videos, sound files, discussion questions, role play suggestions, differentiated worksheets and additional activities. There are 3 categories of worksheets for each activity which require different levels of literacy, thinking and comprehension skills. This includes worksheets which use Widgit symbols to support understanding for many young people with SEND, EAL and lower literacy levels. Teacher notes, answer files and curriculum mapping documents are provided for staff to provide comprehensive support.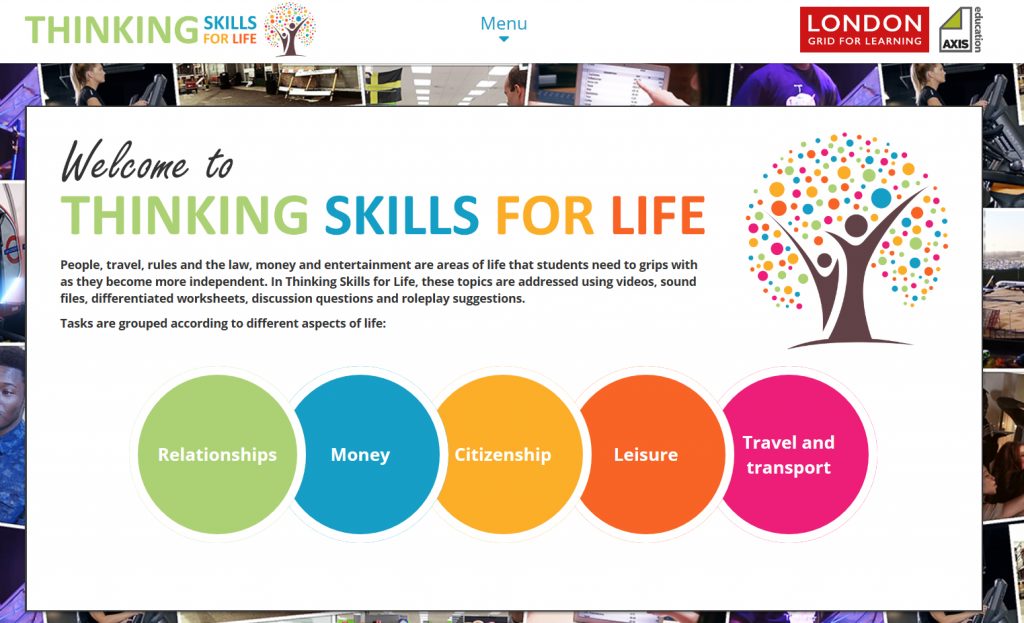 The Literacy Shed blog has a great post entitled: With Google at our fingertips, do we still need non-fiction texts? The post includes a short video and recommendations of non-fiction books for the primary classroom.
Whatever you decide to do during National Non-Fiction November, the month provides a great opportunity to promote reading non-fiction for pleasure, to allow young readers to indulge in fascination for facts and to celebrate, the breadth, depth and richness of non-fiction writing, illustrating and publishing for children and young people. (NNFN website)
Please let us know via our Twitter and Facebook pages or leave us a comment here to let us know what you are doing for Non Fiction November #NonFictionNovember.