It's important at the beginning of this blog to note that each school has its own context, and all are at different stages regarding their digital transformation journeys and the adoption of online technologies. Planning for widespread school closure is complex and it is vital that schools ensure that as well as setting meaningful learning activities during school closure, pupils also are kept safe and secure online at all times.
We have summarised key advice from experts within the LGfL community:
The focus should always be the health and wellbeing of school communities.

While providing education remotely, focus on retrieval/revision/consolidation rather than attempting to cover new material.

Ensure your communication channels (whatever they are) are working effectively.

Make the best use of the platforms and technology you are currently using, be realistic about the technological infrastructure you have in place and your staff and learner skills and their abilities with that technology.

Be mindful that some learners will have more support and better access to technology than others.
To help you identify the advice relevant to your school, we have identified stages as outlined below:
Schools at stage 1:
No rollout of USOs to pupils and/or parents awareness of this is low/non-existent

Headteacher Data Declaration not complete

No adoption of cloud
Schools at stage 2:
USOs have been given but only to KS2 pupils (in a primary)

Headteacher Data Declaration completed, able to use/login to Busy Things + Just2Easy Toolsuite.

Partially adopted cloud implementation; but relatively new to pupils/staff
Schools at stage 3:
USOs have been given to all pupils on roll and are being used

Headteacher Data Declaration completed, able to use Busy Things + Just2Easy Toolsuite.

Fully adopted cloud implementation
Stage 1
Careful consideration is required prior to adopting a fully-featured cloud platform such as GSuite or Microsoft 365. The journey to adopting cloud technology takes time and needs adequate training for staff. The ability for teachers to rapidly adopt new products and ways of working, particularly at times of heightened stress, should always suggest a gradual and careful adoption. Your IT staff will already be maxed out trying to prep for remote working & may also struggle to implement and there is always a danger that a rushed implementation could result in important safety and security settings being misconfigured. However, now is a good time to remind/inform ALL stakeholders that they have access to a range of resources online with the school's LGfL Let's Get Digital subscription, you may want to send a simple letter home signposting certain resources.
Stage 2
Remind ALL stakeholders that they have access to a range of resources online with the school's LGfL Let's Get Digital subscription. If your EYFS/KS1 pupils have not been aware that resources such as BusyThings are hosted on lgfl.net perhaps their teachers could do a lesson on this? Then if parents are attempting to access these from home with very young children may recognise the thumbnails.
Stage 3
Your school is digitally aware and so all stakeholders are used to using cloud platforms. Whether you are using GSuite and Google Classroom, Microsoft Teams or Apple platforms, there are resources you could point your pupils towards on the lgfl.net platform via your platform of choice.
Changes to access to LGfL Learning resources

In support of continuing meaningful educational activities, LGfL has given open access to the majority of LGfL Learning Resources (no login is required) for members of the LGfL community to support schools during the school closures relating to the Coronavirus. LGfL content partners have kindly agreed to suspend the normal LGfL access control to facilitate teacher and pupil access when working from home.
Please note that the access control will change but the licence terms will not.
Further details of licence conditions can be found in the individual summary page for each resource found at curriculum.lgfl.net
FAQs
How can I stay up to date with the latest guidance from LGfL?
All LGfL teachers are advised to sign up for the LGfL curriculum blog (see the subscription box on the right) and newsletter which is updated with the latest advice, guidance and resources developments.
LGfL uses Twitter and Facebook to send the latest messages out to the LGfL community.
Can anyone use these resources when the access restrictions have been removed during the Coronavirus school closures?
No – the access controls will be temporarily removed but the licences will have not changed and are for authorised users only as before. Authorised users in this context are for any pupil or member of staff in an LGfL school.
Are all LGfL learning resources suitable for home learning activities in the event of school closures?
You can be assured that any learning resources featuring the LGfL and London Grid for Learning logos are safe and appropriate for teachers to use in the delivery of the national curriculum.
However, it is worth keeping in mind the portfolio is designed to be used by qualified teachers as part of their daily approach to supporting teaching and learning in a school context. Some resources have material that some parents may consider unsuitable for a child to be using unsupervised at home, particularly of primary school age.
The Inspire team have gone through all of the curriculum resources at curriculum.lgfl.net and curated resources suitable for home learning, You can find them by using the new home learning filter or by using this quick link: hlresources.lgfl.net

Why will some resources still require a log in despite schools being closed?
Some content providers have not been able to release the access controls to their resources for commercial reasons these include the following:
Audio Network
Cyber Pass
EAL e-Learning / Young Interpreter Scheme
Other resources require a login to function adequately and alternative arrangements are not feasible at this point in time, so the LGfL USO is the only realistic way of providing personalised access to the resources to support home learning. These platforms include:
These two platforms are particularly useful for primary age children to support home learning activities. Both of these companies have won multiple awards and have been long term strategic suppliers to LGfL. Their staff are focussed on providing excellent customer service and highly relevant tools and activities in support of the wider curriculum.
Click on the links above for further information about how to make the best use of these platform in the event of school closure
What topic-based resources offer useful support for home learning?
The following resources offer engaging expert video, Augmented and Virtual Reality experiences (additional apple-based hardware and software required)
Should teachers consolidate their learning activities online into a few resources/platforms?
Yes, if you already have a platform, the LGfL curriculum team advises teachers to continue to use existing online platforms and ways of working rather than taking on too many new technologies. The rationale for this is that at this pressured time for teachers, children and parents existing platforms and ways of working will be better understood, not require training/support and allows the focus to be on defining learning outcomes rather than then extensive new features within unfamiliar online platforms. Using existing resources also minimising safeguarding mistakes online that could occur with unfamiliar systems.
Are there any particularly recommended SEND resources for LGfL teachers to consider using to support home learning activities?
There are a number of resources within the LGfL Inclusion Resource Portal which can be used at home to support learners with additional needs.
Widgit symbol platform provides:
A searchable library of 1000s of symbols which can be download as image files and used to support learners with communication difficulties and a bank of 100s of ready-made books and activities which are symbol supported covering a wide range of curriculum topics and other learning areas.
Multisensory Learning is an adult learning resource with loads of great advice about meeting the needs of learners with sensory needs and creating sensory areas and experiences on a shoestring budget.
Learning Through Movement is an adult learning resource that focuses on topics such as developing handwriting and using structured and safe movement breaks to help learners maintain focus during learning.
Even if your school has been an LGfL customer for as long as you can remember, you may find visiting onboarding.lgfl.net a useful place to start to refamiliarise yourself with the service we offer. You could also print/share the 5ways documents with staff.
We have also made a simple letter which you can use to share the resources with your parents, please do fill free to modify the wording to suit your school setting.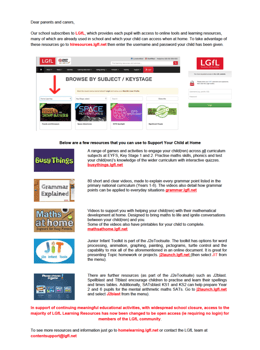 Our friends at Pobble have put this guide together and have given permission for us to share with our community:(They are some fun, non-screen activities that can be done at home and support independent learning).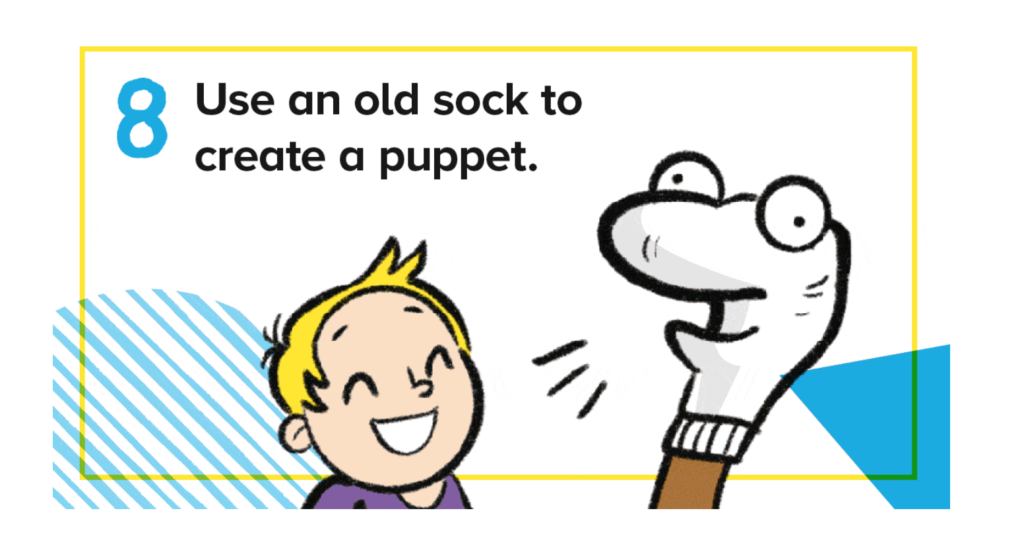 The wonderful team at TTS have created curriculum-focused independent learning resources with over 40 home learning activities for each primary key stage all planned and all prepared with no tech needed.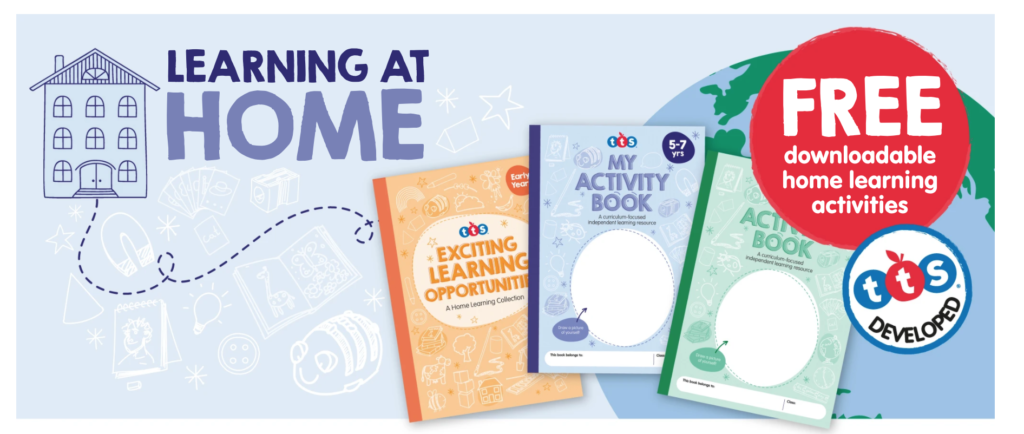 To help ease the burden, if you are on Twitter do look at #RemoteLearning #edtech - people are being encouraged to share resources and make learning accessible by adopting this hashtag.
Remember if you need any support for our learning content you can contact the Inspire team by emailing contentsupport@lgfl.net or contact the LGfL Switchboard: 020 82 555 555 .