The last week of school can be a tough one to plan for with lots of events breaking up the day/week, why not use a range of Christmas media to help inspire you to create fun festive lessons. Like it or not, we are currently being exposed to a plethora of Christmas media campaigns advertising the latest must-have toy, must-watch movie or which supermarket that can deliver the most magical Christmas for you and your family and friends.
Every year, to write this blog post I sit with a mince pie in my hand, light a Christmas candle, pop on my favourite Christmas onesie and watch all of the Christmas media available and look for the best stimulus for learning, this year I found a few notable campaigns! So, how do a banana, an alien and a trip to the future, education technology and our award-winning LGfL curriculum content link together? Read on to find out!
Let's start with what many deem to be the most important advert of the session, that's right, The John Lewis Christmas advert, Unexpected Guest, presents a contemporary take on Christmas with a space theme, giving to rise space exploration after last year trips to space. The video centres around a young boy who finds and befriends an alien, after their ship from another galaxy lands in the woods beside his home. Telling a story of friendship, Unexpected Guest celebrates the magical moments of Christmas experienced for the first time.
This mini-film is filled with fantastic themes to explore, the idea of explaining Christmas to an alien who hasn't seen the many traditions of Christmas is a fantastic stimulus for writing, you could ask your students to create a Christmas fact file with all of the important information presented, to do this you could create a presentation using j2e Toolsuite's slide tool j2e5, you could use text and images to explain the concept or to add another twist you could explain to your students that because the alien lacks knowledge of the English language the presentation can't use text! (Here's a template to get you started)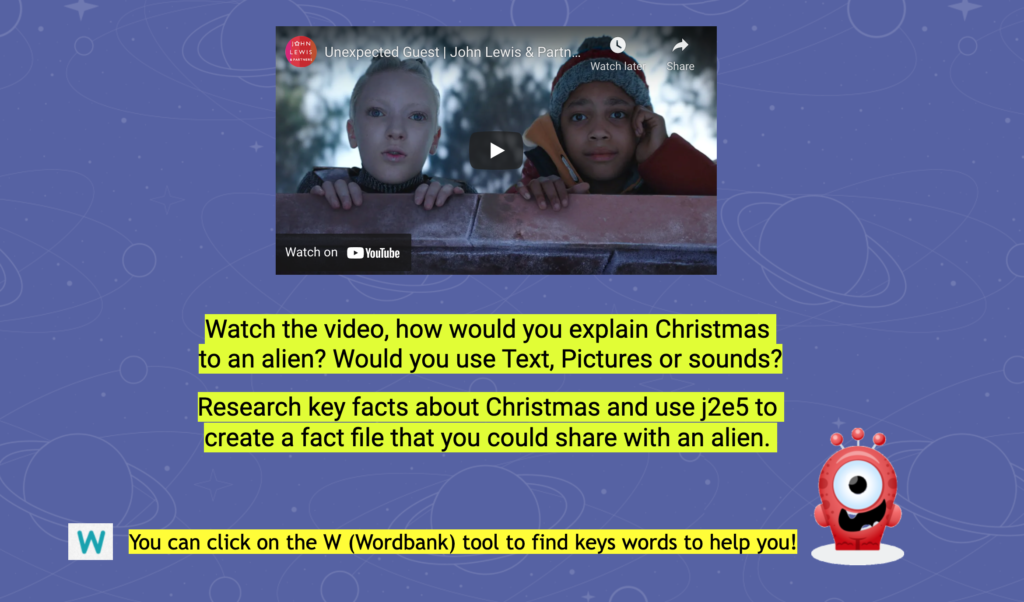 Another idea is to ask your students to think about what happens next? Perhaps the boy and alien become pen pals and send letters/emails to each other (here's a template you could use). To really sell this story to your students you may want to create your own clash site, Adobe's Aero Augmented reality App is the perfect tool to create and make museum sculptures come to life or send a rocket into orbit around your classroom, or bring mascots and celebrities right into a retail store. Aero lets you craft compelling AR experiences with easy-to-use tools.
And if you students want to explore the concept of space more don't forget we have also Space Adventures!
Aldi has unveiled its 2021 Christmas advert featuring Kevin the Carrot, and footballer Marcus Rashford MBE also makes an appearance. Inspired by Charles Dickens's A Christmas Carol, the Dickensian-style advert follows the story of a Christmas loathing banana named Ebanana Scrooge. 'Christmas is a time for hope, and we're privileged to be working with Marcus, who is one of the most inspirational young people in the UK, having done so much in the past 18 months to help provide free school meals for children,' says Sean McGinty, Marketing Director at Aldi UK.
Why not use the paint and animate tools found within the JIT5 tools found in the j2e platform to create your own simple animation? You could ask your students to draw different vegetables instead of carrots? Steven the Sprout? Or Perry the Parnsip? Or Tate the Potato?
Did you know that LGfL has also worked with Marcus Rashford this year to help support families most in need across the UK? The Child Food Poverty Taskforce launched endchildfoodpoverty.org an online resource where people can find support, or find out how to help charities, in their local area. We are proud to say that the task force has used our very own Free school meals checker to help support this project! Did you know we have helped schools identify over £100 Million of extra funding since 2015? For more information see here.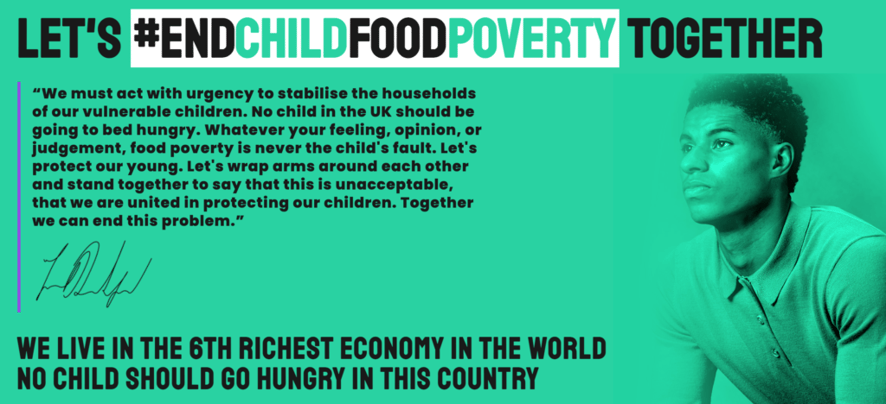 Regrading the Aldi campaign, Marcus Rashford MBE adds: 'As a family, we relied on the local food bank to get our Christmas dinner. To this day, I remember queuing outside that building with mum; mum feeling embarrassed that she might be recognised. It is with that in mind that I'm delighted to lend my support to the Aldi campaign. ''For many children in situations like mine growing up, there is very little expectation around this time of year; add the impact of the pandemic and the very least they deserve is a Christmas dinner.'
Lidl's futuristic Christmas advert 2021 shows what our future Christmases could look like in decades to come — and encourages shoppers to look forward, not back. The fun one-minute ad begins in the present day, showing a family sitting down for a traditional Christmas roast with all the delicious trimmings. Set to the soundtrack of 'Rockin' Around the Christmas Tree', the advert then cuts to show exactly the same Christmas scene – but this time it's set in the far future. With the same dining table set-up, we see a carving laser knife being used to cut the turkey and find out one family have moved to the moon. Then, in the third scene, we see an even more futuristic Christmas dinner with the same family,
This is a fantastic chance to explore how technology can be used to change our environment, why not ask your students to explore what Christmas may look like in the future what may stay the same and what will change? Will we have a holograph Christmas and have our Turkey carved by android? Perhaps your students could write a futuristic diary on Christmas Day 2070? Or even better create an image of what they think the day would look like perhaps using Photoshop?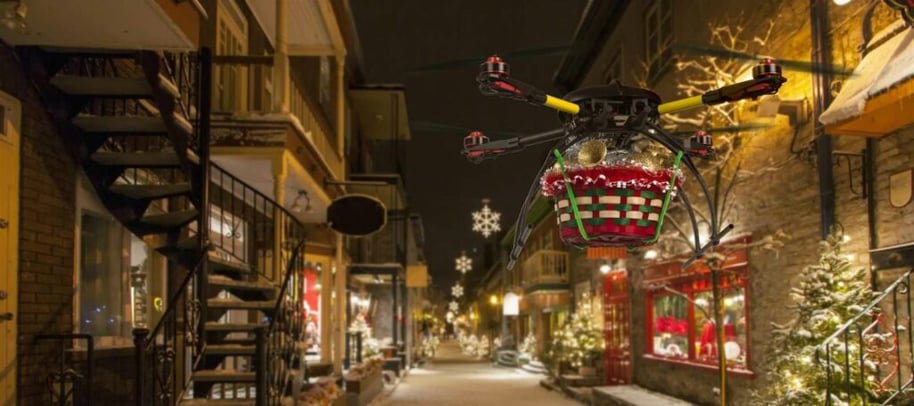 The tools within Adobe Creative Cloud can support your students on creative journeys that take them through their primary and secondary education and beyond widening their future careers choices and developing key creative problem-solving skills for more Infomation on claiming your licenses see here.
And finally, just to show how things come around again Barbour has collaborated for the first time with Paddington Bear. The commercial follows Paddington Bear as he makes his way through his list of people to buy gifts for, and as he gets to Mr Brown, there's only one very sentimental present that will do the trick – a re-waxing of the Barbour jacket Mr Brown wore when he found Paddington! Can you guess what I based my first every 'Using Christmas media' blog post on in 2017? You guessed it - Paddington!
Here is what I said about Paddington and how it had inspired Kiri Tunk to create resources based on Britsih Values four years ago.
Just before I hopped on a train at Paddington station this week I couldn't help but notice the many Paddington Bear promotional materials around the station. What drew my eye the most was the latest issue of The Big Issue with a striking cover with Paddington Bear being showcased as a 'Migrant British Icon". Inside the Magazine Kiri Tunks, Vice President of the National Union of Teachers who teaches a Global Perspectives class at her school in Tower Hamlets, tells why she had used Paddington Bear in her teaching of British Values. Is Paddington a migrant? A refugee? What is the difference between the two? Does it matter? These questions were being debated in the classroom, with Paddington acting as a symbol of immigration in order to introduce children to issues surrounding refugees and immigration.
"It's one of the popular lessons, kids really like it," she says. "I was looking for a way of getting into the refugee question, and tackling the issue from a slightly abstract angle rather than using real-life stories, it is quite useful in representing the other view that sometimes refugees are seen as."
"It makes the point that when you talk about people in an abstract sense, it's easy to see them as a threat and different but once you know their story you start to relate to them." You can download the lesson slides here, and for more Refugee resources created by the NUT go here.
We have created a range of resources that can help support the idea of knowing the person behind the label, Developing British Values offers unique, high quality, safe and relevant teaching resources that foster a deeper understanding of key issues that are raised with the concepts of immigration, tolerance and inclusivity. Celebrating Us looks at issues relating to cultural diversity and identity, rights, roles and responsibilities, online safety and good citizenship. Real Voices is a series of three short interviews with Syrian refugees living in Jordan; they talk about their experience of having to leave home, their journey to safety and life in a refugee camp.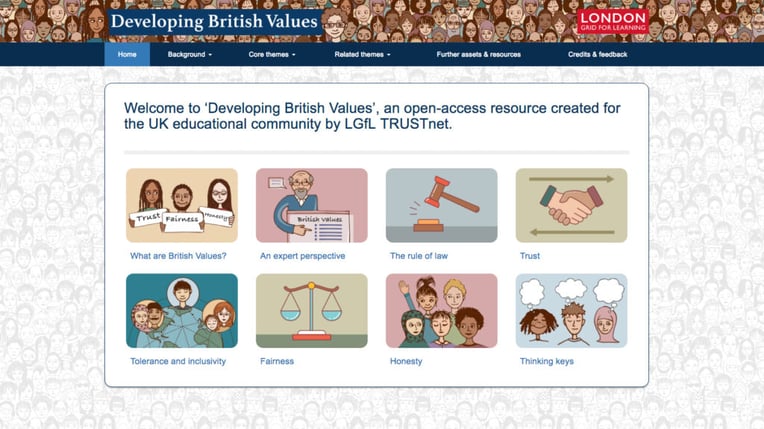 Are you going to use this blog to inspire you to create your own Christmas media? If so, let us know by tagging our Twitter or Facebook account into a post and don't forget for further Christmas inspirations and ideas we also have the Christmas Stocking post to support you with more festive fun.