World Book Day is an annual charity event that began in 1995 and is celebrated in the UK and Ireland on the first Thursday in March. On World Book Day, every child in full-time education is given a voucher to spend on whatever book they want, with the hopes of encouraging kids to read more.

World Book Day was created by UNESCO on 23rd April 1995 as a worldwide celebration of books and reading. It is marked in over 100 countries around the globe. World Book Day changes lives through a love of books and shared reading. Their mission is to promote reading for pleasure, offering every child and young person the opportunity to have a book of their own.
This year's event is on the 3rd March, The theme for this World Book Day follows the message "You Are a Reader," and there will be a focus on reaching children from disadvantaged backgrounds.
The World Book Trust has a range of free resources to support the day (and reading in general) click on the following links for a full list of free resources for Nursery, Primary, Secondary and home use. Whether children are celebrating at home or at school. Reading and sharing stories is the perfect activity for everyone to enjoy.
World Book day also have The Author & Illustrator Academy, the Academy beams authors & illustrators right into classrooms so children can meet the creative minds behind their favourite books. Beam your favourite World Book Day 2022 £1 book authors and illustrators direct into your classroom or at home with our brand-new Author & Illustrator Academy videos.
Why not get your creative juices flowing using words and illustration with Joanna Nadin and Rikin Parekh, or merge words and pictures with Nadia Shireen. Let Michael Morpurgo help you find the seed of your story, or invent a fantasy business idea with Rashmi Sirdeshpande. Each inspirational 'lesson' is a complete package with downloadable activities, creative challenges, resources and extracts to go with each video. They are available all year round so you can screen them in class at any time that suits you.
Also, check out this submit an idea page filled with ideas– from classroom activities to share a book at bedtime. Help inspire others with activities that have worked for you, the page is filled with tried and tested ideas.
For more in-depth author interviews and lesson planning and activities, ReadingZone Live is the perfect resource to use within your class on World Book Day, the site is packed with interviews with authors including Michael Morpurgo, Oliver Jeffers, Jacqueline Wilson and Cressida Cowell to name a few. Alongside interviews with the authors explaining their inspiration and writing resources, there is also a range of resources for teachers to use in class.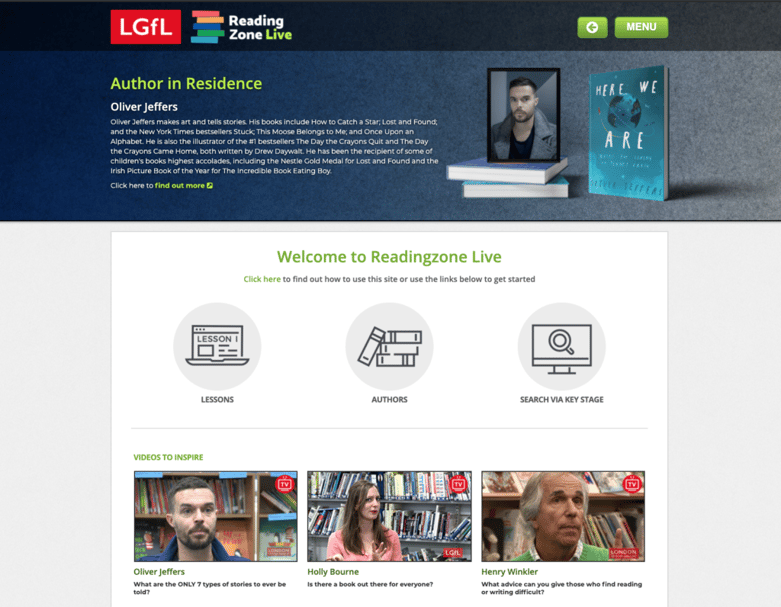 The latest redevelopment of the fantastic Bett Award-winning ReadingZone Live resource not only hosts interviews with over 50 authors but for some of the featured authors, there are now extracts from their books with a range of comprehension questions, self-marking quizzes and tasks to complete and includes additional activities that complement author interviews from ReadingZone Live.
These activities and interviews aim to inspire young people to explore new authors and genres and to develop their own creative writing. Contextualised cross-curricular opportunities have also been developed to cover elements of, not only English but also the Science, History, Geography, Art, Music, DT and Computing Curriculum for Primary Schools.
Don't forget to join the ReadingZone Bookclub programme of free virtual author events each term. The book club is aimed at classrooms and libraries that are keen to develop a love of reading with Events for ages 5-11 years. These events are open to schools and classrooms and are free to join! Meeting an author can have a real impact on children's Reading for Pleasure - and taking part in a virtual book club event is a great way to end the week! To sign up for any of these free events, and for more details, email info@readingzone.com
Fantastically Great Women with Kate Pankhurst (Bloomsbury Children's Books)Friday 25th February, 2pm - 2.45pm For Years 2, 3 & 4 (ages 7-9)
Meet Kate Pankhurst, author and illustrator of the Fantastically Great Women picture book series and find out about her latest book in the series, Fantastically Great Women Artists and their Stories.
Magic and Art with Rob Biddulph (Macmillan Children's Books) Friday 11th March, 2pm - 2.45pm For Years 3-6 (ages 8+)
Join award-winning author/illustrator Rob Biddulph to celebrate Peanut Jones and the Illustrated City, the first book in a new middle-grade series. Fizzing with magic, danger, friendship and art, this exciting and funny adventure is just what you would expect from the creative genius behind #DrawWithRob. Find out more about the book, learn about Rob's artistic journey and take part in an exclusive Peanut Jones' inspired draw along.
The Story Shop: Young Fiction with Tracey Corderoy (Little Tiger Press) Friday 18th March, 2pm - 2.45pm For Years 1-3 (Ages 5-8)
Pop on your space helmet and buckle uptight as Tracey Corderoy takes you on an out-of-this-world intergalactic adventure. Meet shopkeeper Wilbur and Fred Ferret from The Story Shop.
Writing Great Adventure Stories & Non-Fiction with Sam Sedgman (Macmillan Children's Books) Friday 25th March, 2pm - 2.45pm For Years 3-6 (ages 8+)
Join author Sam Sedgman, co-author of the Adventures on Trains series, and find out about his latest book, Sabotage on the Solar Express! Go behind the scenes to learn more about trains and some of the world's most exciting train journeys in Sam's new book, Epic Adventures, and learn how to research and write great non-fiction.
ReadingZone have also launched a Picture Book Competition 2022, in partnership with World Book Day, is challenging those aged four to 18 years to make their own picture book for World Book Day.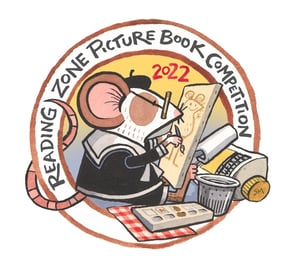 Judging their entries will be the acclaimed author and illustrator Sarah McIntyre (Grumpy corn, The New Neighbours and Pugs of the Frozen North).
The competition will close on Friday 22nd April 2022, and the winners will be announced in June. The competition is open to individual children, libraries and schools internationally. Prizes include £100 of books for each winner's school or library, plus a free online author event for the overall winner.
Busy Things have a wide range of resources to support World Book Day. BusyPaint and BusyPublisher have 100's templates to choose from with easy to use features that children can use to create their own stories. They have also handpicked a series of digital templates perfect for World Book Day, such as getting your students to write about their favourite story or book or why not create a story summary, book review or book cover.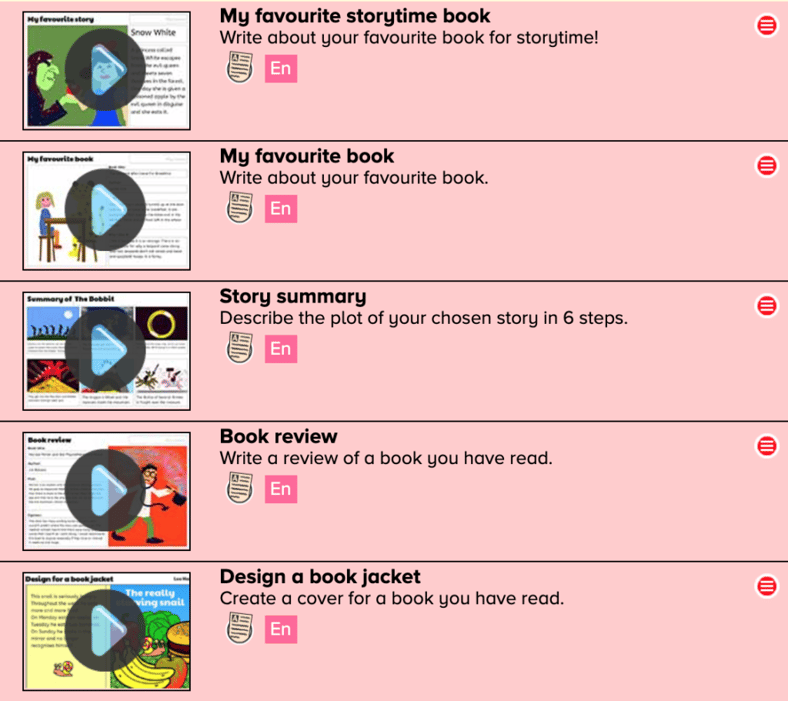 Busy Things have also developed a comprehensive series of ReadingZone Live related interactive resources that link in with the teaching material developed by LGfL and the LEO Academy Trust. there is a cornucopia of new materials already available including fun digital activities based on books from authors Cressida Cowell, Oliver Jeffers, Mini Grey, Michael Morpurgo (an author of one of the £1 books available this year) and many more. Visit English > Reading: comprehension in your chosen setup and explore all the resources.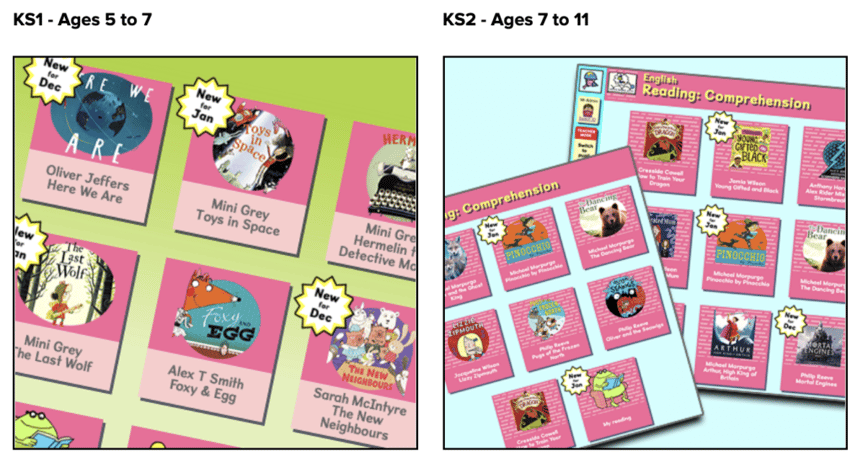 The Busy Things team have curated some of these resources into lesson plans which you can find in the Lesson Library, The Lesson library can be found on the Welcome screen and also within the Teacher hub of your Class setup. Each lesson helps children read, discuss and demonstrate their comprehension of your chosen book extract. The library includes extracts from nineteen well-known books suitable for ages 5 to 11. Each lesson includes 3 or 4 activities to test understanding of the text.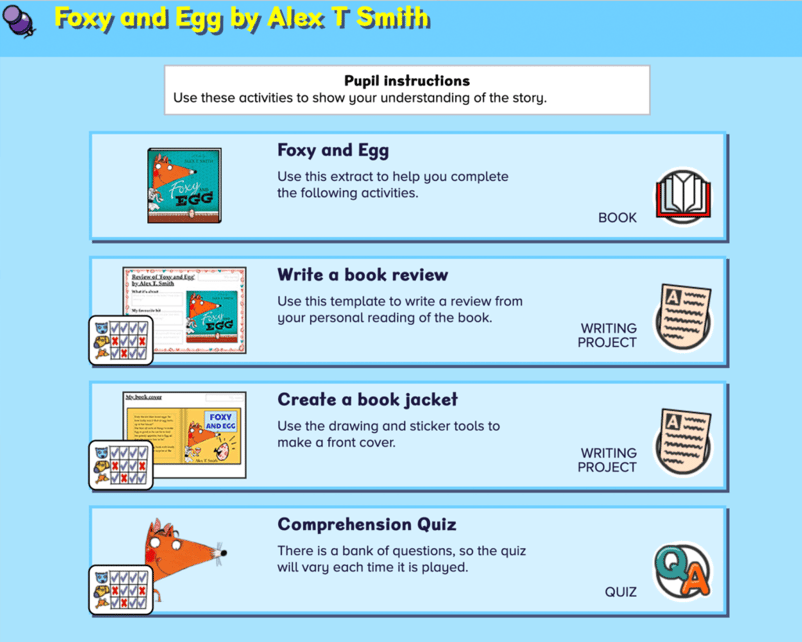 You could use the j2e tool suite to complete one of the following activities:
Use j2vote to have a virtual vote on World Book Day itself as to who is your student's favourite author or illustrator is in your class or school or how about finding what World Book Day £1 book is the most popular here is a simple jit5 Pictogram I made for the event.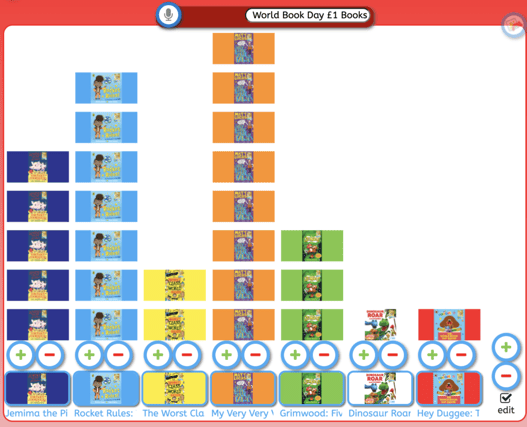 Why not ask your students to write a biography of their favourite author using j2e5 or get them to make an interactive author timeline, here is Roald Dahl interactive timeline I have made via creating a presentation in j2e5 and using hyperlinks to link the pages.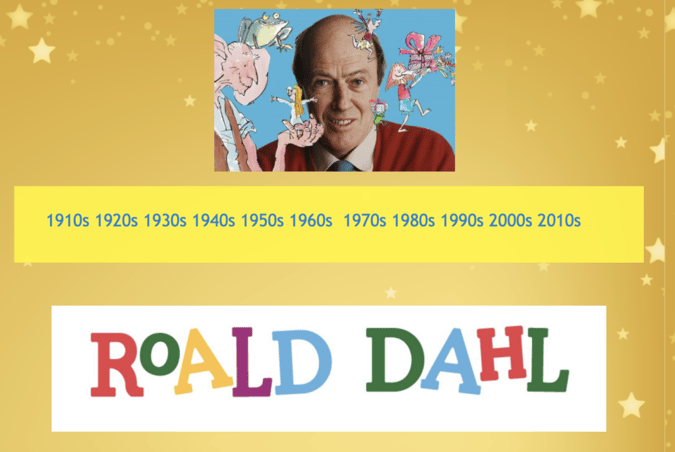 I have created a range of templates you can use for World Book Day using the jit5 digital tools designed to support EYFS and KS1 learners, including a book review template, a design your own book cover template, a simple story summary template and a character profile template that all can be used within jit5.
[gallery size="medium" columns="4" ids="7067,7069,7071,7073"]
The j2e tool Suite includes a World Book day tab (look for this to be updated soon) that has templates that can be used on World book day this tab will go live on the 1st of March.
The Whole story resource from LGfL aims to explore how storytelling can maximise creativity within learning activities for children. By capturing the expert advice of a professional storyteller and arranging this advice into a simple interface, it is hoped that teachers of all age groups can get inspiration on how to incorporate storytelling across the curriculum.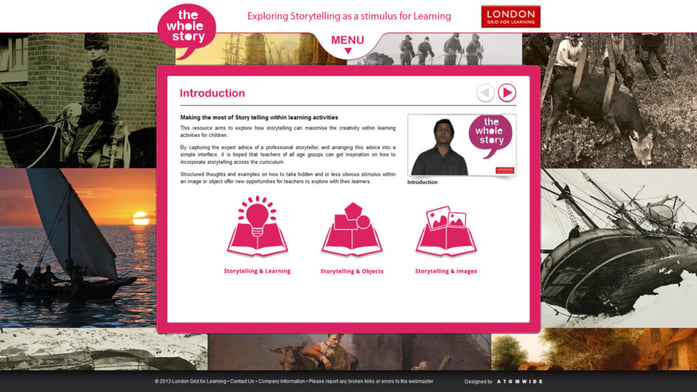 Another fantastic resource to use on World Book Day is Listening books, these popular audiobooks for KS2-KS5 pupils are fantastic for supporting SEND pupils and feature both fiction and non-fiction titles. If you are not aware of Listening Books, it is a charity providing a service for people with print impairments. Reading is essential for any child's success. All too often, the barriers faced by children with difficulty reading outweigh their desire to read and, without proper guidance, they never may never overcome them. Listening Books offers audiobooks that can be used with children and young people who struggle to read books in the usual way due to an illness, disability, learning or mental health difficulty.
There are some great titles available to support pupils from Key Stage 2 to A-Level with fantastic fiction titles including 'Face' by Benjamin Zephaniah and 'The Story of Tracy Beaker" by Jacqueline Wilson. All of these titles can be played to a group of students straight from a PC or laptop or pupils can listen individually through headphones. To find out more about the benefits of audiobooks for your students, click here.
If you have Apple why not try my Live Video Keynote challenge, You can now add a live video from your Mac's internal camera to a slide. You can also use an iPad, iPhone or another external camera as a live video source. During a presentation, the live video plays only when the slide it's on appears. You can turn the live video source on and off at any time. I have added some of my favourite book characters and added questions with images and added liver boxes to make the characters come to life. (to record the content I have used screen record with microphone option on)
To add live video just Click the live video icon within the add/plus symbol on the slides to select it. To modify the live camera settings just click the Format button, click the Live Video tab, then do any of the following: Zoom the camera in or out: Drag the Scale slider right to zoom in and left to zoom out or change the shape of a live video: Click the menu next to Mask, then select the size and shape you want
You can use my template here, or create your own using my idea, I would love to see how you use the live camera option.
Dominic Traynor an Education Evangelist for Adobe has a project perfect for World Book Day which can be found on the Adobe Education Exchange here.
Dominic Traynor tells us "This sequence of 5 lessons can be taught at any time of year once a group of students have finished studying a book in class. Alternatively, it can be taught in the lead up to World Book Day so that they have a video book review to share with the rest of the school. It can also be condensed into a full day project for World Book Day itself. I would recommend completing the writing in the morning and then allowing students to film and edit in the afternoon. Here is a great example of good book reviews in a primary/elementary school setting. For an idea of how to share their work in a special, whole school community celebration, watch this video of how a school near Manchester in the UK celebrated their work."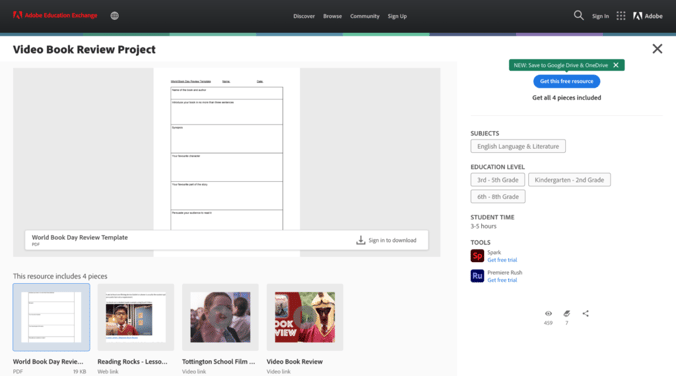 The Centre for Literacy in Primary Education (CLPE) has a wide range of free resources for World Book day, for tips on running a successful day, developing a Reading for Pleasure school all year round and engaging parents with books and literacy. The resources for schools contain easy and fun activities based on key themes of creating, discovering, experiencing, exploring and imagining.
Another live event to join is the World Book Day Story Makers Show 2022 from Puffin Schools. The 30-minute show will premiere on Thursday 3 March at 10:30am and will then be available to view on-demand. It will be streamed via YouTube Premiere. Register to save the date, get the latest news on the line-up and free resources.

BBC Teach has put together a great collection of resources for Primary and Secondary pupils, perfect for inspiring your class. Featuring awesome authors, authors live and a selection of well-known stories retold and brought to life in short animated films there is something for everyone.
With many people, noting that World Book Day had become just a chance for children to dress up the fantastic author Jo Cotterill has come up with a fantastic range of World Book Day Alternative ideas, these include Potato and Egg characters, donating a book, building a book scene in a box and much, much more here
In the last months, my household has every Saturday been obsessed with finding out "Who's that behind the mask?" watching The Masked Singer every Saturday evening(FYI I guessed all of the final 3 contestants) to add a touch of magic and mystery to World Book Day why not organise a 'Masked Reader" event, getting your school staff to record themselves reading while being in disguise! You could do this by filming yourself reading physically wearing a mask or you could do it digitally with a filter, there is a range of filters out there, For example, on supported Apple models, you can use the built-in Memoji FaceTime app, you can become your favourite Memoji or Memoji character (on an iPhone with Face ID). you can use a built-in filter to change your appearance and add stickers, labels, and shapes. You can take screenshots/screen recordings in FaceTime that includes the special camera effects you add.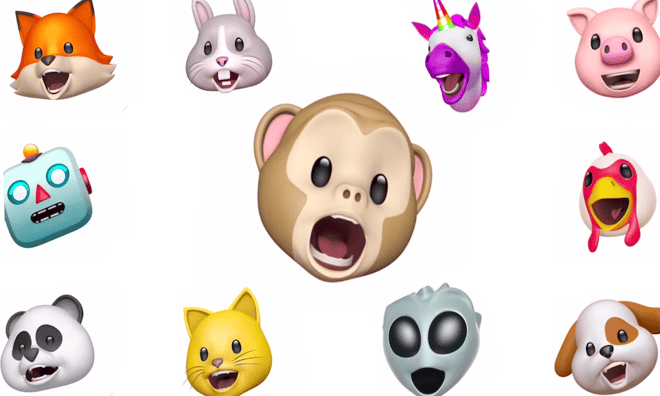 Another way to create a masked reader is to use the filters in Snap Camera. Bring the magic of Lenses to your live streams and video chats on PC & Mac via this free desktop application that brings the fun of Lenses to your computer! You can choose from thousands of Lenses, a few of my favourites are Snowman, Robot and The Green. Once you select your lenses this can be used as a virtual camera* that you can select within your chosen video hosting tool, just remember once you have filmed your video to turn your filter off before you make any important video calls!
[gallery size="medium" ids="7075,7077,7079"]
Click here for a doc that shares a few of my favourite free digital filters. and do feel free to use this logo I have made to support the event.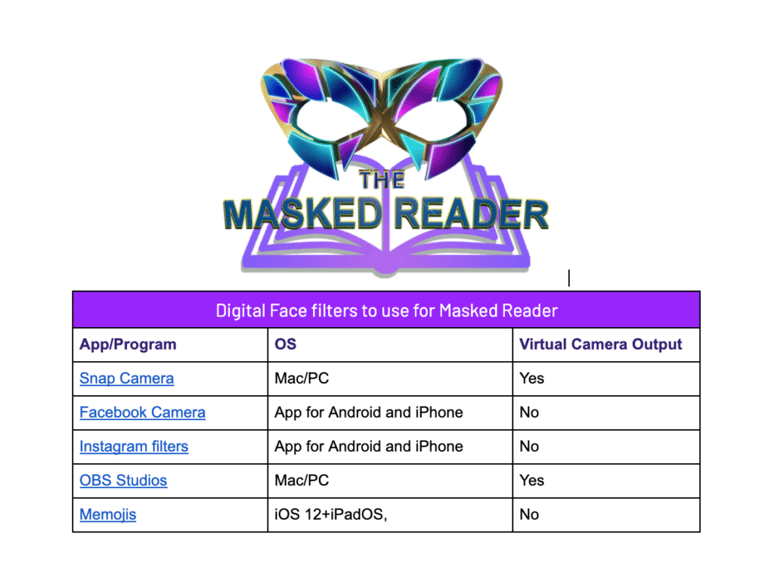 *A virtual webcam is a software application that allows users to use their computers' resources during a video call instead of using a live webcam. In other words, users can place images, videos, and other sources as their primary output during a video call.
Apple Books has a wide range of Digital children's books to download and read in primary and secondary classrooms. Usually, you may not know that there are plenty of free books available too. To find books, try opening the Top Charts section where you will see the most popular paid-for and free books and don't forget that when using iPad there is a range of accessibility features within Apple Books, including the ability to change the font size, background colour and have words read aloud when selected.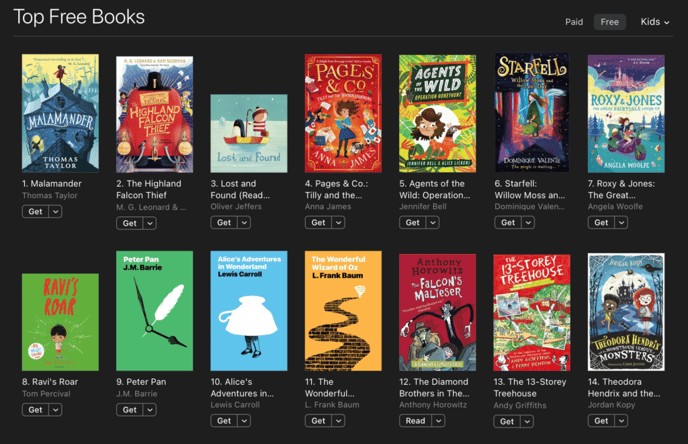 Just in time for World Book Day! Google has come up with a Google for Education Virtual Author Visit, Think of it as having virtual guest speakers. Their facilitation team handles the lesson planning and facilitation of a lesson with your teachers and their students together.

Pupils and teachers can join Google for an interactive lesson and celebration of the book, Ara the Dream Innovator. This STEAM book is for young innovators everywhere and is the much-anticipated companion to Ara the Star Engineer. The book spotlights the innovation journey, introducing readers to what it takes to create a start-up and turn ideas into reality. This adventure is perfect for Reception to Year 4 classes, though all are welcome to attend this exciting event! Author and Googler Komal Singh will share insights alongside other Googlers and Google Certified Innovators in the UK and Canada.
Each lesson showcases the ideas and strategies allowing both the teacher and students to learn new Google skills through modelling. Worried about student privacy? Don't fret, friend – the lessons are hosted via live stream and they aren't even on camera! After the lesson, you'll receive resources to help design solutions linked to Sustainable Development Goals. All classes who register for this event are entered into a draw to win a class set of Ara the Dream Innovator books! All registrants will receive digital handouts to extend the learning experience.
The National Literacy Trust has a range of resources to support World Book Day:
Working in partnership with World Book Day they have compiled 25 ideas to help you celebrate.
What's more, their Young Readers Programme is also celebrating its 25th anniversary, and the team has developed two inspirational booklists. The first is packed with suggestions for titles to try after enjoying a special World Book Day read.
The second collection brings together 25 favourite, fantastic books, marking 25 years of the Young Readers Programme supporting children to develop their love of books and establish their own reading identity.
Teachers and pupils are also warmly invited to join The National Literacy Trust for their free World Book Day 2022 Great Big Footy & Booky Quiz on Thursday 3 March. Featuring Football School authors Alex Bellos and Ben Lyttleton and hosted by top sports presenter Kelly Somers (BBC, Amazon, Premier League TV), the 30-minute quiz will feature both football-themed and reading-themed questions. Join them to participate live, win prizes and generally have a ball. Sign up to join the Footy and Booky Quiz! and if you want more information on Ben Lyttleton then have a look at the recording of our own Reading Live Event with Ben here
Whatever you have planned for World Book Day 2022 please do remember to share your students work via our Twitter or Facebook pages and use the event's hashtag #WorldBookDay2022 and we will help share your student's work with a greater audience.